This fall I was feeling up for a sewing vintage fashion challenge. Therefore, I decided to go out of my comfort zone and transform a 1930's dress into a dress coat! Vogue V9127, is a great design that can be easily altered into a coat, which is wonderful!
Before getting into the details of the project… Let's explore the glamorous, elegant, well-tailored, world of women's 1930s fall-winter vintage fashion!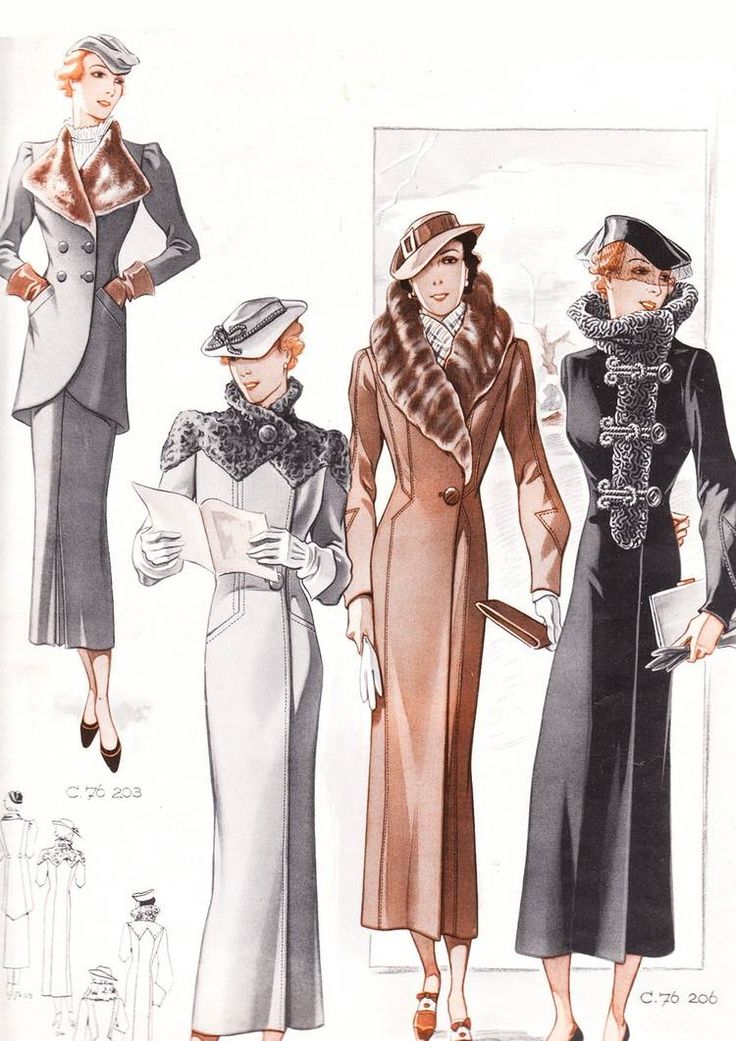 What was the fashion during the 1930s? 
The silhouette has drastically changed, the very loose fitting, square and drop waist style were completely gone by 1933. A more fitted, cinched at the natural waist, higher neckline and wide shoulders. Trim, tailored, feminine describe women's 1930s fashion perfectly.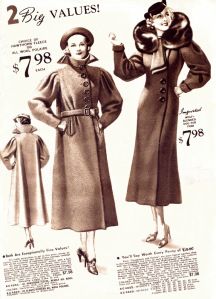 1930s Style Trends 
Midi length bias cut dresses, puff sleeves, belted abdomens and huge burdens or collars 

Old Hollywood evening outfits- revealing, sleeveless, long bias-cut dresses 

High waisted mariner pants and wide leg shoreline pajamas 

Casual sports dress- skirt like shorts, striped weave shirts 

Slouch caps, tilt caps, weave berets 

Fur collar winter coats 

Oxford shoes with punctured points of interest and evening T-strap heels
Women's winter coats were long with a cinched high waist, large shoulders, large collars and made of woolen fabric, following dresses style. 
Pattern and Fabric
Owning all those gorgeous 1930's and 1940's vintage coats, would be the ultimate dream! To appease my desire, let's dive into the project and transform Vogue V9127 into a vintage style coat.  The Original pattern drawing was very inspiring to me, the pinkish lilac color of view A style is exactly what I wanted to do. Fabricville is carrying such a great selection of solid wool coating fabric and there is a gorgeous lavender shade!
Let's sew!
I am so excited about this project; I have a feeling that this is going to be on of my favorite coats I have made. It will have all the features and details I love about late 1930's/early 1940's fashion.
Usually, I would go with a size 12 when making a McCall's pattern and it will fit me perfectly without any changes. Since I am modifying the dress in a coat, I want to have more wiggle room, so I can feel comfortable with a cardigan underneath.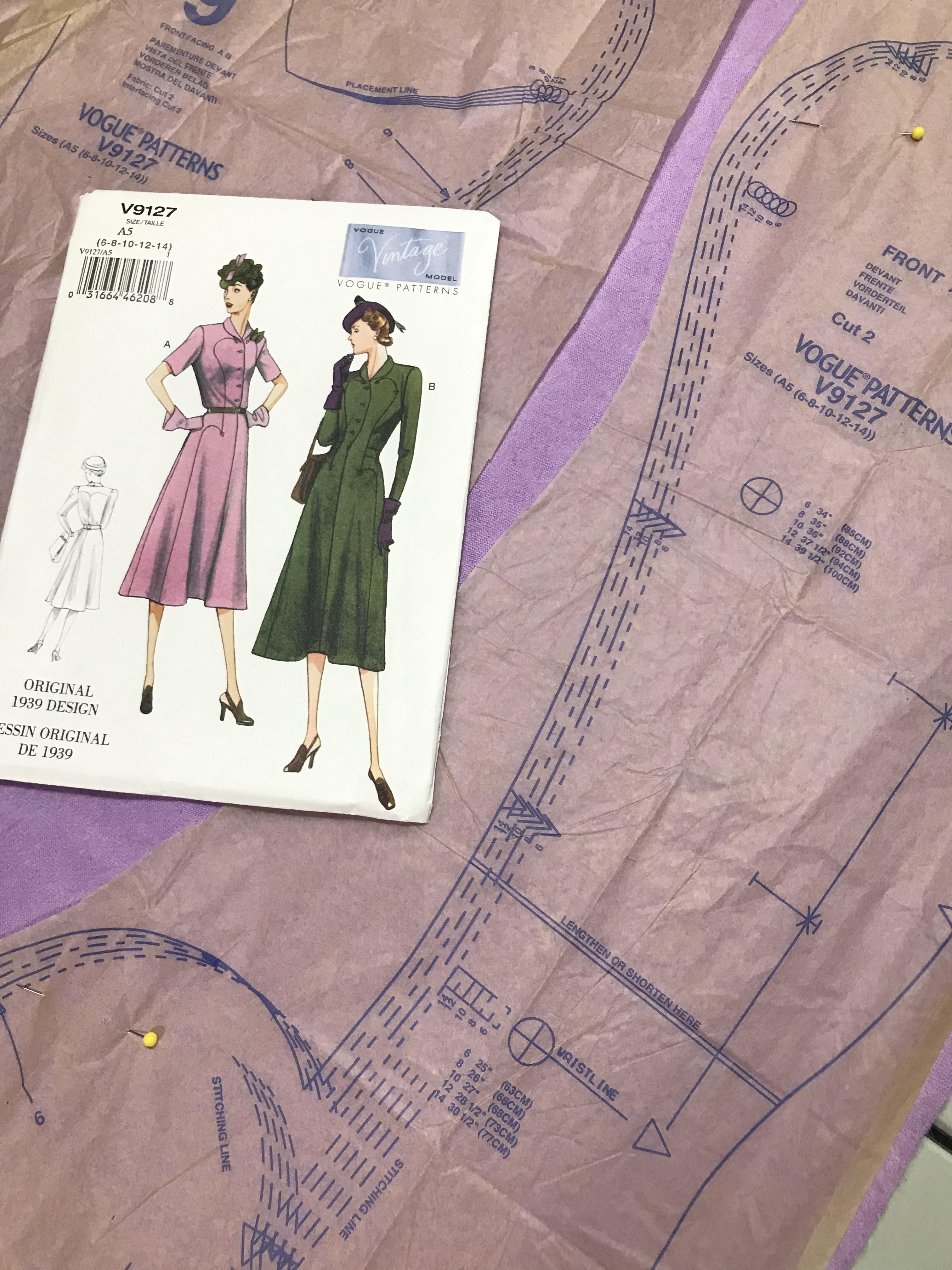 One thing I love the most about vintage sewing patterns, is the often forgotten techniques that are used to construct the garment. Of course, it takes more time and effort than the modern methods, but using the vintage techniques can elevate the look of your garment.
This pattern calls for lapped seams (A seam in which one seam allowance edge is lapped over the seam allowance of its joining piece and stitched.) to join the skirt to the bodice and the back yoke. It makes the seem look very polish and crisp, I love how it looks!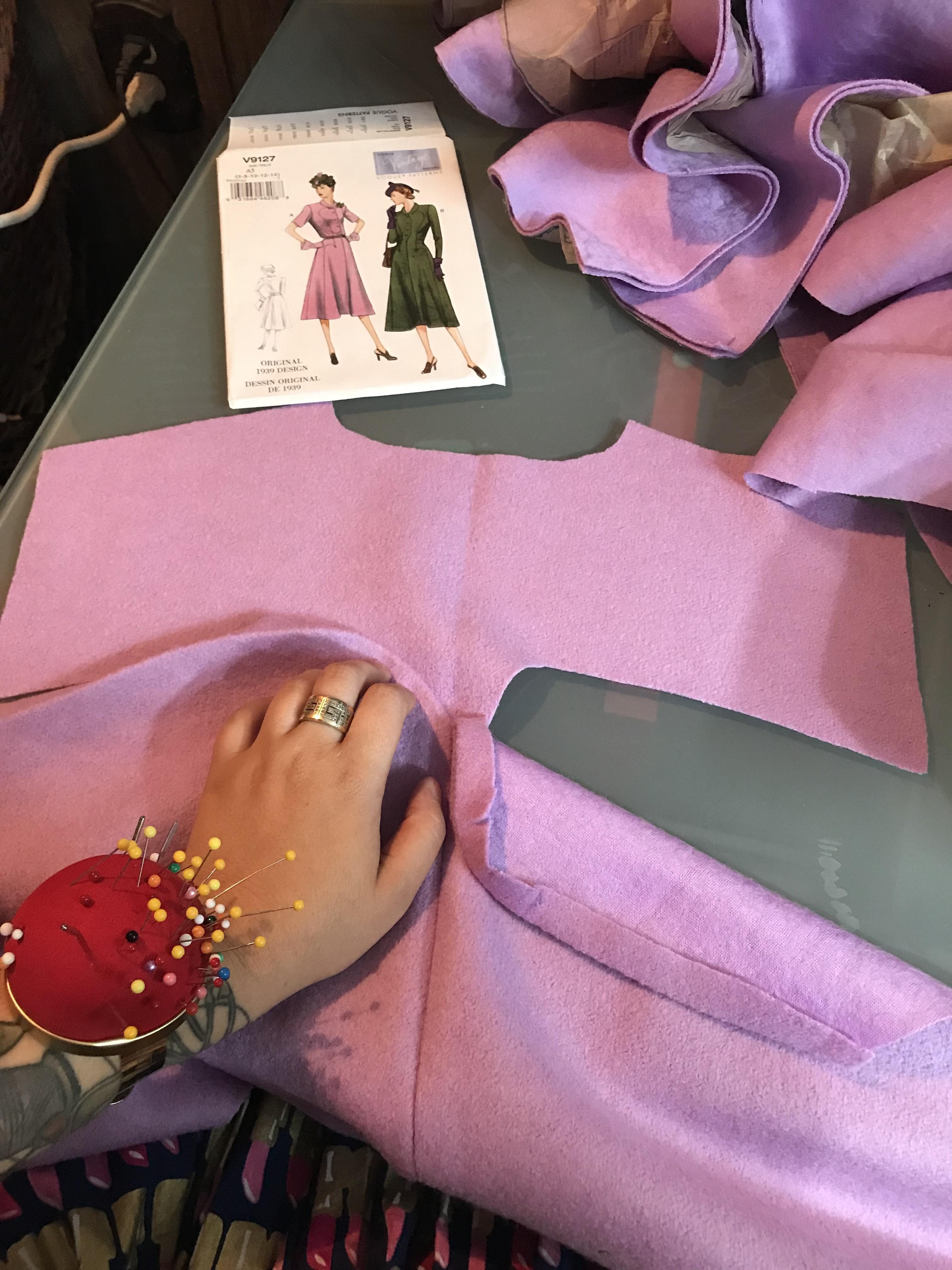 I am a very lazy seamstress, my biggest fault is that I like cutting corners when I can… I used to never press my seams and just move on, to me it was such a waist of time! Now, that I have much more experience, oh my I realize that I was so wrong! Pressing the seams can enhance the final look of a garment, especially when sewing with thick fabric, like this boiled wool.
Isn't it the most satisfying thing, when you flip you piece of garment and see the perfect seam matching?
I got very exited when I had set up the half-constructed cot on the mannequin. Those, curved cut out makes the dress so interesting, it is going to be gorgeous! The back looks very good too, with the curved yoke.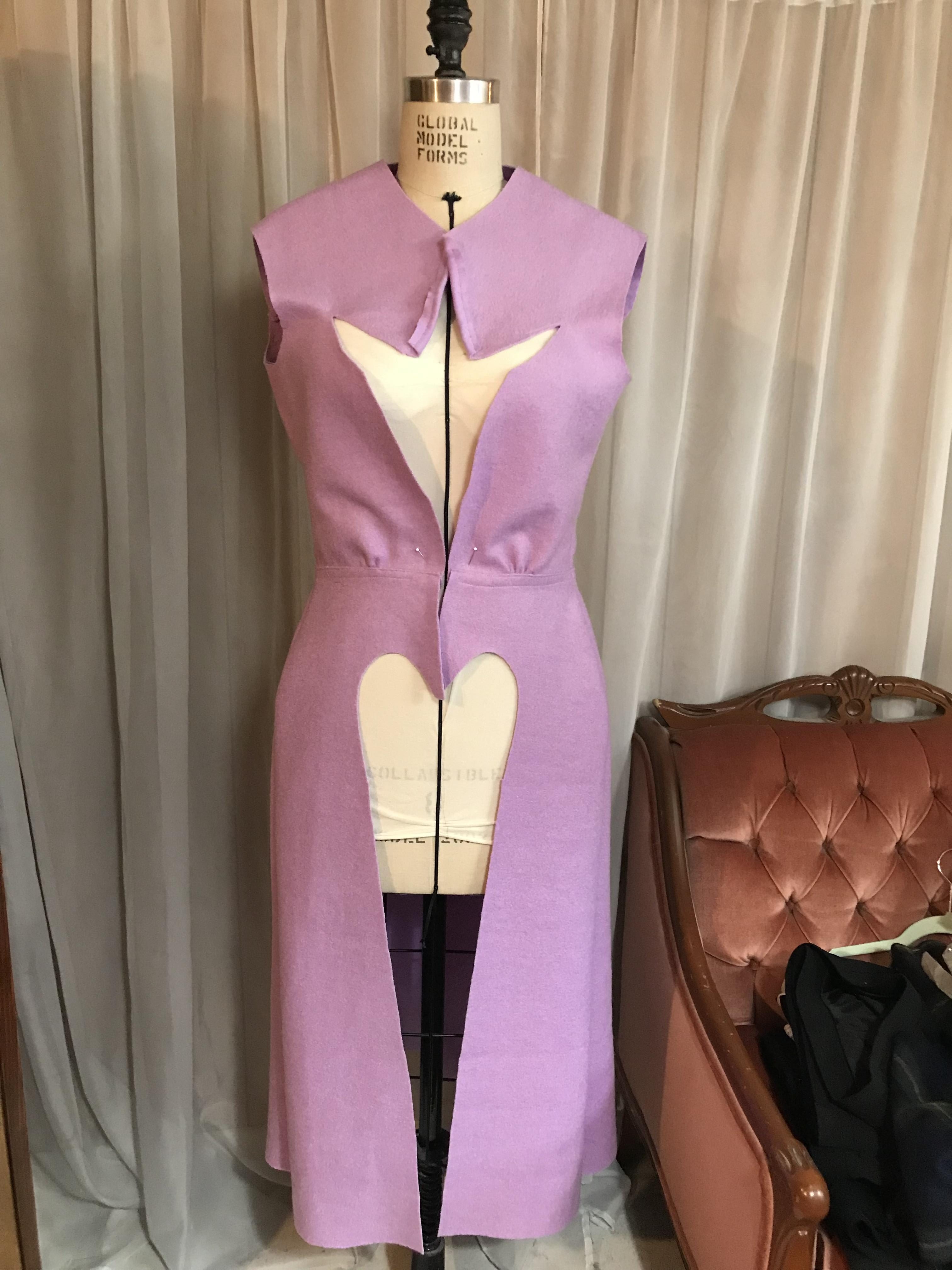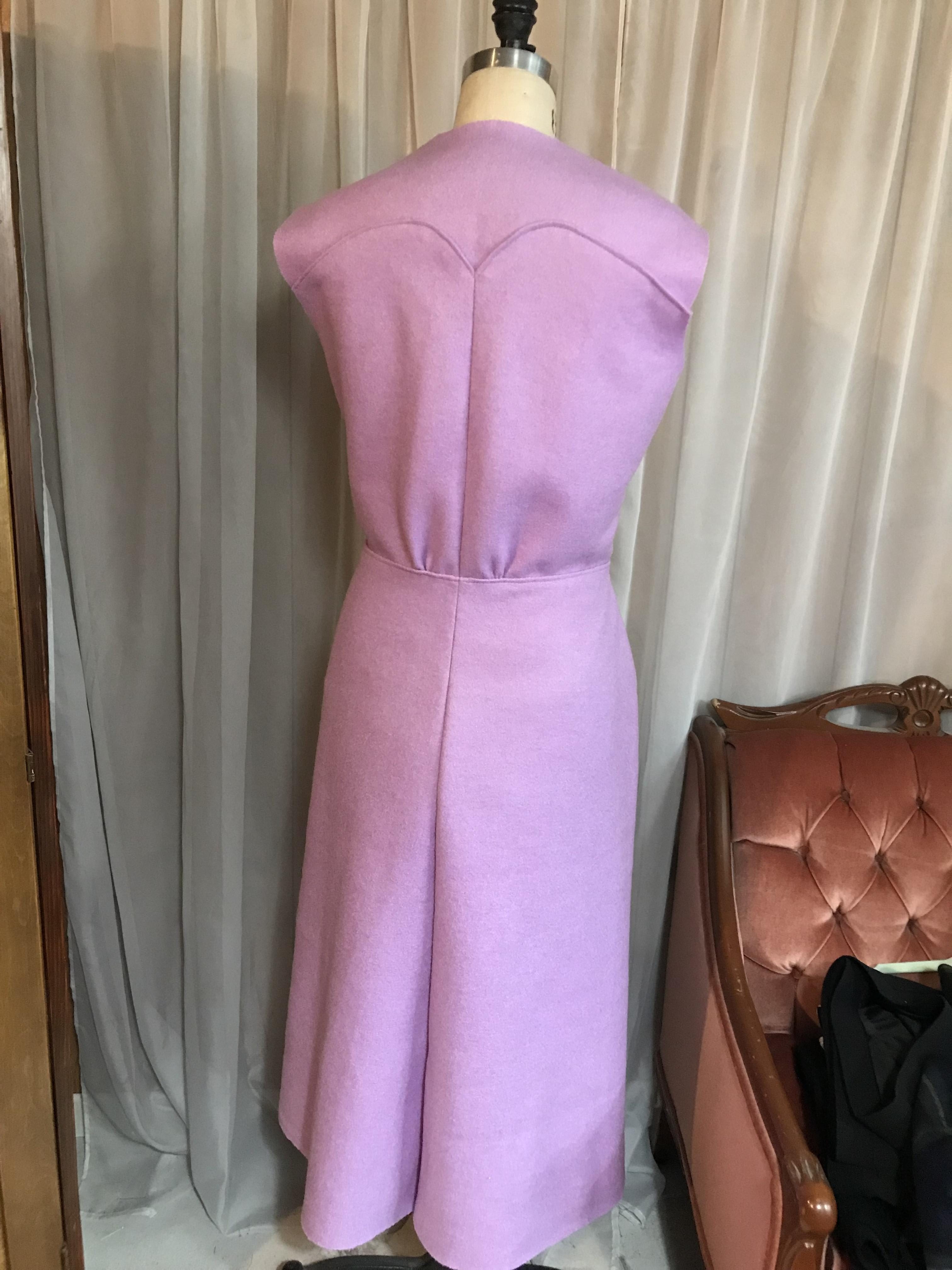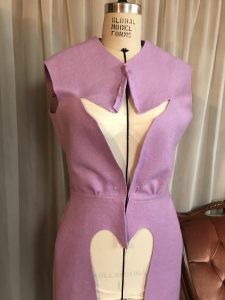 Now time for the tricky step of the coat construction; joining the two front pieces with the curved edge, of the coat, a lot of pins are going to be involved!
To recreate the same look as on the pattern envelope, I wanted to add a contrasting trim on the edge of the joining seam of the front bodice. I think it gives a very cute and feminine look to the coat.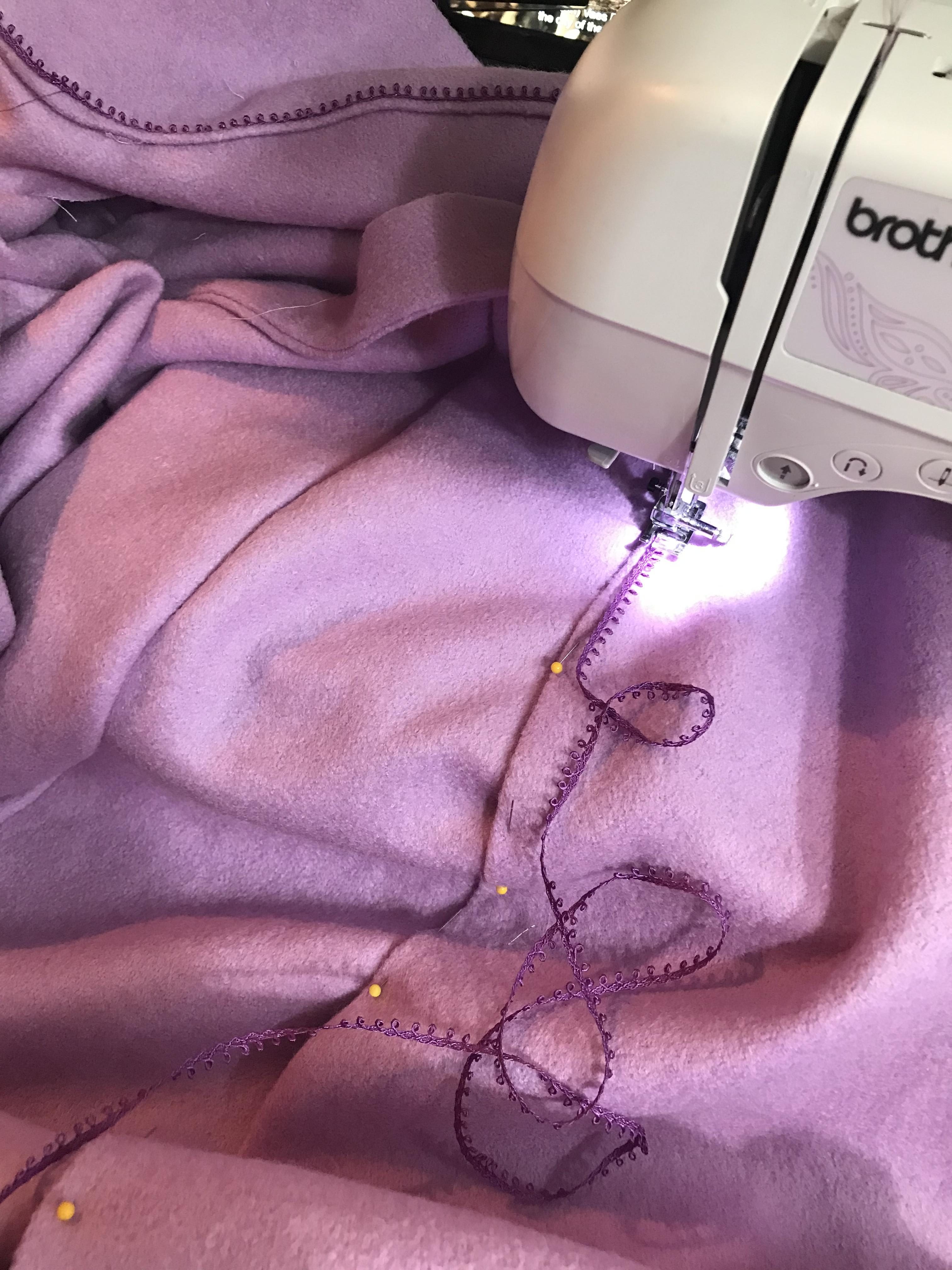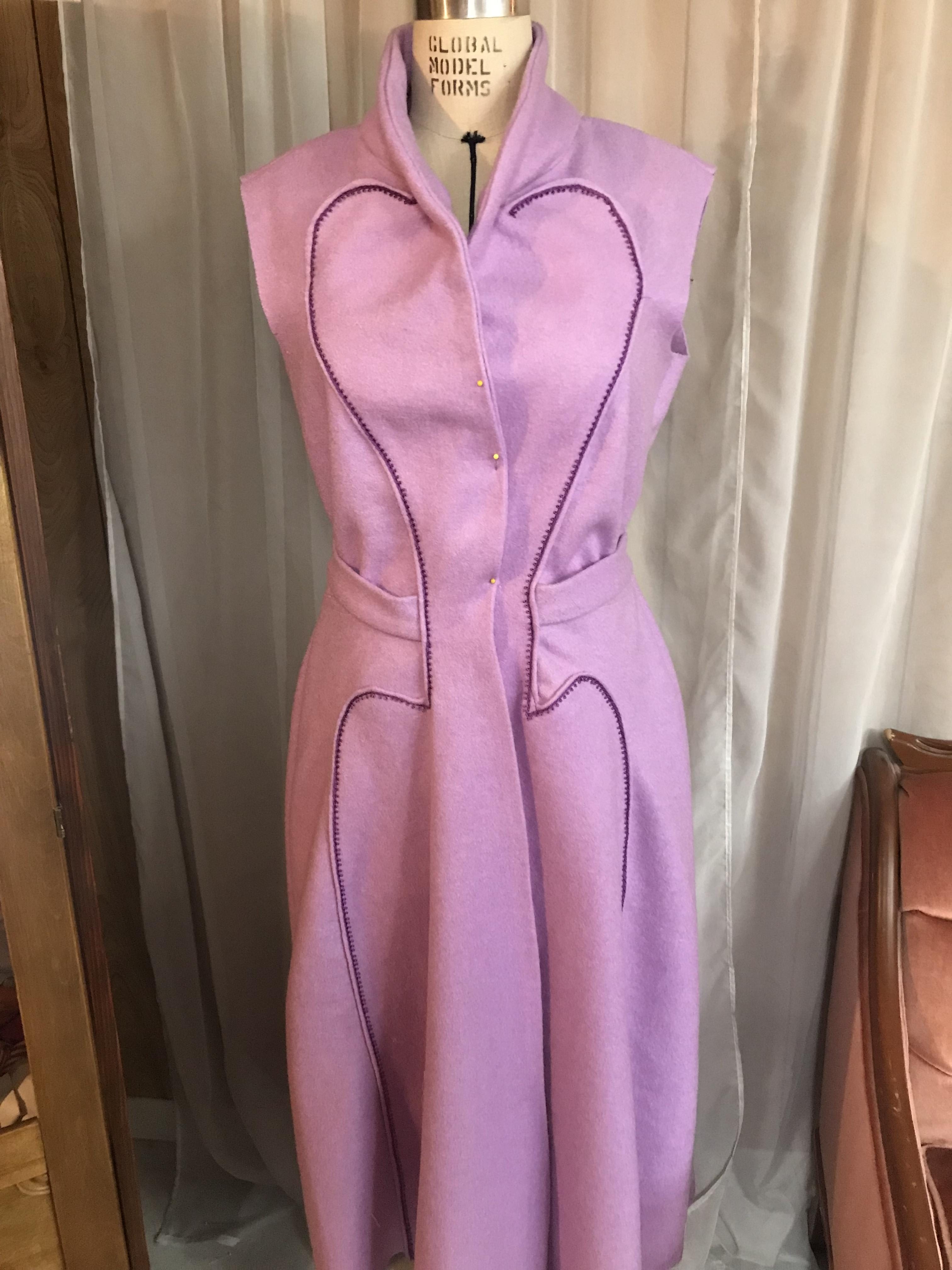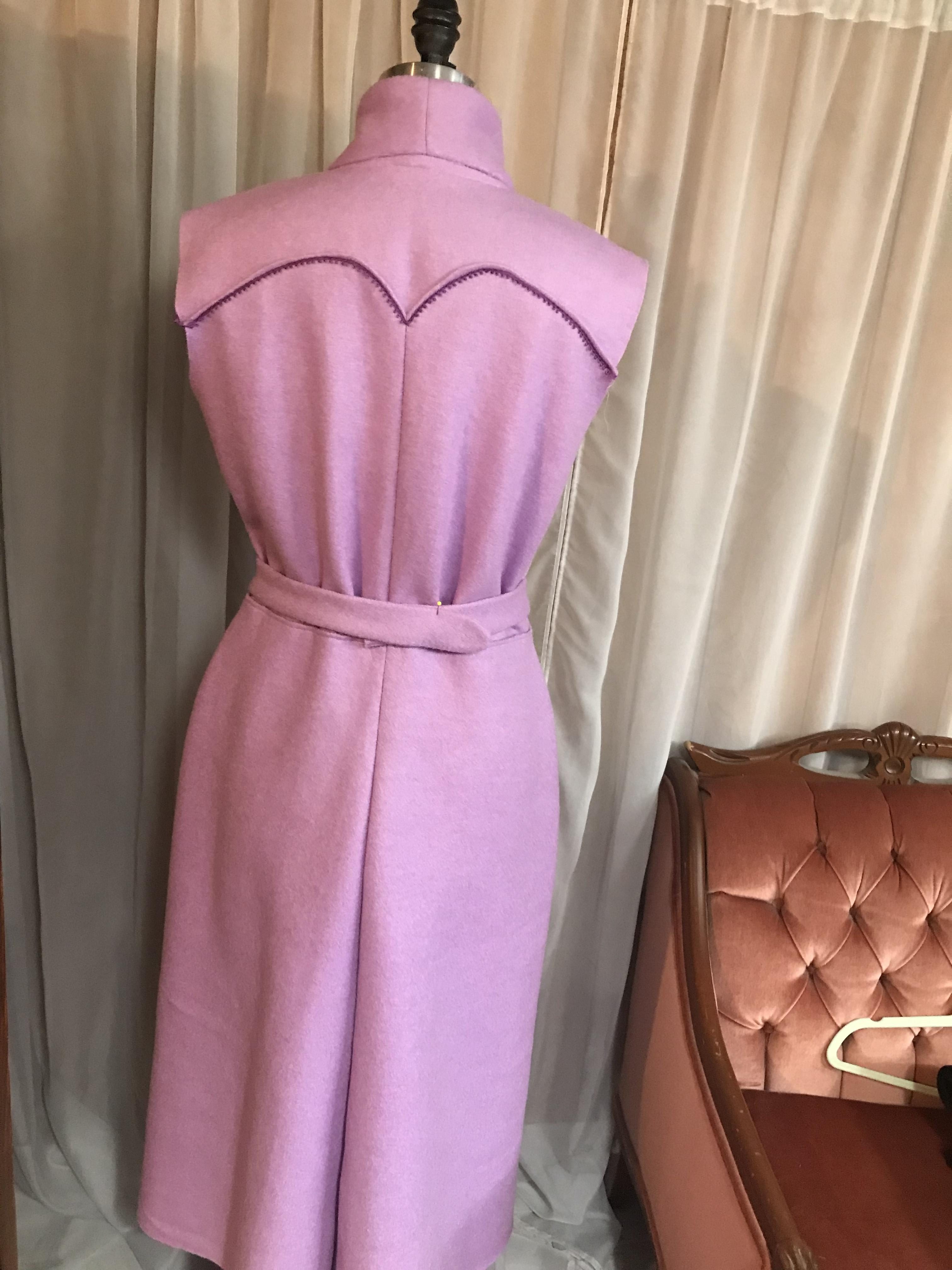 Most of vintage pattern don't have lining, like this one, rayon bias bindings were often used to finish seams. A double fold bias binding was used in lightweight fabrics and a single fold bias binding for heavier fabrics. I prefer a to use lace seam binding to finish my seams the interior looks more polish and fancy.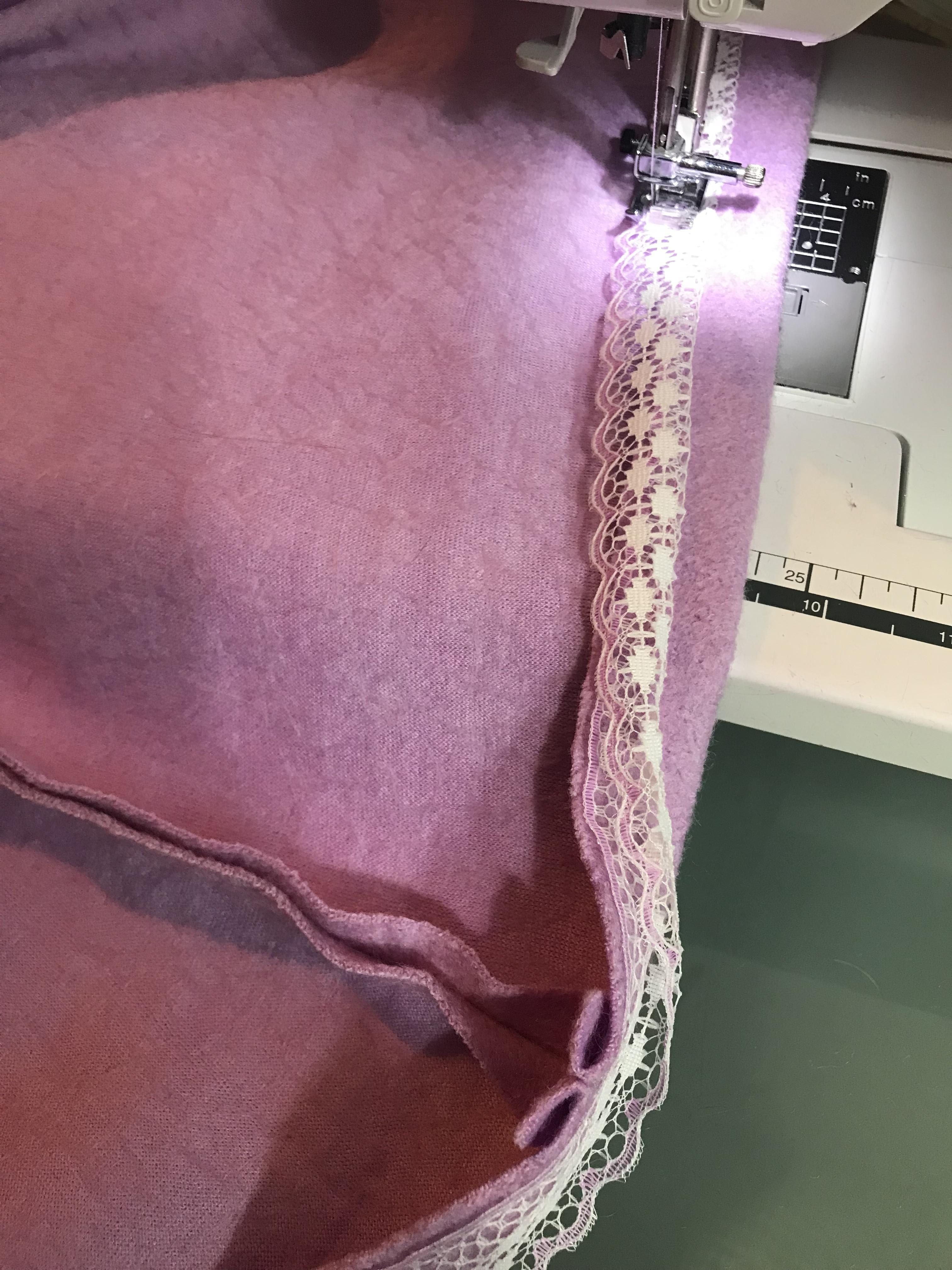 I am in love with my new coat and really happy to have chosen this pattern, it truly looks like an authentic 1940's coat.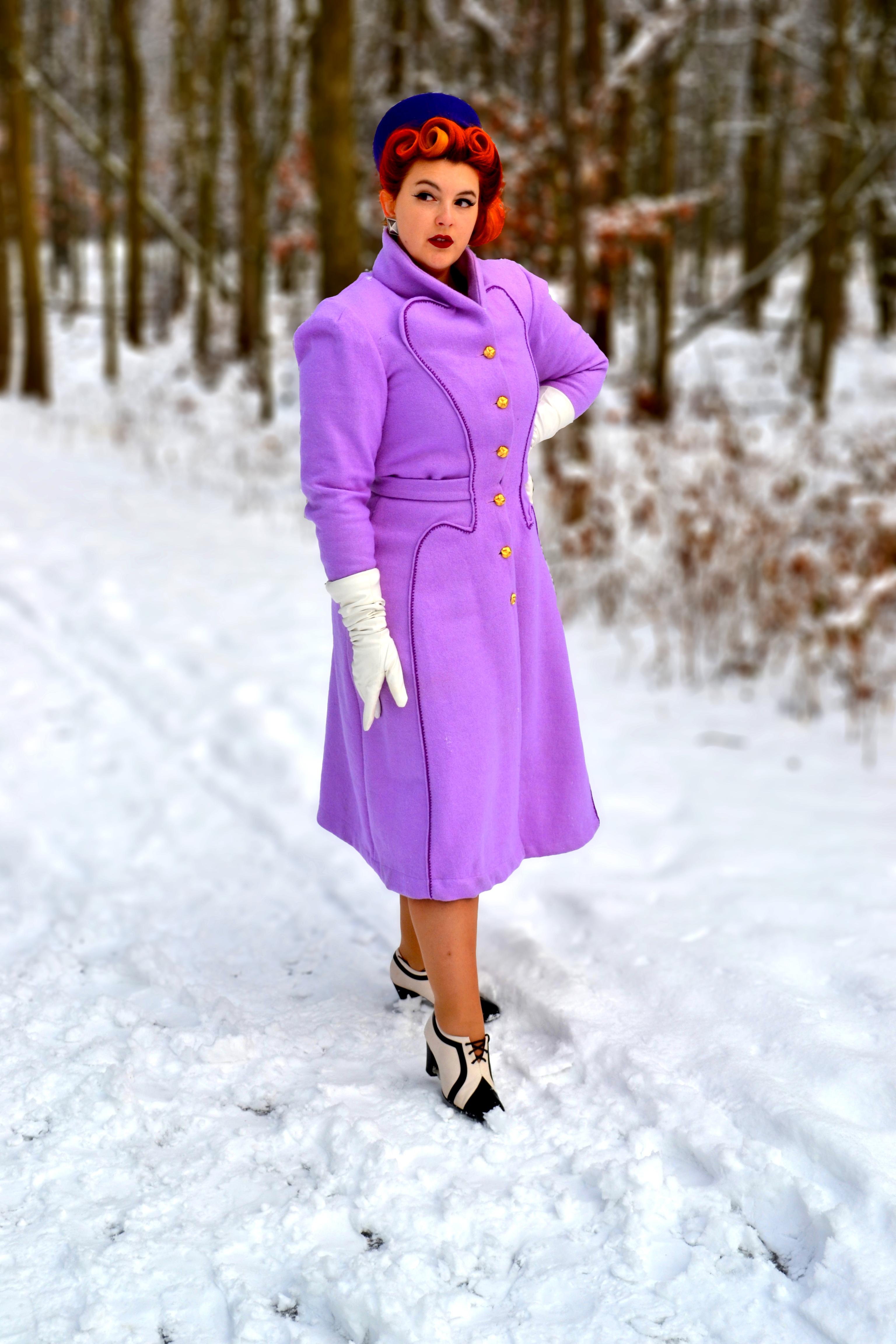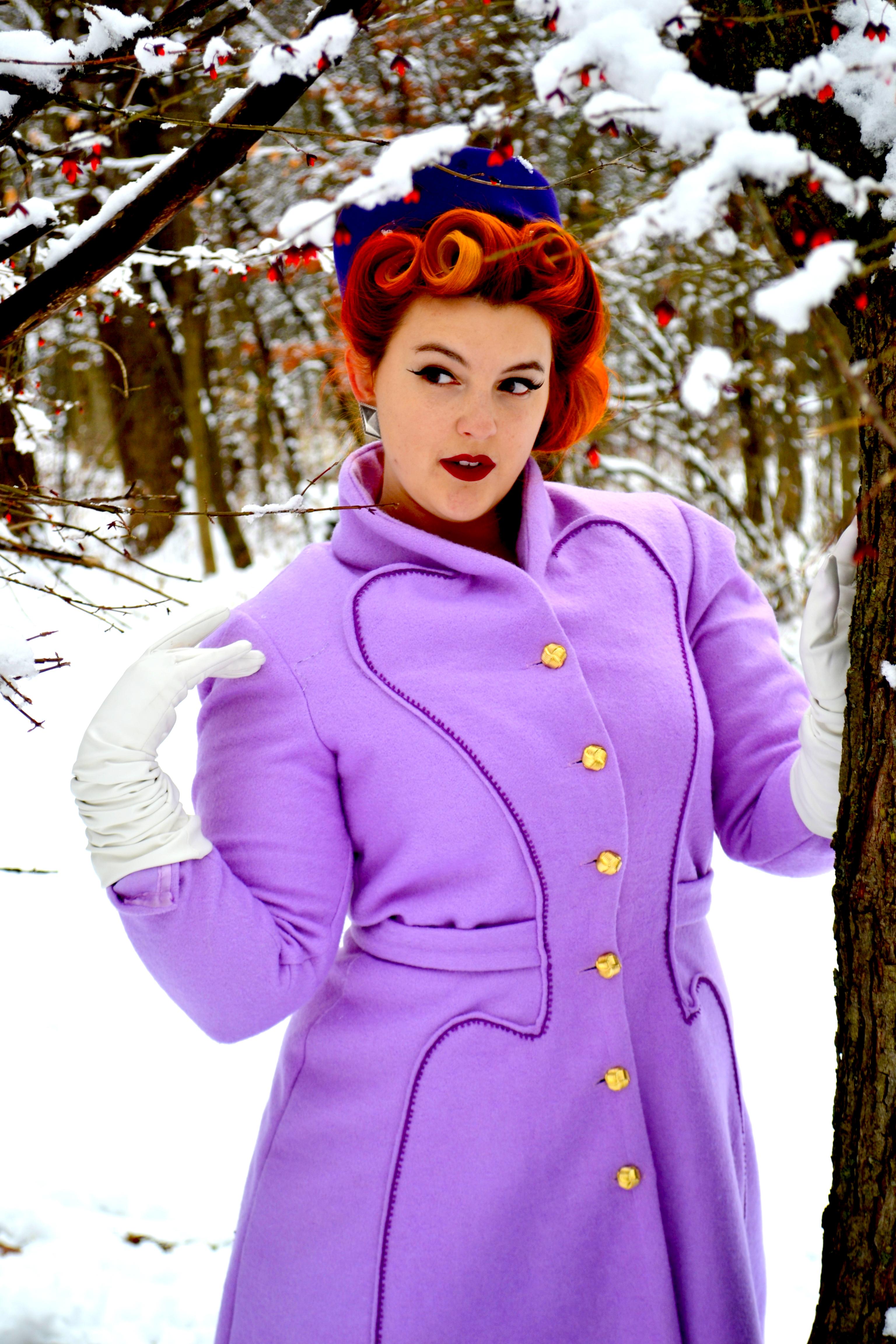 Sewing Summary
Pattern:  V9127 Misses' Dress (Size: 6-8-10-12-14)

Fabrics:  
3M of Boiled Wool Light Weight – Lavender
Notions: 6 large golden buttons
Sewing time:
10 hours, took longer since I altered the pattern to make a coat and encountered a few hickups.
Modifications: 
Modified the pattern to make the dress into a coat.

Removed the side zipper and extended the front buttoned opening
Fit: Surprisingly good for a vintage pattern reproduction. Sometimes, the repro's sizing is all over the place, even if they have updated the sizing to the modern standards. I had to make very few adjustments, only because I was altering the dress into a coat.
Difficulty: Intermediate, especially because of all the curved pieces of the front of the garment, it is tricky to assemble.
Watch out for: There is no lining included in the pattern. Personally, I prefer to line almost, all my garments. Although, I understand that in 1938's most of the patterns didn't include a lining for coats of dresses.
Make again?: Yes, I would like to make it as a dress.
Voilà! I can't express how happy I am about my new coat; it is exactly and even better than what I pictured in my mind. I feel like I am wearing an authentic vintage piece.
Thanks Fabricville for giving me the opportunity to blog about my sewing and vintage fashion passion! For more Gorgeously Vintage creation, visit my Facebook & Instagram pages @gorgeouslyvintage .
So Long Dearies!
Happy sewing!