What comes immediately to your mind when someone says "little black dress"? Do you think classic style? Maybe Audrey Hepburn? Or maybe you think fun and funky? Whatever comes to mind based on your personal style,versatility and timelessness are certain to bepart of it. And for those of us whose lifestyles don't require too many dresses these days, having an LBD in your closet can be a lifesaver for those times when a dress just seems right. Enter my latest LBD project.
In October 1926 Vogue magazine published a picture of a simple, elegant black sheath created by none other than Coco Chanel who is often credited with being the mother of the LBD approach to dressing. Her unadorned, simple approach suits me perfectly and it might suit you.
For me, there are a couple of key characteristics that I look for in an LBD.
First, it must be unfussy. Simplicity is key to versatility and timelessness as far as I'm concerned.
Second, it must fit perfectly. My perfect shape is a sheath and sheaths are not very forgiving so fit is very important.
Third, it must be black. You've heard that "red is the new black" or "white is the new black" or something equally as odd. Well, black is black as far as I'm concerned.
There are many patterns for simple dresses to choose from but one that caught my eye was Butterick 6410. I love the lines and the fact that it has sleeves (I already have several sleeveless black dresses). I also love that it suggests that my new LBD need not be completely black. It could have a contrast yoke, an idea that I think will make this dress suitable for other than just cocktail hour.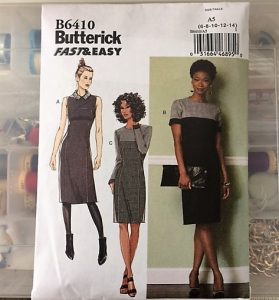 The fabric is so important, too. The pattern suggests several wovens but also ponte. I think that a stable knit will make this dress very travel-friendly so I searched for the perfect fabric. For the main body of the dress with its princess seaming, I chose a Ponte di Roma which is 62% Polyester, 33% Rayon and 5% Spandex. I prefer this to 100% polyester fabric since the rayon provides a bit of breathability and the lycra give is good recovery. No one likes a saggy bottom!
I chose a striped ponte with the same fabric content as the main body for the contrast front and back yoke and a knit lining for the bodice. Although the contrast fabric for the yoke has the same fibre content as the body fabric, it doesn't have the same hand. It has a bit of a crisper hand which worked well for getting that neckline perfectly flat. One note about the knit lining: it's very fine and needs to be cut out in a single layer for the best results. I also decided against the exposed zipper on the back in favour of an invisible one since exposed zippers are a bit trendy for a timeless dress.
I began this project like I do any kind of fitted garment project: I created a muslin.
Although this would be made in a knit, ponte is a stable enough knit that a cotton muslin works – to a degree. Once I got the muslin fitting fairly well, I did have to take it in a bit more as I worked through making the dress. Knits do need to be just that much more fitted to get the right look without looking like you're wearing a sausage wrapper.
I then transferred all the pattern changes onto the pattern and created a new one.
Since the bodice is lined, no facing is required, although I did interface the neckline with stretch-woven interfacing. This lends itself to a smother upper bodice and back. I hand-stitched the lining in along the bottom and down the zipper for a neat finish. I also used my serger to finish the interior seams that aren't covered by the lining.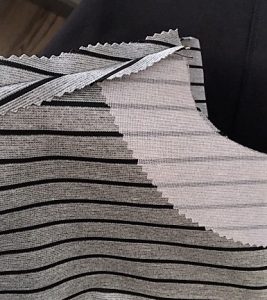 The set-in sleeves have a contrast band and it was a bit tricky to ensure that the sleeves themselves didn't stretch resulting in puffiness. I almost nailed it.
I very rarely stick this close to the pattern style lines and especially I rarely try to emulate the fabric selections. But in this case, I thought that they were well-chosen and the final project suggests that I might be ready for dinner out or a day at the office. Either way, I'm looking forward to wearing it!