There is something special about Canada in the month of March. Ok, sure, there is ice, mud and slush, and I don't love that.  But it also brings about the first signs of spring, and with it, my dream of a freshly sewn wardrobe with bright colors and florals. March recharges my sewing brain for the new season ahead.
This spring is all about bright! As I scrolled through social media, I was seeing bright colours and florals everywhere.  I wanted to find a fun floral for pants and a bright top to get me into the spirit of the new season.
Jalie 3911 Tank Top in Rayon Challis
This bright orange caught my eye on the Fabricville website in Rayon Challis – Germaine – orange  (psst, it also comes in a host of other bright colours so be sure to search for your faves).  
I really wanted to pair the rayon challis with a pattern that would allow the drape of the fabric to show, so I went with one of my all-time favourite companies – Jalie.  The Jalie  3911 Michelle tank fit the bill.  The pattern has dress and tank options, and has instructions for a double-layered tank to make for easy finishing and eliminating any worries of undergarment show-through with semi-transparent fabrics. I went with 2 metres of the challis to make sure that I had enough to do the double layer. 
 I love Jalie for their drafting and predictable fit, and I'm sure I will be using this pattern many times over. Best of all, it was only one pattern piece so it was easy peasy to cut out.  I cut out 4 pieces (two for the front and two for the back) and sewed up this tank in no time.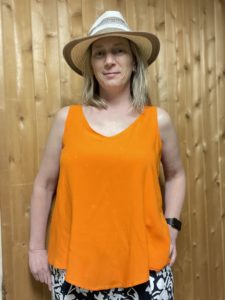 Burda 6436 Stretch Cotton Sateen Capris
For the pants, I wanted to go with the wide-legged cropped pants that I am seeing everywhere in stores and online. Fabricville's printed Lydia Stretch Sateen in Floral Navy caught my eye.  I love the combination of navy and orange, and the navy will pair with so many other spring colours such as apple green, hot pink and beautiful pastels.  The stretch in this sateen adds comfort to the pants and makes fitting a breeze (not that these required a lot of fitting with the loose fit of the trousers).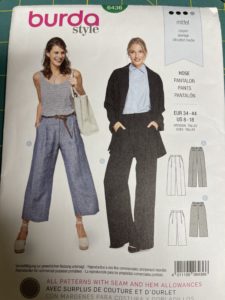 The pants pattern I used was Burda 6436 . This pattern features a front zip and I used a no-sew hook and bar set , which is a quick and easy way to add a top closure to fly-front pants. 
The pattern has front-angled pockets (which I use constantly) and back welt pockets (which I skipped – I never use them and they wouldn't show up as a design feature in this busy print anyway). 

They feature wide front pleats for comfort and wearing ease and come in full and cropped lengths. 
I decided to go with the cropped length and was able to make the pants from 2 metres of the sateen with careful pattern placement (though next time I would order 2.5 or 3 metres just to be safe). Using stretch sateen for a pattern that doesn't require stretch means that you may be able to size down – if you go this route be sure to do some fitting along the way!
I am really pleased with how my first outfit of Spring 2023 came together.  I can't wait to sew up more bright tops for these floral pants!
Sew on!
Heather
Want to know about me?
I am so fortunate to call Manitoulin Island, Ontario my home.
I am an outdoors and sports-loving mom.  I've been sewing for over 20 years, I make most of my own wardrobe, and my favourite things to sew are jackets and activewear. 
In my free-time, I'm a school Principal.  
 Want to see more of my sewing projects?
You can find me on Facebook at Manitoulin Threads
You can also  follow my sewing projects on Instagram @ManitoulinThreads