So we've had a taste of nice weather and I think we're all about done with sewing up warmer clothing. Today I'll be showing you two pieces I made using Burda patterns. I think you'll agree that these fun basics will be much appreciated in any child's wardrobe.
The top was made with Burda 9439 and the shorts with Burda 9441. Both patterns were designed with girls and boys in mind.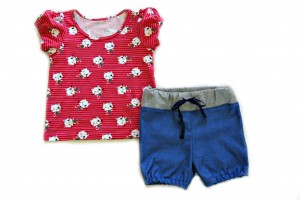 If you're new to sewing forget what size you dress your child in store bought or ready to wear clothing. Take a few moment to take their measurements. This will give you a better fitting garment for your little model! Here are my measurements for Amelia, if you notice she's a little smaller than a size 5, but I do want it to fit for the summer. Her waist measurement is a size 6, but also looking on the front pattern piece of the pants or shorts you will notice the finished garment measurement and that too will help you decide what size would work best for your little one.
For the top I made View D with  the gathered sleeve. I do like the look of the little frills or lettuce hem, but my daughter on the other hand is not a fan of a very narrow elastic around the arm with a casing. Instead I made a small casing, no frills but still gives you a very girly look. The fabric is from the Lalia printed knit collection.
I used a 1/4″ elastic, 8.5 inches long for a size 5.
For the shorts (View C) I used a Galaxy twill, its light weight yet durable, ideal for kids clothing. The waistband is left over fabric from another project, I used a soft cotton lycra knit for a comfortable fit. I could have easily used the Lalia knit left over from the top but I wanted to make it easier to match with the rest of her wardrobe.
Thanks for stopping by!