(*Note: The photos look a bit blurry, but that is only due to the type of fabric that I've used! Try to take a clear picture of suede, it's a little hard)
Fall, the perfect season to treat yourself with the most magnificent fabrics to create warmer clothes. Yes, summer can be an interesting season to sew lightweight blouses and cute dresses, but when it comes to sewing clothes for colder temperature, the feeling of proudness is way more present. Since the patterns are a little more elaborate, you get to learn new sewing skills while creating more interesting garments at the same time! I feel like such a king when I wear a lined vest that I've sewn for myself. "Oh, that coat I'm wearing? Yeah, I made it. No big deal. Just a lot of details you know, better than something you buy in stores. Ohhh, I know it's amazing, but thanks!" (Internally giving yourself a high five)… Admit it, you like being complimented on your creations (I do)!
Thus, fall is the perfect moment to go fabric shopping. I almost started to drool when I saw the new collection that Fabricville has to offer. Leather, suede, knit, … I know someone who's going to spend a lot and a wallet that's going to cry. But hey, it's good for the soul! (Right??!)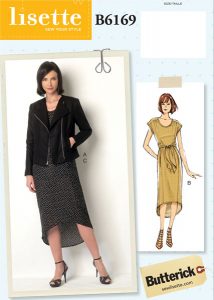 I wanted to start with a nice vest that I could wear every day – nothing too fancy, but still cute. I am in love with every perfecto/motorcycle jackets of this word and I was looking for a pattern that I could easy alternate to reach this style that I was looking for, so I tried Butterick 6169.  I usually hate to copy the style on the cover of the pattern, but you can never go wrong with a black vest. Plus, I noticed a nice suede fabric in stores that would be perfect with B6169 (Fabricville code: LR109/ LR114 butter soft leather look/ suede).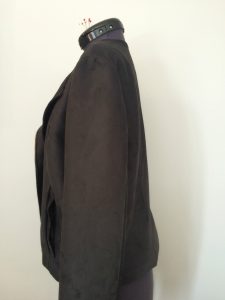 If you went shopping recently, you might have noticed a lot of faux suede/faux leather garments with a loose style (not necessarily a fitted cloth). I wanted to recreate the same effect, so I didn't use the padded shoulders nor the interfacing that the pattern requires (actually, I bought some fusible interfacing, but realized real fast that first, you are not supposed to iron your suede and second, even if you do, it just doesn't work. The interfacing wouldn't want to stick to the fabric so I omitted it, telling myself that it's was going to help me recreate the loose fitted garment that I saw in stores… Which weirdly worked out well).
Fabricville also has a great section where you can find fabrics that you can use for lining your garments. I personally prefer choosing a cute print fabric (as a did for this project), one that could be used for a cute blouse or even a tee. It's always fun to look inside your garment and see colors instead of a plain fabric. You can even play with textures, so if you want to feel comfy this fall, you could go with a lightweight knit for example. Your choices are infinite (you don't necessarily have to follow what your pattern suggests you!)!
Et voila!