I'm so excited to be showcasing this pretty dress!
I was looking through the website with my 6-year-old trying to choose fabric and as soon as she saw the Modern Bloom line she was excited and declared she had to have a dress in that fabric! I used the Modern Bloom Large Flowers in Indigo. It is just so pretty in person.
I have been wanting to try making a dress with front tucks for one of my daughters for awhile now and Butterick B4176 was the perfect choice. I haven't sewn too many tucks, so these aren't quite perfect. However, I love how the tucks help give the dress a sort of billowy look. Fun change from doing gathers all the time!
The pattern comes in a dress and top version that features, in addition to the front tucks, a simple button back loop closure. It can be sleeveless like I made or have cute gathered sleeves. The pattern also comes with a pair of straight-legged pants or shorts. So many options in one pattern!
The dress is fairly easy to make. The trickiest bit for me, besides trying to get those tucks even, was sewing on the bias neck and armhole facings. Getting them to lay flat involved spending quite a bit of time with the iron.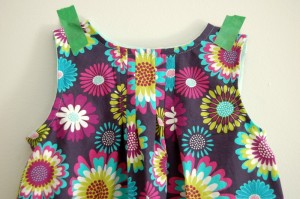 The fit is great on my daughter! The pattern is available in two size combinations: 2 to 5, and 6 to 8. I went with the size 5 for my 6-year-old. Her height is closest to the 6 but her chest and waist measurements were just under the size 4. She has slightly broad shoulders so I usually size up from the chest measurements to accommodate them. Since the dress is made to be loose fitting I figured the 5 would be the best option to allow for some growing room in the chest and still have some length. She can pair it with leggings in the fall if it gets too short.
At first I wasn't sure if the fabric and pattern made the best pairing but I have to say that I really like this. Like really like it! When my daughter saw it she wanted to keep it on for the rest of the day, but I have a rule that she has to wear new dresses at least once to a party before she can use it as a play dress. She was a little disappointed to say the least.
In the last few years I've done most of my sewing using PDF patterns and have only used paper patterns a couple times in the past (like back when I was sewing as a teen!) even though I have a pretty big paper pattern stash. The instructions didn't involve as much hand-holding as you find in many PDF patterns so I had to figure out a few things out for myself (like seam finishing) but overall it wasn't all that scary! I have to say I'm pretty pleased with how this dress turned out and will definitely be working with paper patterns more often in the future. I also have plans to make my youngest the tops and pants version of this pattern for the fall. She'll be so cute!
I hope you've enjoyed my project!