Who is ready for Spring?  I know I sure am, it's definitely been a long winter here.  It is finally nice to see the sun and the snow melting.  The beautiful sunshine has got me thinking about my spring and summer wardrobe.  When I think of spring, I think of bright colors and florals and that's exactly what I have for you today.  When Fabricville posted their Spring Look Book 2019, I was really excited as the spring outfit I had been dreaming about was in this blog post, using the same fabrics as my outfit, but in a different color.
For my outfit, I chose 2 Butterick patterns, the top is B6560 and the capris are B6461.
Let's chat first about the top.  I used the IMA-GINE Cotton Lycra Solid in Fuchsia for view B.  This is such a good knit to sew with, I really enjoyed working with this fabric.  The color is nice and bright and just simply a dream to sew and wear.  It fed through my machine lovely, I didn't use a walking foot, just my regular foot.  I will definitely be making more items with this type fabric.  Fabricville carries a lot of colors and prints in this lovely fabric, you can check them out here.
I really liked the look of the cape look for the Spring as I find tank tops to be a little chilly for me for May and June.  This is a really great pattern for the base tank.  Each of the views start off with a basic tank top and then you add the different elements to it.  It was a simple pattern to sew, you could easily sew this top in one afternoon.  The instructions and illustrations were clear.  I sewed a size 14 and did my regular small bust adjustment and lengthened the top by 1 inch.
Now, for my absolutely favorite part….the capris!  I made it one of my goals for 2019 to become better at sizing and fitting pants!  This project definitely fit the bill.  First, I absolutely love this Butterick pattern for capris, it is a simple sew and has beautiful seam details, especially the front leg stitching.  I love the elastic waistband as well!  The elastic waistband was a lot easier to sew than I was anticipating, I really like the method that the pattern utilized.  Instead of creating a channel and feeding the waistband through, they have you tack the waistband down in 4 locations and you then sew the elastic directly in between the waistband and facing.  This way, you do not need to worry about your elastic getting twisted after wearing and washing.
Since I find fitting pants a little more difficult than fitting tops, I decided it was best to make a toile.  Boy am I ever sure glad I did.  I used some old bed sheets to make my toile.  Based on my body measurements, the pattern had me at a size 16 for my waist, and a 14 for my hip.  I decided to use my waist measurement as my guide.  I traced out the size 16 on tissue paper.  The size was way to big for me, thank goodness I made the toile instead of using my fashion fabric.  After assessing the size of the 16, I decided it was my best bet to go with the size 14.  I had measured the crotch curve on the pattern pieces as my friend taught me a while back that the crotch curve is an important measurement.  Would you believe it that the pattern pieces measurements matched my measurements.  I couldn't believe it, so I measured it roughly 3 times until I was convinced that the size 14 would work for me.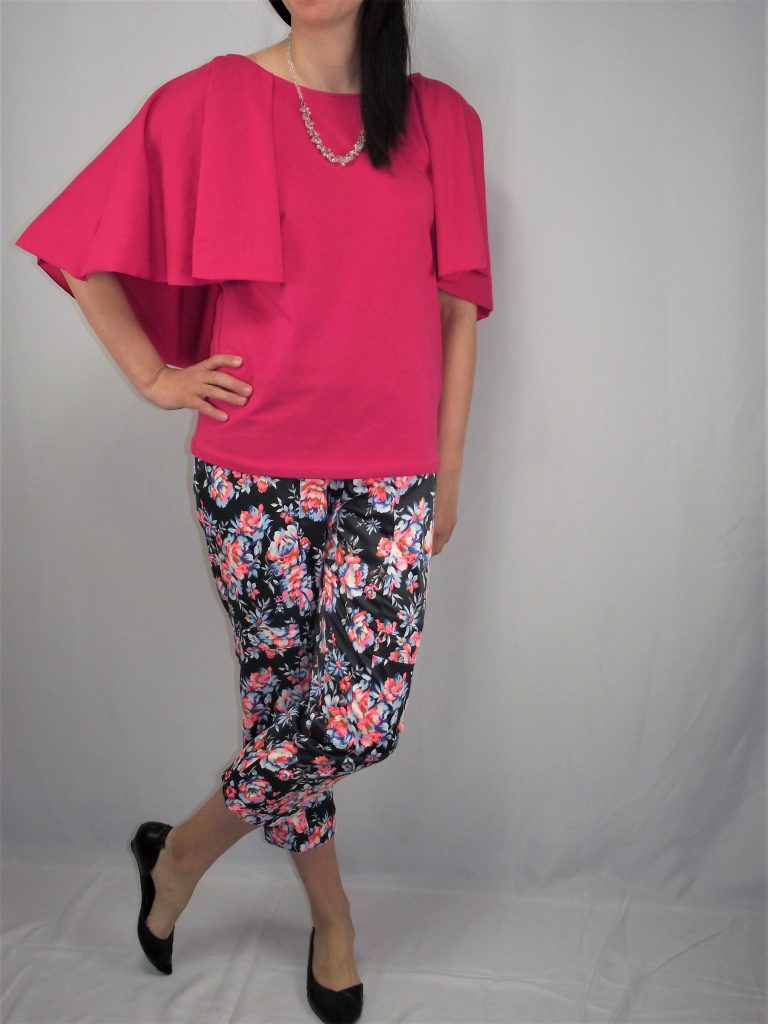 As intimidating as pants can be, these were an enjoyable sew.  I thoroughly enjoyed the whole process.  My favorite part was the seam details.  I was able to use my edge stitch foot for the very first time.  I do not know why I've waited so long to use this foot.  Any time you need to sew an edge, this foot will be your best friend!
The fabric I used for my capris is the Sierra Stretch Sateen Print – Florals – Black, it also comes in different colors and a couple different prints, including some polka dots.  Once again, I loved working with this cotton sateen.  It's smooth to touch and has a little sheen to it.  I thought that it might be a little bit slippery to work with, but that wasn't the case at all.  I made sure to use extra pins just in case.  B6461 and this fabric is a match made perfect for each other, very comfortable to wear.  It really suits my life style of looking dressed up while remaining comfortable, especially with the elastic waistband.  Hopefully Fabricville will be carrying a couple solid colors in this fabric as well!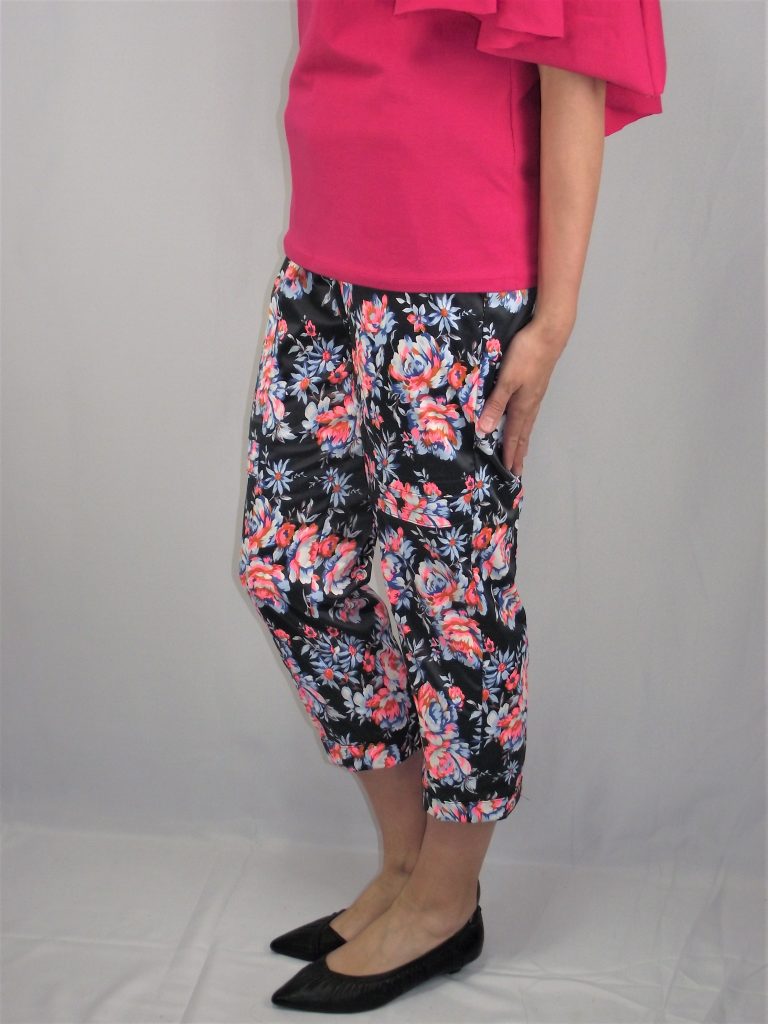 I can for sure see myself making plenty more of these capris and in the pant length as well.  I think I need a pair in every color!  They are really comfortable to wear.
I've shared a highlight on my Instagram on the process of making the capris, it is labelled as B6461.
Thank you for taking the time to read about my new spring outfit!  I look forward to seeing your spring and summer makes!
Kris – aka SewNotes