Hello Fabricville Friends!
It's been quite some time!  I recently started a new job and it has been keeping me busy and on my toes, which has meant a little less time spent in my sewing room.  However, with all the excitement of starting my new job, I was able to find some time to sew this beautiful outfit for Fabricville!
Let me start with saying how comfortable this outfit is!  It is the perfect match between fun and comfy!  I must add too, that this outfit completely summarizes my sense of style and comfort.  I love anything with a cuffed sleeve and an elastic waistband!  This outfit is so me!  I also love a good pairing of patterned bottoms with a solid top!
The fabrics I chose were: IMA-GINE Cotton Spandex Solid – Black, this is one of my absolute favorite fabrics to sew with and to wear.  I've sewn quite a few tops with this fabric and I love them all.  I paired the black fabric with McCalls 7660 for a comfortable look for the fall and winter months.  I sewed view B with the high neck, cuffed sleeves and cuffed waist.  I did a small bust adjustment to the paper pattern and I love the fit I was able to achieve.  If I make this pattern again (which I will!), I would lengthen it maybe by 1 inch.  Other than that, I absolutely love it and have gotten a lot of wear from this top over the last month!  The love that the pattern has different neck and sleeve options, it is always great when you can get a lot of use out of one pattern!
The next fabric I used was: Feline Printed Knit – Leopard – Bordeaux, this fabric has a brushed surface.  It is printed on one side and white on the other side.  I paired this fabric with Vogue 9374.  One thing I love about this Vogue pattern, is that it comes with pattern pieces for both a knit fabric and a woven fabric, which also makes for a versatile pattern!  I chose to make the pants out of a knit for comfort.  I lengthened the pants by 1.5 inch to make it a perfect length for those colder months.  The pattern features large front pockets and an elasticated waist, which I love!  I will be trying out this pattern using a woven next!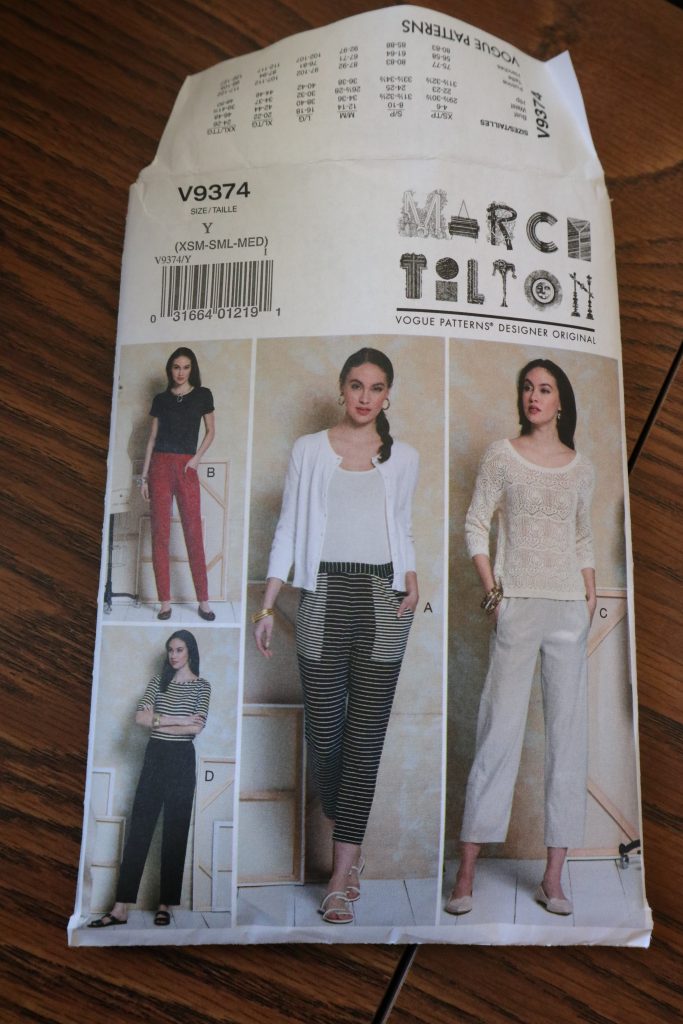 Both the top and pants combined equals pure comfort and joy!
Sewing both patterns was such a breeze.  Both fabrics fed through my Brother sewing machine beautifully, I really like it when you do not need to use a walking foot on some knit fabrics!  The pockets and pocket facings were well instructed.  This was my first time using a Vogue pattern, I really enjoyed it.  Someone once told me that the language on Vogue patterns can sometimes be difficult to understand, but this wasn't the case with this particular Vogue pattern.  I will definitely be trying out more Vogue patterns in my future, I have a dress pattern in mind next!
I have thoroughly enjoyed sewing this outfit, and I absolutely love wearing this outfit!  Thank you again Fabricville!