I'm usually a standard-bearer for slow sewing. I love those long projects like little French Jackets with hand-inserted linings and all that hem-line chain. I also love the process of making tailored shirts that I can work on over a period of weeks. At-home fashion, which is a big part of our daily clothing choices these days, though, tends not to be the kind of project you can linger over.It usually includes some variety of a knit for comfort and a fit that is unrestrictive thus easier to achieve than in tailored clothing. So, when I thought about fall at-home dressing, I mulled over a few patterns and settled on Vogue 9057, a "Designer" style.
Created by Marcie Tilton for Vogue, it's a style that epitomizes her particular aesthetic. If you have a look at her whole current collection of patterns at https://studio.marcytilton.com/patterns/, you'll see what I mean. They all have similar kinds of fit and flare lines, with the emphasis on flare. There shouldn't be a lot of fitting to do when creating these. That's what I thought. I was wrong. But I'll get to that.
After selecting a pattern that might be cozy and chic, I discovered the perfect fabric. A digital print, this fabric is ideal for this pattern which is designed for a two-way stretch knit, which this is. I would not recommend a four-way stretch knit for this project. This fabric has the kind of drape that makes these flared pieces really sit on the body well. And the fact that the back is plain black gave me a few more design options when putting the pattern together. Made from a blend of 55% polyester and 45% rayon, it has enough "natural" fibre to be a bit more comfortable for me than polyester usually is. That's what sold me on it.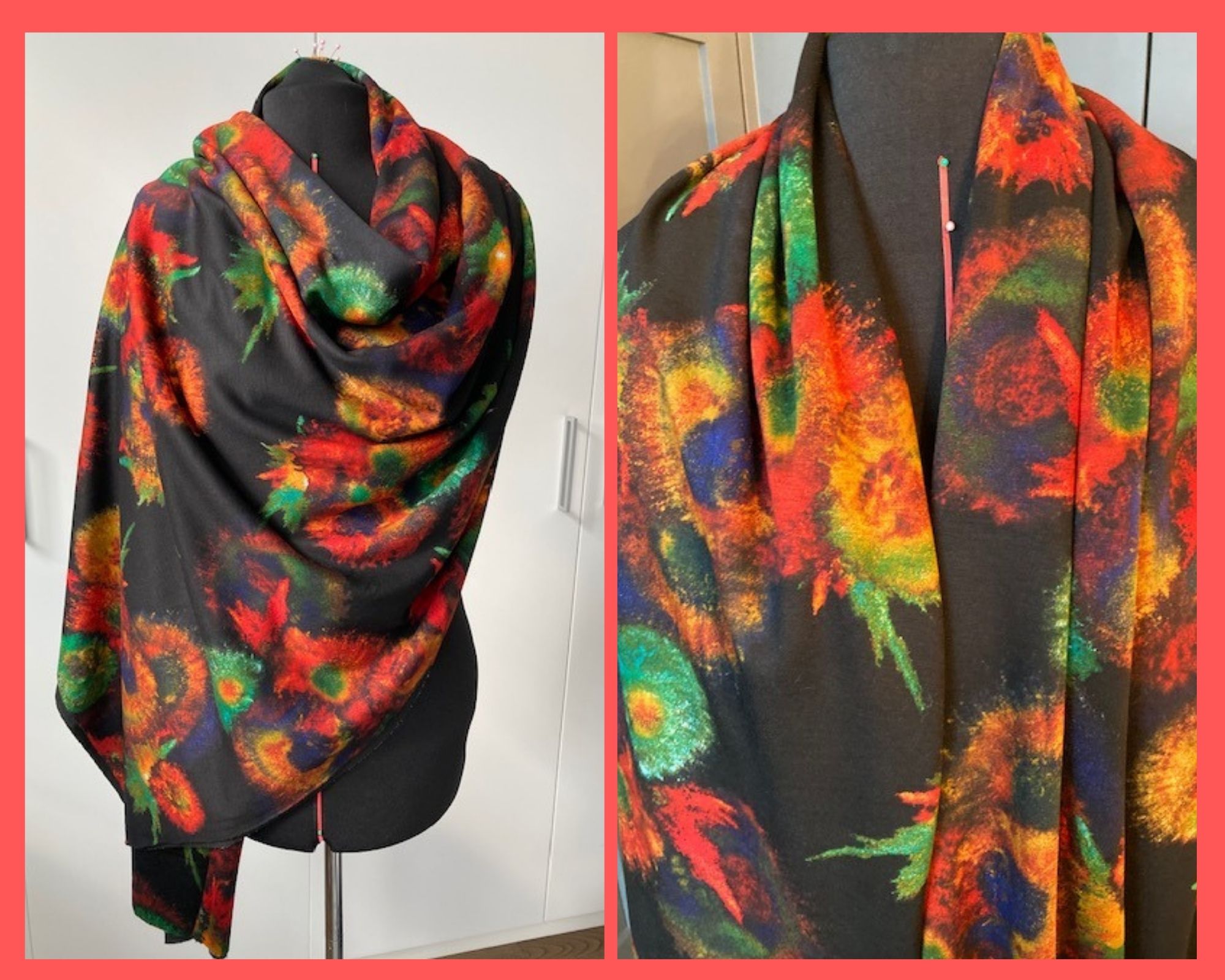 To prepare the fabric, I first cut a 4 X 4-inch square (as I always do) and popped it into a mesh bag with the laundry. I examined it after it went through the wash cycle and then again after I dried it with the rest of the laundry. As you can see in the photo, it shrank a bit on the length-wise grain. In the end, I decided that this would be a piece of clothing that I would hang to dry, so I put the entire length of fabric in the washer and then air-dried it. Once that was done, I was ready to roll.
It was a beautifully soft fabric to work with. The pattern is large, perhaps larger than you might imagine from seeing it online, so I was careful to mark my bust apex point since it wasn't on the pattern. This allowed me to ensure that I didn't place the pattern so that the apex fell smack in the middle of a large floral design – not a good look on me!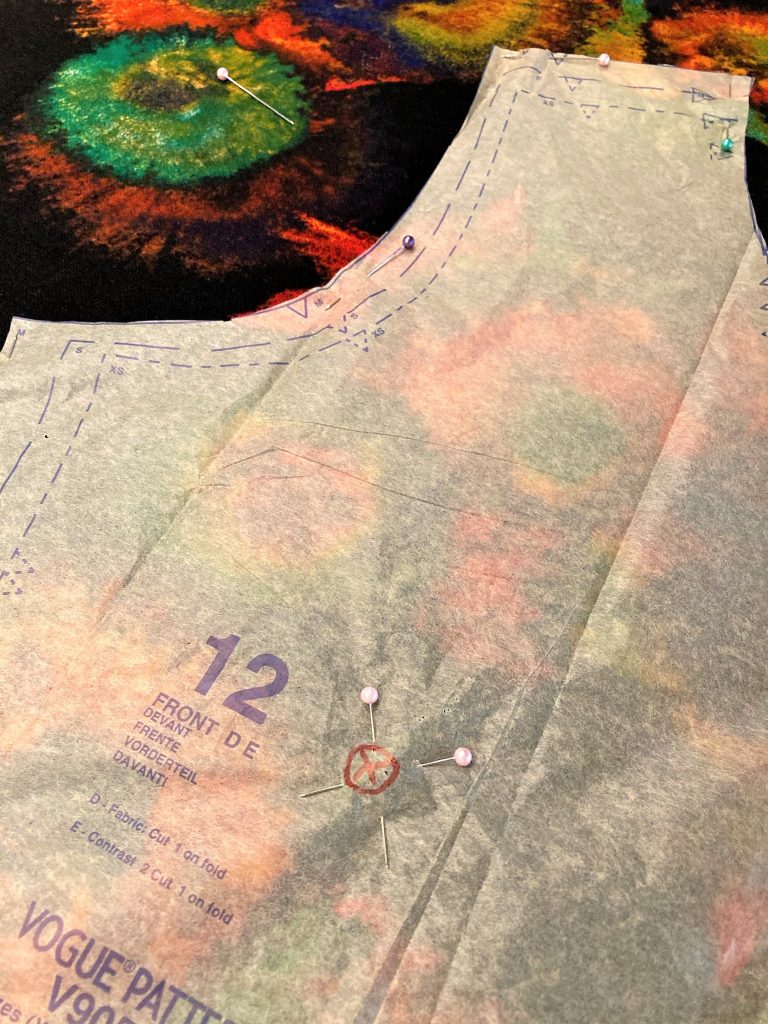 The pattern is created such that the necklines and the sleeves are all interchangeable with the main bodice. You can mix and match. I actually measured all the sleeve heads and armholes to be sure. This is what Marcie Tilton would call a French-fit design, which is fitted over the bust and then flares out. As it turns out, it has a lot more flare than fit. I have to say that I found it to be big all over.
I cut a medium which should fit me, but it was too big as you can see in the photo below. And it was too long to be flattering. I'm five-feet-seven-inches tall, so I'm not short. But the model must be over six feet tall if this pattern was made up and the hem-line fell where it does on the photograph. On me, it looked like a too-short dress. And that volume? It would have to go. I also cannot understand who has arms that long? This is the reason I baste most pieces together for a final fitting!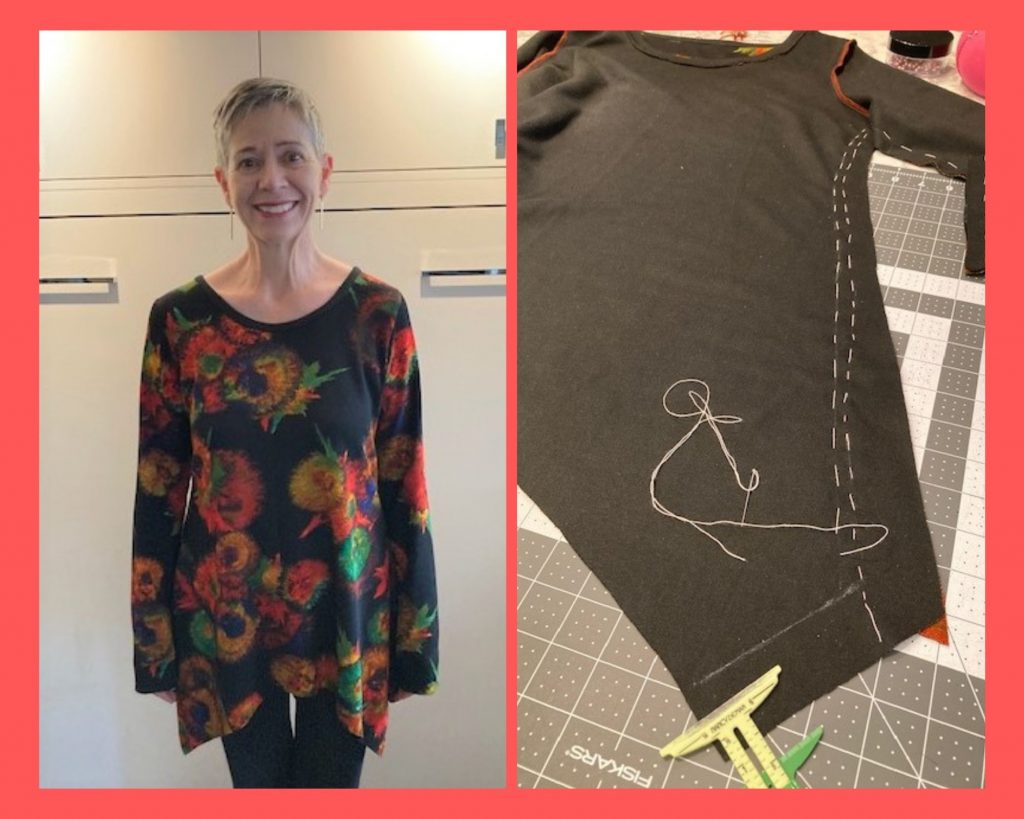 I did the bound neckline rather than the stand-out one on view D and I created it with long sleeves. As you can see, though, since the fabric is plain black inside, you can roll them to achieve a three-quarter length look.
I serged all the interior seams and had planned to serge then turn and machine-stitch the hems. It seemed to me, however, that this created too much bulk. In the end, I zig-zagged the hem (if you have a cover-stitch machine, which I do not, you could use that). The pattern indicated that the hem ought to be hand-stitched. For me, that's just a bridge too far when working with knits (and completely unnecessary with this fabric). I also made the hem two inches wide to help it to fall better.
After much taking in and taking up, I love the outcome. Next time, I'll cut a size small.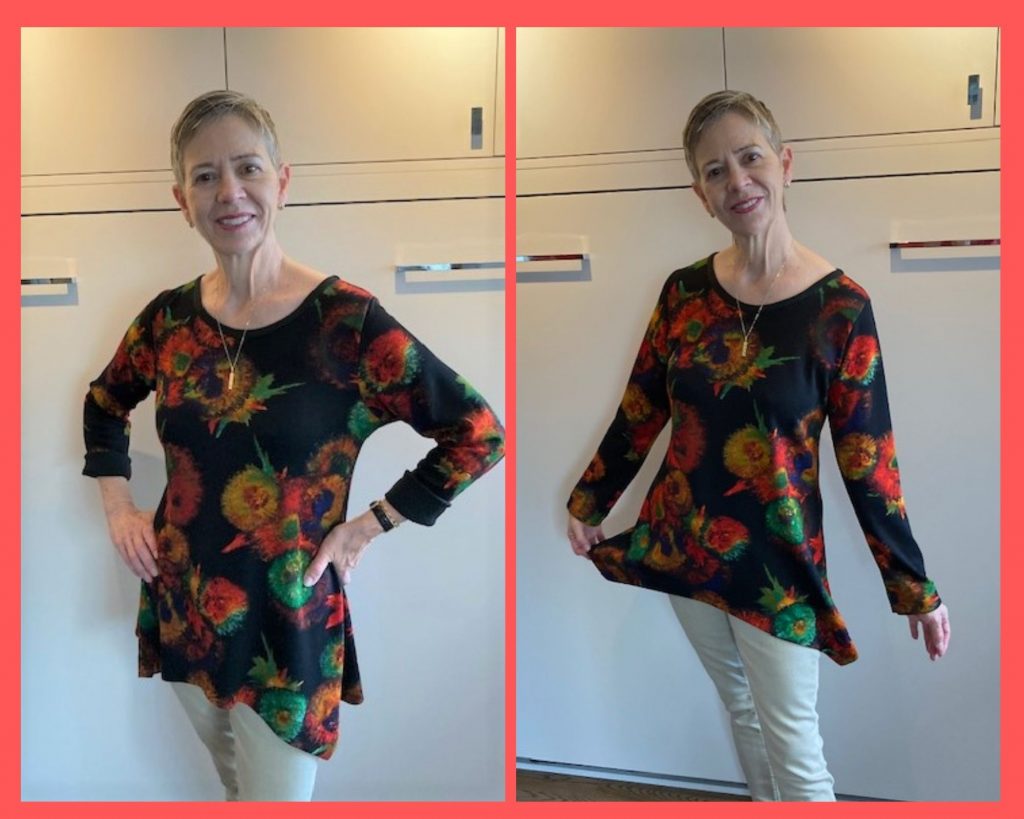 If I were you, I'd rush to the website and buy some of this fabric before it's sold out! I'm going to buy another piece in another colour.
Pattern: Vogue 9057 (view D) https://fabricville.com/en/v9057-misses-top-misses-size-y-xsm-sml-med.html
Fabric: https://fabricville.com/en/fabrics/fashion-fabrics/knits/printed-knits/digital-printed-knit-abstract-black.html