Hi sewfriends!
I am slowly becoming a jumpsuit addict. Every time I see a new jumpsuit pattern, I just want to make it ASAP!
This time, I worked on a jumpsuit that is much easier to put on; a jumpsuit with a front zipper!! I used McCall's 7292 for this look.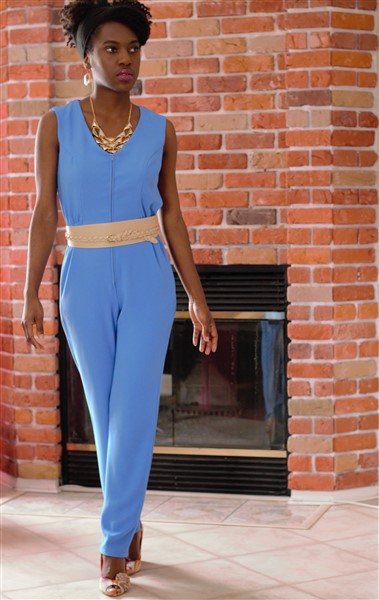 I used a beautiful blue janel heavy polyester from Fabricville. As soon as I saw the fabric, it reminded me of vacation and inspired me to create a Resort-ready type of look. It was my first time working with this fabric. I love that even though it is called a heavy polyester, it still has lots of movement. Also, the fiber allows for the skin to breath. The fabric will fray so I made sure to finish the seams with my serger. I used Unique 19mm white elastic for the waist band gathering.
The pattern instructions were easy to follow. I wished the bodice was designed to be lined. I did not line this version since I wanted to create the look as suggested. However, next time I sew this project, I will draft my own lining. The fabric fells comfortable on the skin. However, the seam allowances and the neck facing are free and tend to move. I may add a lining later on. Also, I can imagine this jumpsuit looking good with a gold exposed zipper. They are not easy to find in this length but I'll make my best to find a suitable one for my next version!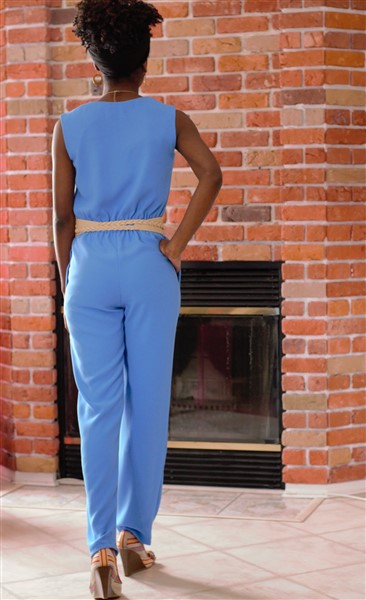 I styled the jumpsuit with gold accessories (earrings and necklace). Also, I added a belt. This is how I love to rock my jumpsuits! These shoes just helped with putting the whole look together!
Sewing this look was such a pleasure. It is the perfect addition to my spring/summer wardrobe!
Hope you enjoyed reading this! I'll be back soon with my next project!
Happy sewing!
Judith Dee.