The long sunny days of summer are finally here. It means that we have more time to enjoy the outdoors with our loved ones.


Whether I'm going to a backyard barbecue or to a fancy dinner on a terrace, I need a summer outfit that is comfortable, easy to wear and that makes me look pulled together in an instant.
I searched all the trendiest stores on the web for the latest fashion trends. Here are the most interesting styles of pants I chose to show you :
Jogger pants have been around for many years. It's the most comfortable way to be stylish this summer.

Sailor pants are this year's nautical-inspired trend. With its large buttons, this style echoes the pants sailors in the French navy still wear today.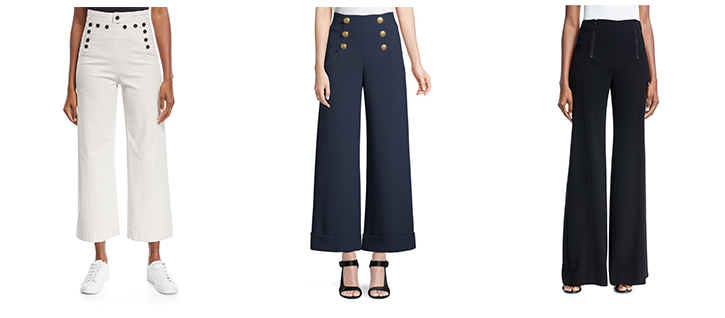 Striped pants are a major trend this summer. Although they might not flatter every shape, it appears that the larger the stripes, the better.

The side stripe pants are also a major trend this summer. The stripes can be sporty, think old-school Adidas track pants, or they can be outright glamorous such as the tuxedo pants.
The paper bag high waist trend has been gaining in popularity in the past few seasons. It does wonders to highlight your waist. Make sure that you tuck in your top!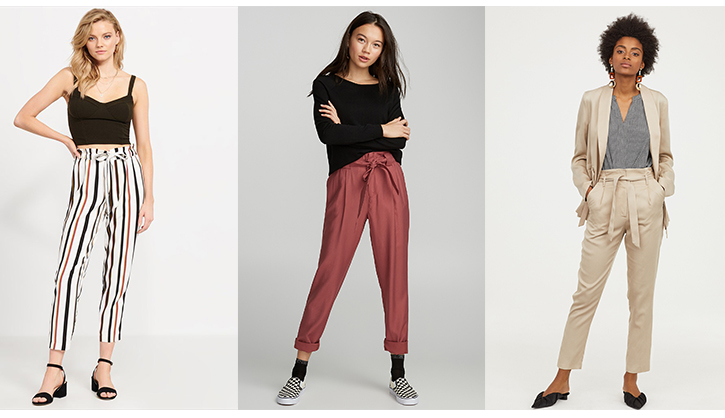 Culottes are still going strong. It is one of the easiest trends to pull off!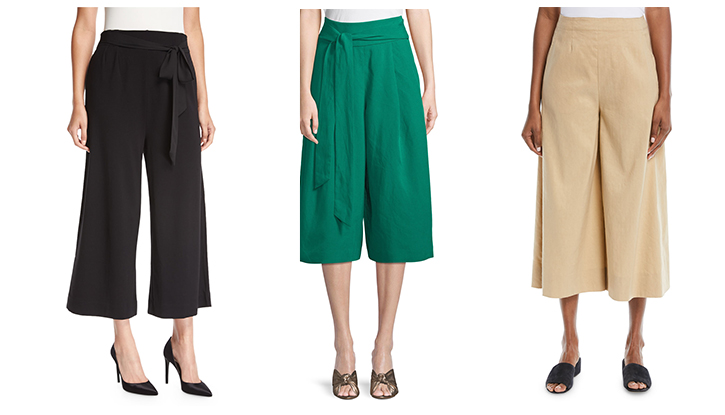 Belted pants also highlight your waist but they are more structured than the paper bag waist pants. These are the most polished option of the season.


Cropped pants are all the rage right now. I've decided to make my own by using the winter jersey, a stable rayon/poly knit that sews like a dream. I started with McCall's pattern M7445 that I modified by removing the pockets and the zipper and turning the pants into a pull-on style.
Since this pattern is drafted for stretch woven fabrics, I was able to use it with this stable knit without too many adjustments. To compensate for the stretch in the knit, I cut a size below my normal size.
If you would like to sew this pattern, l would  suggest you try one of the following options :
To replicate the look of sailor pants, I sewed eight 3/4 inch gold-tone buttons by spacing them 2 inches apart. These buttons come from my personal collection. You can find similar buttons in store.
Since the front of the pants is quite busy, I wanted a streamlined top to go with it. The starting point for this bodysuit is Vogue pattern V9298. I redrafted the front of the bodysuit into a simple crew-neck style. The fabric I used is the comfortable Hamburg cotton-lycra knit. Other great fabric options for the bodysuit are :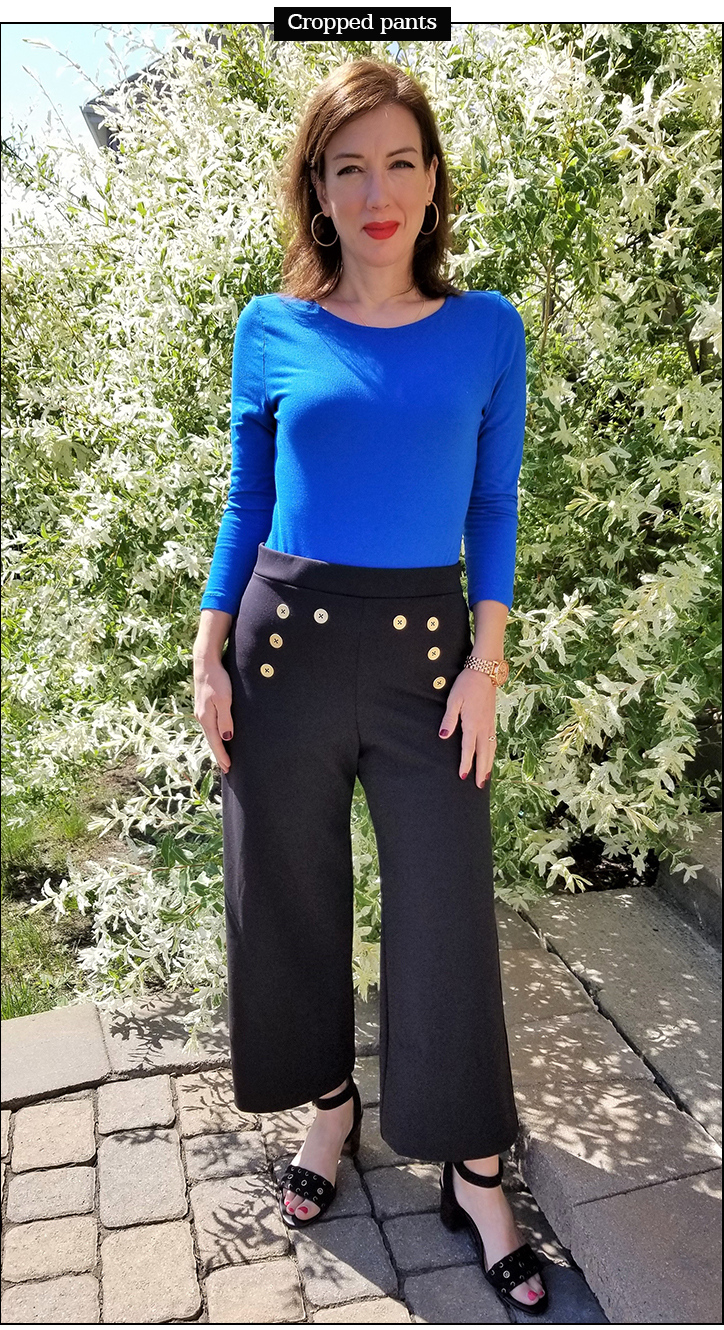 An Olfa rotary cutter is ideal to cut fabric quickly and precisely.
There are many blade sizes available. The most common blade sizes are 18mm, 28mm, 45mm, and 60mm. Generally, the larger the blade, the faster and easier it will be to cut multiple layers of fabric.  The smaller the blade size, the more maneuverable it will be.  A good compromise is probably the 45mm. It is large enough to handle your long and straight cuts, but not so large that it will difficult to manoeuver in sharp curves.

Dye a variety of fabrics and garments and give them a colorful makeover, using the Rit Dye More Synthetic Fiber Dye. This special dye color formulation can be used to dye nylon, polyester, cotton poly blend and acrylic acetate. Available in a variety of shades to choose from, you can mix and match different colors to make a personalized shade. One bottle will dye one pound of dry polyester fabric. If dyeing acetate, acrylic or nylon, one bottle will dye two pounds of dry fabric. Important: due to the complexity of dyeing synthetic fabrics, you must use this dye in a stainless steel pot on your stove top to maintain a high water temperature throughout the duration of dyeing. This product cannot be used in a washing machine. Rit DyeMore is non-toxic and perfect for use in the home.

Mark your seam allowances and your cutting line at the same time when you use Clover's Double Tracing Wheel. You can adjust the width of the tracing wheel width in increments from .4″ – 1.2″ (10mm – 30mm). The handle features an ergonomic design for an easy and comfortable use.
I use the double tracing wheel when I copy patterns from European fashion sewing magazines such as Burda and Ottobre (both available in stores).
September is National Sewing Month. Send us your best sewing tips at info@fabricville.com to be included in the next newsletter and for a
CHANCE TO WIN A PRIZE!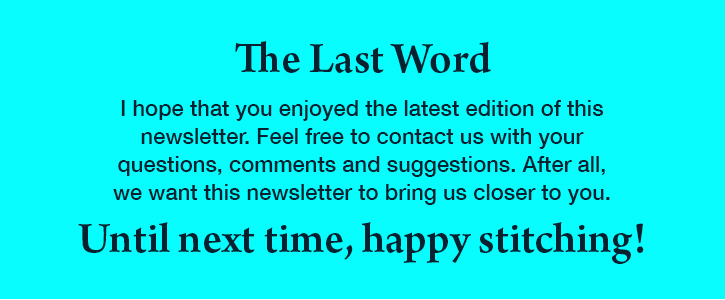 By Chantal Lapointe for Fabricville © 2018 All rights reserved.