Let us introduce you to our newsletter editor, Chantal Lapointe. She started collaborating with us in 2015 and we thought that it was a natural fit to bring her on board for this new project.
Let us introduce you to our newsletter editor, Chantal Lapointe. She started collaborating with us in 2015 and we thought that it was a natural fit to bring her on board for this new project. Chantal has been sewing since age nine and has always wanted to become a fashion designer or a fashion magazine editor. She's a bilingual technical writer, and in her free time, she likes to share her love of sewing on her blog. In 2017, she was shortlisted in the ready-to-wear category in the Best Dressmaker of the Year Award in the United Kingdom. Her sewing has also been featured in Sew Now magazine in the U.K.
Would you dare to wear a silky pyjama to go out at a fancy party? It seems that this fashion trend was on every runway this year. For the rest of us who prefer to keep our pyjamas for bedtime, this comfortable style is a timeless classic.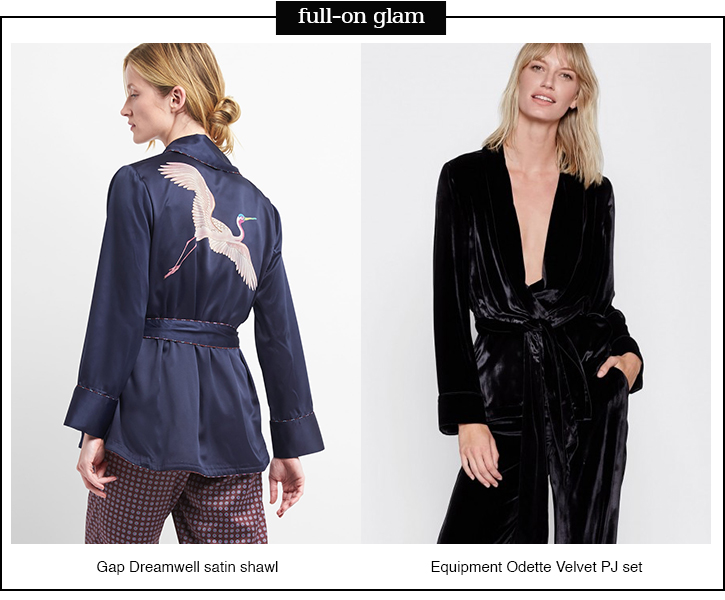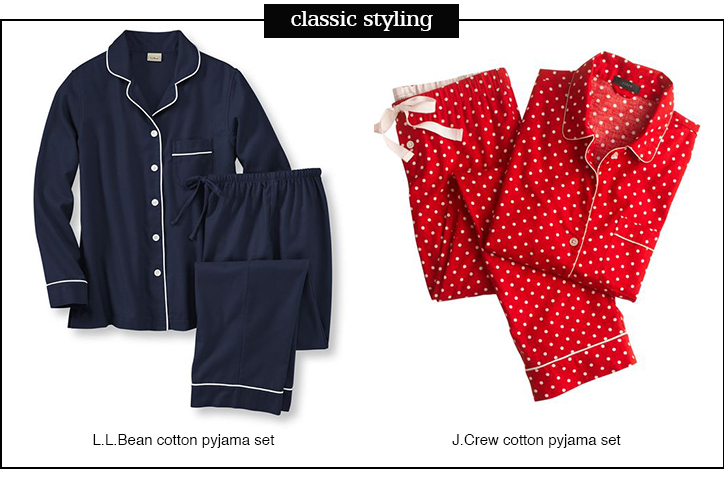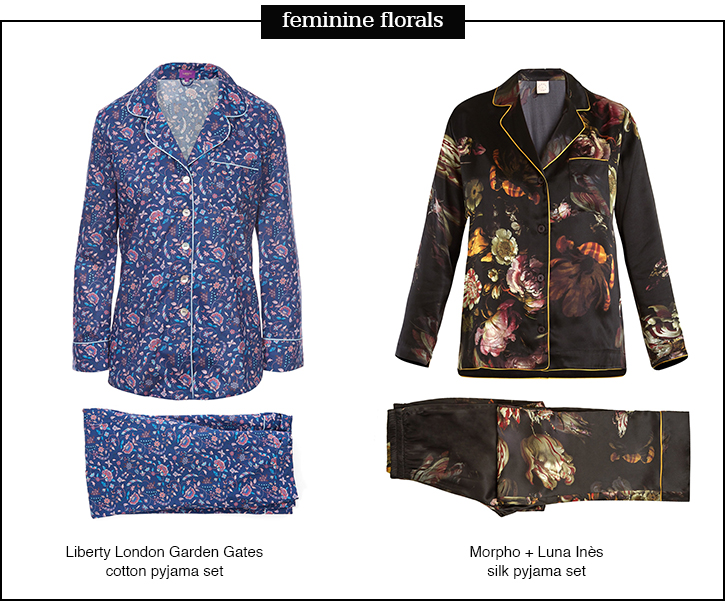 I love wearing pyjamas. In fact, I have a couple of summer ones in crisp cotton, and a few in flannel for winter.
Choosing which flannel to use proved to be a fun challenge. There are over 300 different options online and too many to choose from in the store. I opted for a classic print in a fun color, lavender polka dots on a purple background.
For the top, I used the Butterick B6296 pattern and, for the bottom, McCall's M6659.
Flannel pyjamas are intended to be worn loose, so I liked not having to spend hours fitting the pattern before cutting. Overall, it was an easy make from a technical standpoint. If you want to add a little oomph to your PJ, think about inserting piping. It takes a bit of extra work but it's well worth it!
Useful tips
Since cotton flannel will shrink, I recommend that you machine wash and dry your fabric on a normal setting.
Cotton flannel is a medium-weight fabric and requires a size 11 (75) or 14 (90) universal needle.
A cotton-polyester or polyester all-purpose thread is recommended.

By now, Eastern Canada is covered with a thick blanket of snow. This winter, wrap yourself in a warm and cozy flannel pyjama. You will find below a few of our favourite patterns, along with fabric suggestions for everyone in your family.








Every month, we will highlight a few of the products that we think you'll love as much as we do!
The new Eloflex thread by Coats & Clark is stretchable and it works wonders for knits, jersey and stretch fabrics. You can use it as any regular thread, for regular sewing, in the bobbin, to topstitch and even with your serger. You can also use it with a twin needle for professional finish on jersey tops, activewear dresses and stretch denim.
For optimal results, just make sure to use the appropriate needle for your fabric, and sew with a regular stitch.
To topstitch my jersey top, I slightly lengthened my stitch to 4 mm.
Sewing with this thread makes all of your seams stretchable. That means that the seams can be stretched and the thread won't break.
The thread comes in spools of 205 metres and is available in many different colors.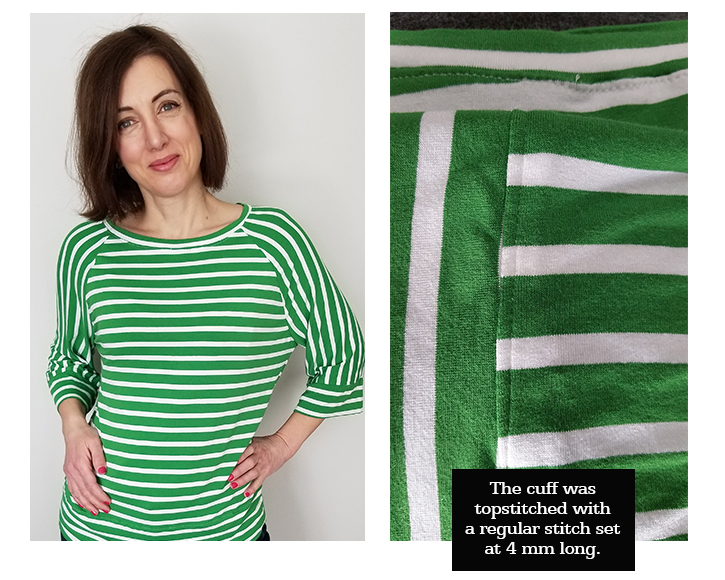 Have you ever wished for extra little hands to help you when sewing?

 If so, I recommend that you try Clover Wonder Clips. These small clips are great for holding bias tape over curved edges and holding a delicate fabric hem without using pins. These nifty little clips feature a wide opening to hold layers of fabric
and a flat back for easy feeding to the presser foot. The flat base even has a 1/4″ and 1/2″ seam allowance markings for your convenience.

The Chaco Liner has become my favorite tracing tool. I love it so much that I have it in two colors! It's so easy to use. You simply remove the cap and roll away. There is a small tracing wheel at the tip of the liner, and as you roll it, it leaves a fine talc line. To remove the lines from your fabric, simply rub lightly with your fingers, and they are gone. The Chaco Liner Pen comes in 5 high-contrast colors such as white, yellow, blue, pink and silver. For your convenience, refill cartridges are also available.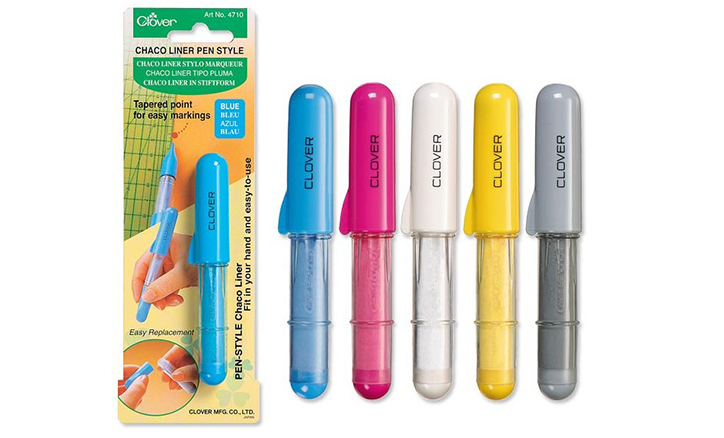 By Chantal Lapointe for Fabricville   © 2018 All rights reserved.