Fall is here! The best way to start my favorite season and keep warm is to make the comfiest, most gorgeous jacket in this beautiful Kashmir coating fabric.
The Fabric:
When I saw this fabric which is a polyester nylon blend, I knew I had to make a jacket. I have always dreamt of having a red jacket so it was a no brainer to go with this color. I love that Fabricville has a variety of colors in this fabric as well. It is a thick, warm fabric with a felted feel to it and is a dream to cut through with scissors due to it's weight and stability. However, if you do not own a steamer like me, I'll advise that you put a lightweight fabric over the it when pressing. The Kashmir coating does not have a lot of drape so it is great for slightly more structured projects.
The Pattern/Instructions:
To bring this fabric to life, I used Burda 6736 which has both a jacket and coat version but I decided to make the jacket. It is a loose fitting jacket with an integral spade collar. This pattern only has six pieces and nine very clear steps and illustrations for the pattern.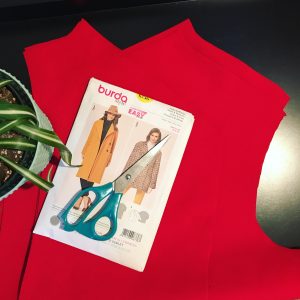 The Process:
I really enjoyed making this jacket as it was a relatively easy project. It requires two buttons and interfacing for the facings. Here are some progress shots.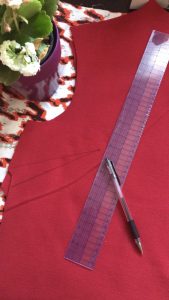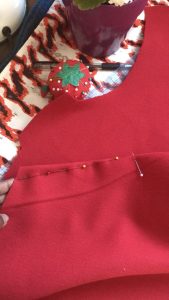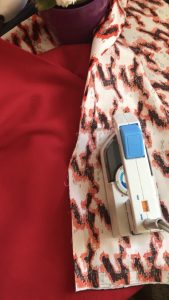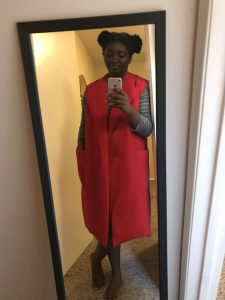 The Fit:
The fit is very loose so I'll suggest to look at the finished garments  measurements and use those. I had to go two sizes down from my regular size.
Tips:
This pattern does not recommend edge stitching but I would highly recommend it. As you can see from the photos, I did not do that initially. Once I did, it looked even better and had a cleaner finish.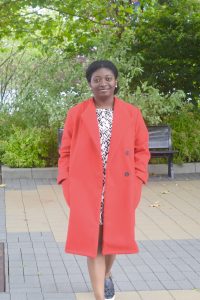 I am now ready to take on the fall weather! Do you plan to sew up a coat or jacket? Have you ever made one? Let me know in the comments below.
Sylvia for The Ravel Out