Fall is all about basic pullover tops so when I saw this vogue 9169 pattern, I knew I had to make it. I hunted for the perfect fabric from Fabricville and made this magical combo. I have never made two views of this same pattern as fast as I made this!
The Pattern:
Vogue 9169 is a contrast underlay pullover top with seam variations. It is such an easy yet beautiful pattern that I made both View B and C and simply switched the fabric placements to get a slightly different look. I love the unique shapes of this pattern.
The Fabrics:
I chose two beautiful knit fabrics, the Marley cotton spandex knit and the Venice knit. The Marley cotton is a gorgeous lightweight striped knit and is perfect for tops such as this one and the Venice knit is slightly more lightweight than the Marley knit but equally gorgeous. Working with both knits went smoothly. My favorite thing about knits is that it hardly needs any ironing. How can you not love that?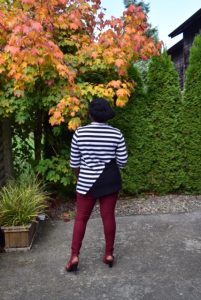 The Instructions and Fit:
The instructions were very easy to follow and was overall a very fast project. It is a loosely fitting top and so there were no issues with fitting. I made no changes at all to this pattern.
I love this pattern for multiple reasons.
It is an easy and fast sew since it requires knit fabrics
No additional notions needed (yes, no buttons, zippers, fasteners…nothing!)
There are multiple views to make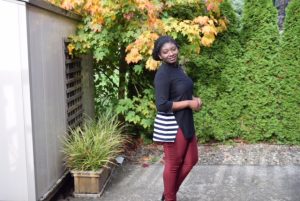 Let me know if you have tried any of these fabrics or pattern yet. Have a great day!
Sylvia for The Ravel Out