Hello Everybody! If you are looking for a sexy yet classy look for a summer night outing, look no further! Vogue 1531 and this amazing stretch satin will make your occasion that much better.
The Pattern:
Vogue 1531 is a close-fitting, lined dress that has a deep cowl, front princess seams on the bodice, and an open back. The deep cowl can be draped as desired and the open back is perfect for summer nights. The recommended fabrics for this pattern include will crepe, ponte knit, and crepe back satin. Basically, fabrics that have a good drape will work great. I personally would not recommend fabrics with too much stretch such as jersey knit as you want to keep the structure of the dress.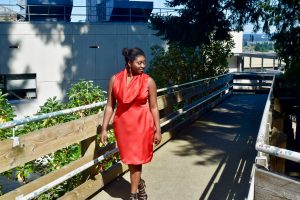 The Fabric:
I used a gorgeous red stretch satin from Fabricville. This fabric has a lustrous sheen that gives the dress an even more sophisticated look. Who doesn't want that? It drapes beautifully and feels great on the skin. I used it as the lining as well. It is important to be patient with this fabric when sewing to avoid any puckering. You can check out different colors of the stretch satin right here.
The Process:
The pattern instructions were generally easy to follow except for the steps for attaching the lining to the main dress. Due to the cowl feature, it was tricky to attach the lining as instructed so I ignored the instructions (step 42 to 48) and did it my way. My way – attach lining right sides together by stitching armholes and back edges, under stitch, turn lining to inside, and slipstitch the cowl area.
I also chose to self line the cowl instead of using bias binding as instructed because I think it is a much cleaner finish. I ignored the instructions for a drawstring as well as I did not think I needed it on my dress.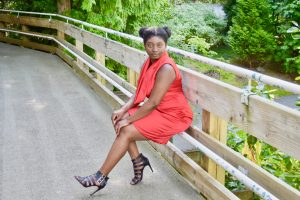 Final Tips:
Do not forget the wrong side of the cowl will show (unless you self-line it like I did) so it is important to consider this when choosing a fabric.
Don't be me. Finish the back with a hook and eye as it gives it a more polished look. I will be adding that once I buy some on my next visit to the fabric store.
Let me know if you have tried this pattern or fabric or if you have any questions.
Sylvia from The Ravel Out