SPRING, come on in!  I'm ready with Jalie's Maxime!  Windproof, cozy fleece lining, a hood and clever 2-way pockets, I'll celebrate your arrival, Spring!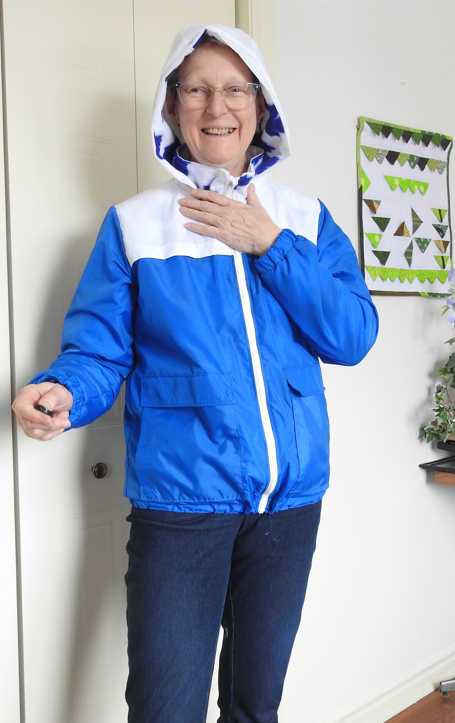 (We're having ANOTHER snow day as I write.)
The Fabrics:
I chose Nylon Schuss for the outer layer, in Royal Blue and White.
The cozy lining is Canadiana anti-pill fleece print in white with royal blue maple leaves.
I'd never sewn with this Nylon Schuss before, and I learned a few things:
It doesn't like a hot iron. It didn't melt, but got kind of puckery.  I learned that lesson the hard way, so the puckery pocket flaps are facing the inside.
The white is rather transparent as a single layer. That lesson was learned partway through the construction, so a bit of stitch-ripping was in order. The royal maple leaves in the fleece lining showed through the white like grey blobs.  I ended up double layering all the white parts.
My fine pins, although they didn't leave holes, bent. So, I used clips. A lot. And basted. A lot.
Nylon Schuss is very slippery. Again, clips and basting.
Nylon Schuss is a very stable fabric. It has no stretch or forgiveness. Teaming it up with a stretch fleece was a challenge. (But the end result was worth it.)
When you sew a garment in 2 colours, and there's a lot of top-stitching, you re-thread your sewing machine a lot.  I did use my serger for some of the sewing, but found that the nylon didn't fray too easily, and with it being lined, the seams were all enclosed.
The Pattern:
Jalie's Maxime 4012  Three-season jacket with clever 2-in-1 pockets. Encased elastic at hem and cuffs keeps the breeze out. The zipper has a full-length shield that doubles as a chin guard. Your fabric choice will make it a light windbreaker or a toasty fall jacket.
UPC Code: 6004012  Brand Name: Jalie Patterns
Maxime, not just for Girls
There are 28 sizes included for girls and women, BUT I made one for the hubby last year and it looks great on him.  He's 6 ft 3 and wears an XL. So don't feel limited with this pattern!
The Hood:
Jalie designed an add-on hood pattern for this jacket, which I already had, and it's a cozy addition.
The zipper shield looks harder than it is, and is a great feature.  It also prevents the top of the zipper from rubbing on my chin.
My nylon zipper was a bit too long so I used a pair of "side cutters" to clip off the top-stopper and extra teeth.  The zipper top ends are securely folded and stitched into the collar so there's no worry about the slider coming off.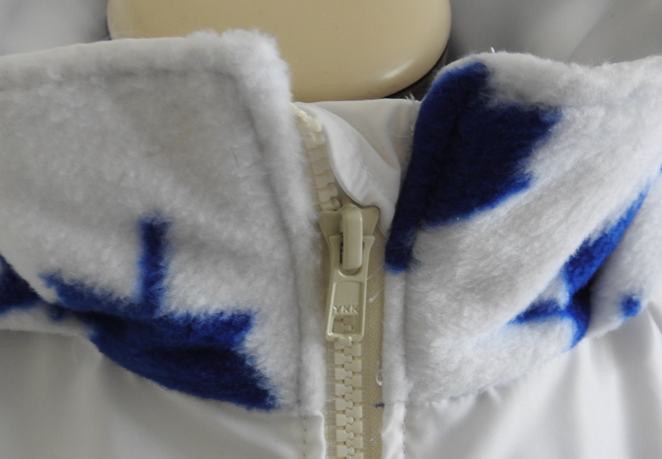 The Pockets:
Each of the front pockets are double layered.  The outer pocket is open at the top, under a protective flap, good for "stuff".
  The under pocket is open at the side and is perfect for my hands.
I sized-up by 2 sizes and my jacket fits nicely over a tee-shirt.   If you plan to wear something thicker under your jacket, I suggest you up-size even more.
Attaching the Lining to the Sleeve Cuff:
It's a bit tricky to put into words and pictures so I made a short video showing how I did it, and put it up on YouTube.
Disclaimer:  In exchange for writing this post I chose to work with this pattern and these fabrics.  Fabricville supplied the fabric  and Jalie provided the pattern, all at no charge to me.  
A bit about me:
My name is Yvette Chilcott.   I started a successful sewing machine dealership in the 1980's, where classes were the backbone of my business. In 2014 I sold it, and now teach freelance in person (when I can) and on Zoom, (a lot). I live in Trenton Ontario and I LOVE to sew and share my passion on my blog: www.sewwhatyvette.com.
ps No sooner did I have my jacket off me, turned to take my camera off the tripod, and the inspector was at work.  My darling Valkyrie has approved this project.