Whenever I want to start a new project, I usually choose a pattern first and then I'll go shopping for the fabric and notions. This time tough, I had an idea of the fabric that I really wanted to use before I even knew what to do with it. Fabricville has this beautiful embroidered cotton – pin stripes with all over embroidery – blue/white and I was curious to try it out. I mean, look at those flowers; they are beautiful!
I had never sewn with embroidery before, so if you haven't either, you should know that the folds will be a little heavier and if you cut into one embroidery, it might fray, so you have to be careful. Once you are aware of this, it's rather easy—I have even used a baby hem. I must admit that I may have thought this project would be harder, but let's face it, it's cotton; probably one of the easiest fabric to use (and one of my favorites!).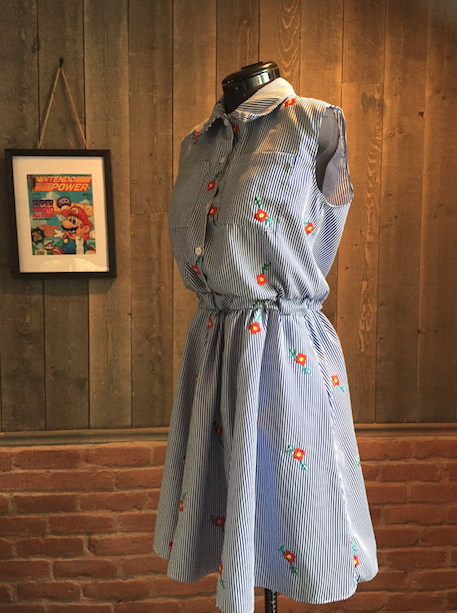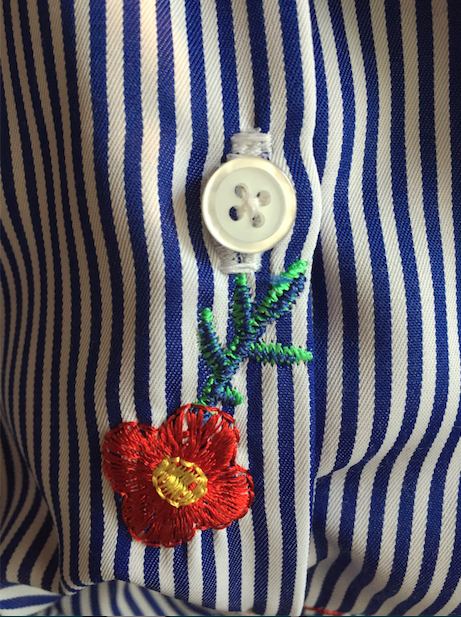 For the pattern, I used McCall's 7682, version A, but sleeveless. I first planned to add the sleeves, but I've decided against it because it felt a little too much with the print of the fabric. I really like my final decision; it gives a summery touch to it, so I will be able to wear it until autumn, and by adding a little scarf or even a bow tie, it creates a fantastic new look. I haven't made any alteration except using an elastic instead of a drawstring. This pattern calls for a drawstring, but the waistband piece is quit big for the notion it requires. As for the most amazing aspect of this pattern, it has pockets! A dress with pockets is always the best; you never know how much you enjoy pockets on a dress until you add some to your garments, believe me!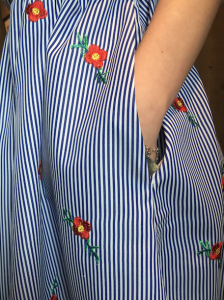 If you ever want to try this fabric, I really suggest that you to do so. Even if it might be a tricky fabric to use, don't let it scare you! The worst thing that can happen is you developing more sewing skills. I am sure you won't regret the result it will give you! Happy stitching!