Celebrating springtime
This was a long winter. With the world on pause, we persevered to abide by the public health guidelines, we stayed home, we interacted with family and friends virtually, we teleworked. The borders were shut and there was no escaping long months of below zero temperatures. I tried luring the spring – to no avail. This bamboo jersey dress is my final attempt!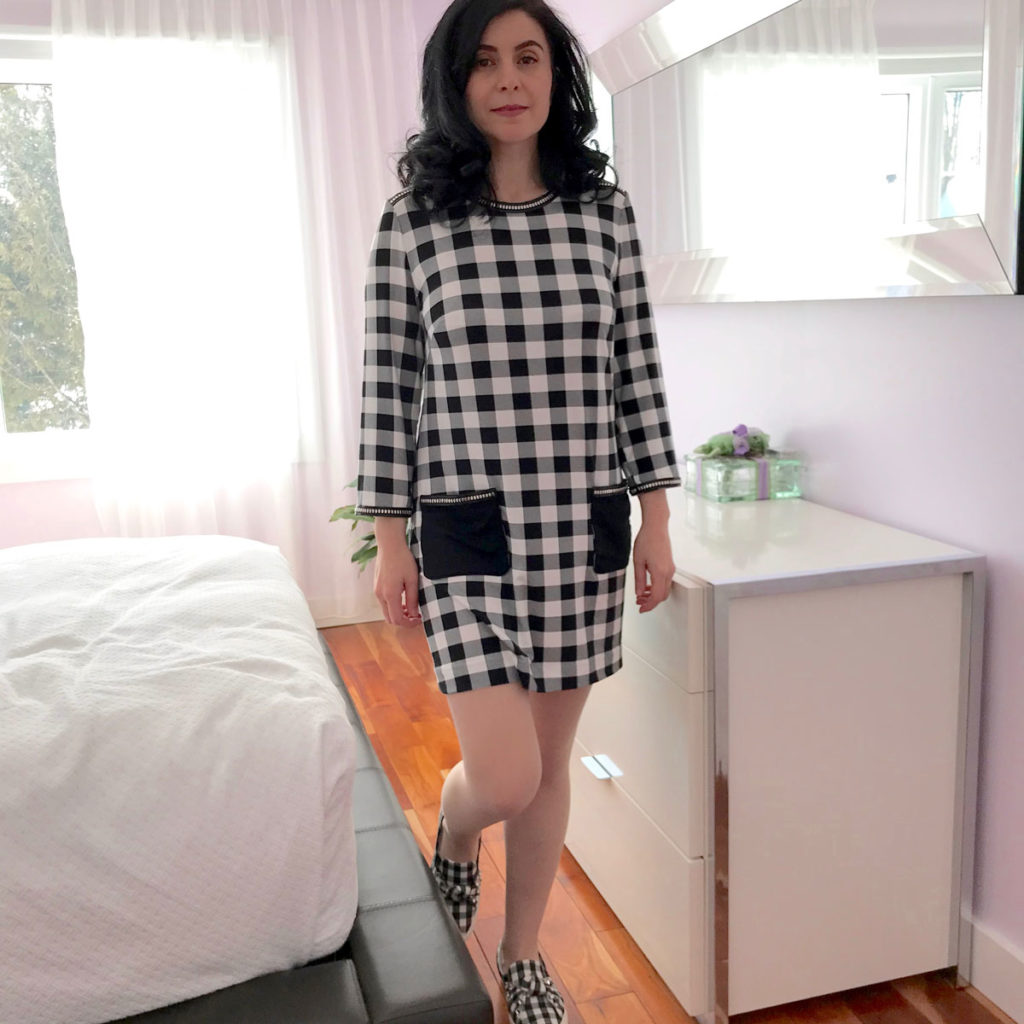 Inspiration
The fabulous new selection of soft bamboo jerseys caught Maya's eye right away. There were superb jewel tones, neutral basics, and excellent prints. Moreover, knit dresses and tunics became Maya's go-to staples this confinement season. She longed for a spring update, something comfortable, camera-ready, and easy to throw on before a virtual work meeting. The black and white gingham YY083-012 won over beautiful flower print, with complementing black YY782 for patch pockets and funky faux leather and studs trim.
I cannot praise this bamboo jersey fabric enough. Soft, springy, stable, and comfortable, it was a joy to work with. It took heat relatively well (there was some shrinkage), did not excessively curl at the edges, and did not go overboard with wrinkles.
The dress takes shape
For the pattern, we chose a simple tunic style dress from Burda 6381. The pattern and the fabrication are very simple. However, since it was a pattern for woven fabric, I made the dress a size smaller than recommended and reduced the seam allowances from 1.5 cm to 6 mm. There was an adjustment to the length of the dress as well.
I assembled the dress mainly on the 4-thread overlock and used the sewing machine to sew darts, pockets and trim. Interfacings and fastenings were not necessary. And with these simplifications, the project took only 6 hours to complete, but that's because I obsessively tried to match the check pattern on the side seams and across the front of the dress and sleeves. I painstakingly reset one of the sleeves 5 times!
Speaking of trim, it has no stretch, so I could not apply it all around the neckline, because I eliminated the zipper, and the neckline had to stretch enough to go over the head. I also had to form the trim as close to the shape of the neckline as possible for smooth application. I used the iron set on high and pressed the trim from the wrong side through an ironing cloth and it felt like I almost melted it in a curve, which set into shape beautifully once cooled.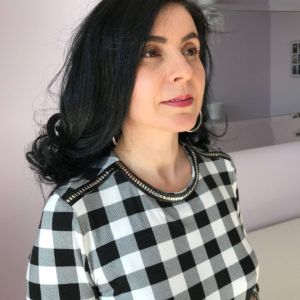 When the time came to photograph the jersey dress in action, Maya "remembered" she had these gingham shoes in the closet. What a "coincidence"! I believe this all-over pattern look is still on trend, right?