Always, always I choose a fabric then decide what I want to make. Essentially I think the fabric itself knows what it wants to be, and it is just my job to listen.This is the secret we need to share with new and returning sewists–those folks who always say they find the "what fabric goes with what pattern?" issue stressful–just let the fabric talk to you.
When the new spring fabrics arrived at Fabricville this month, I immediately was drawn to the cotton lycra, in navy and bright pink. The truth is I always prefer sewing with natural fibres, but my success with cotton lycras has been variable. Many of them are fairly stiff –I've worked with a few that produced tee shirts that made me feel I was wearing rubber–so I was delighted to find this one that had the cotton lycra content I liked, but was also soft and drapable.
The next issue of course was what pattern should I use that would suit both the practicality of the fabric, and its nice comfortable hand?
In the end I decided to go to my default pattern company for everyday, highly wearable, clothes– Jalie.
For the navy I decided to make a pair of the Simone wide legged pants. This is a super fast sew, no side seams, just an inseam, a crotch seam, and a wide stretchy yoke/waistband. I think my sewing time for these pants was about 45 minutes, cut to finish.
For a top I decided to step a little out of my comfort zone and try something new, Jalie's Bobbie top, a V neck top with a hidden sort of sports bra/camisole underneath to hold it all in place. Anyone who has ever done a Downward Dog and ended up with their tee shirt down over their head, will understand how interesting and useful a top like this is.  I do note however that it does expose a few of my covid pounds, by that's what the yoga is for right?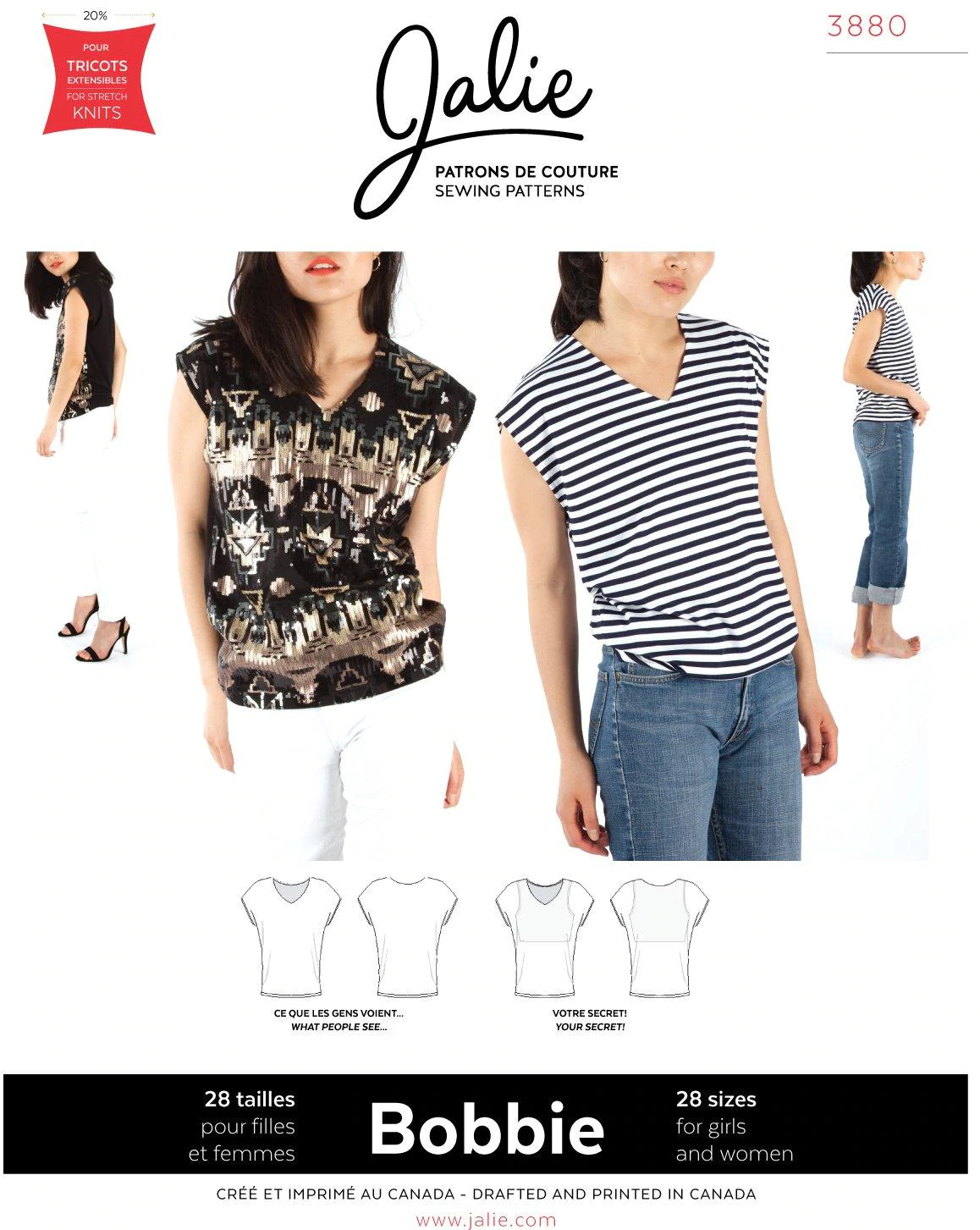 I am really happy with both these pieces. In fact I think I'm going to go back and pick up some fabric for more. This is my running off to the store shot, included because I think it shows the outfit in action well, even though my photographer cut off my head. I was moving fast!
I suspect that out of the house clothes that still feel like pyjamas are great transition pieces as we re-enter the world again?