It's already time to think about our Fall and Winter wardrobe. We need to face the fact: summer will soon be over. The silver lining to a change in season is that we can spoil ourselves by filling our closet with new clothes.
This Fall, colour will be everywhere. Long life to colours such as tangerine, fuchsia, emerald green, and neon! The three main colour families that stand out are beige (classic, caramelized or cinnamon), tangy macaroon shades, such as vanilla and almond, as well as all variants of lilac. Remember that these neutral colours pair very well with petrol blue, brick red and poppy red. And, to complete the list, winter's brightest colours are going to be mango, fuchsia and tomato red. Also, all shades of soft pink coordinate very well with deep forest green.
This year, the fabrics that attract the most attention have a shiny texture: such as silky satin, fabrics woven with Lurex threads, fabrics adorned with sequins or glitter, metallic jacquard as well as knitwear in general and everything adorned with fringes. For a more casual look, corduroy is still the key to an informal relaxed style. And certainly, Fall's fashion strong points are the furs and the leather, from matte to shiny textures.
Thank you to our Fabricville staff for participating
in this Fall's Look Book.
---
---
The garment that was in the forefront at all the runway shows is the cape. It captured everyone's attention with its inherent romanticism. This is the centrepiece of your wardrobe for this Fall. Without a doubt, it's the most elegant, comfortable and seductive clothing item. The cape is worn in solid colour, striped or, with the print of the moment, all things checked! Whether the check print is houndstooth, tartan or Scottish, the options are endless. By donning a jumpsuit with a matching boho-chic cape, you won't go unnoticed, that's for sure!
---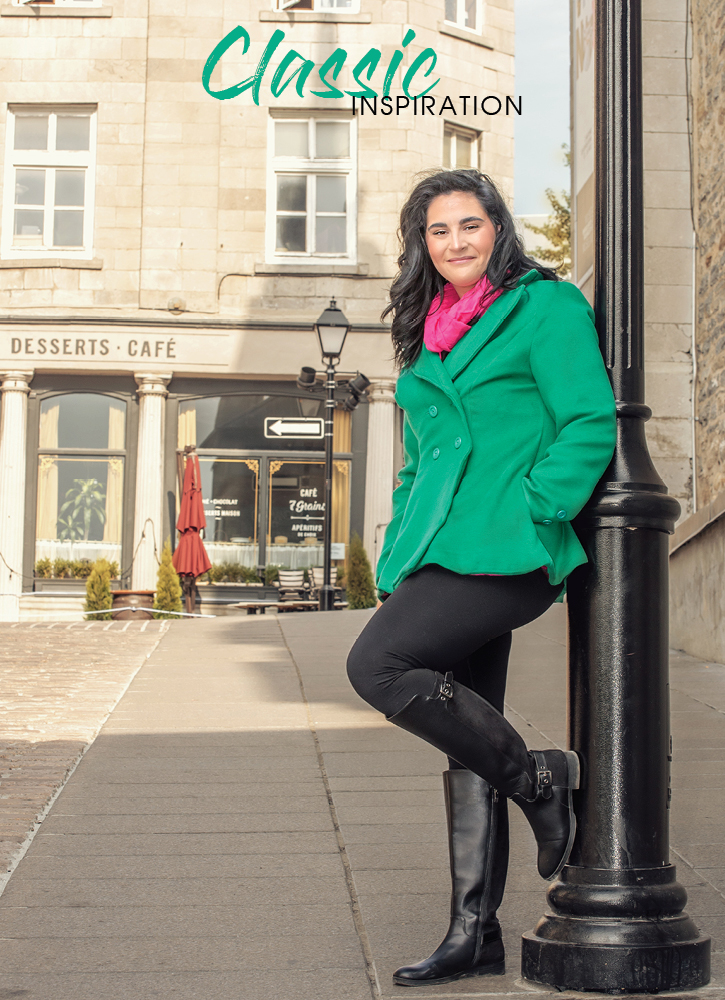 This Fall, with neon colours still around in our wardrobes. Colours such as fuchsia and emerald-green move onto our coats, jackets, and tops. To show off, many will even push this trend by wearing contrasting colours as a total look. Also, you can see the return of the preppy style, in several designers' women's collections a mix between old-school classics and sportswear.
---
During Fashion Week, we witnessed the comeback of grunge-inspired fashion in men's runway shows. At big names like Gucci and Lacoste, the focus on V-necks is a retro and preppy nod to the '50s. This Fall for men, the streetwear trend is giving way to casual fashion. Buyer beware! There is also a strong trend for ˮ unfinished ˮ clothing. So, don't be surprised to see some holes and ripped knitwear! (For this very reason, we dared to omit the button on the placket on this polo).
---
With last Spring's revival of sequins, do not be surprised if the trend continues through this Fall. The sequin trend is no longer reserved for the holiday season parties; it can be worn every day. Dare to incorporate some shine on your knits, skirts and accessories. To everyone's delight, animal prints remain in the forefront this season. Leopard print continues to be a great success. However, snake, python, and zebra prints are not to be outdone. As a classic colour that stands the test of time, beige is back in force.
---
For our youngest, the streetwear trend is arguably the most popular…it's comfortable and relaxed. The versatile sweatshirt can be worn with jeans as well as track pants or joggers. It's a must have. Styled with contrasting colours such as grey, burnt orange and brick red, this colour combination pairs very well.
---
We dared to show off our future mom in houndstooth check. The houndstooth check was featured in all the runway shows in New York and Paris. This print has an androgynous feel, a retro appeal and presents a strong visual contrast. One thing is for sure: you need some houndstooth check in your closet, whether as a garment or as an accessory. On another note, among the major trends seen in maternity wear was the emphasis on displaying the curves of pregnant bellies. Would you dare to try it?
---