Even if I am that type of person you always caught wearing a pair of jeans, I really do love dresses; strangely, always when the temperature is at its worse. Snow, rain, wind, give it to me: I'll wear a dress that day! Maybe it's psychological. By feeling feminine and good, it gives me a boost to start the day off right. Or not. Anyhow, when Fabricville released its new spring collecting, I had the feeling this next season would be a pleasant one, even if Mother Nature decides to cause us troubles. There is a nice section of lightweight colourful fabrics and I fell in love with a couple of them, it's dangerous (dangerous for my wallet or my social life is I stay hidden to sew).
Originally, I wanted to use this beautiful white fabric with this pink and red print that looked a bit like dots, but the fabric was a too see-through for a dress. I will, however, go back there and probably buy it to create a top or something. It's in the same collection as the fabric I chose, which is a bubbly crepe coordinate (MR312). Even if I have underestimated its stretch, it was such a fun fabric to sew with. It's soft, doesn't really fray, and it doesn't wrinkle easily, which is the best!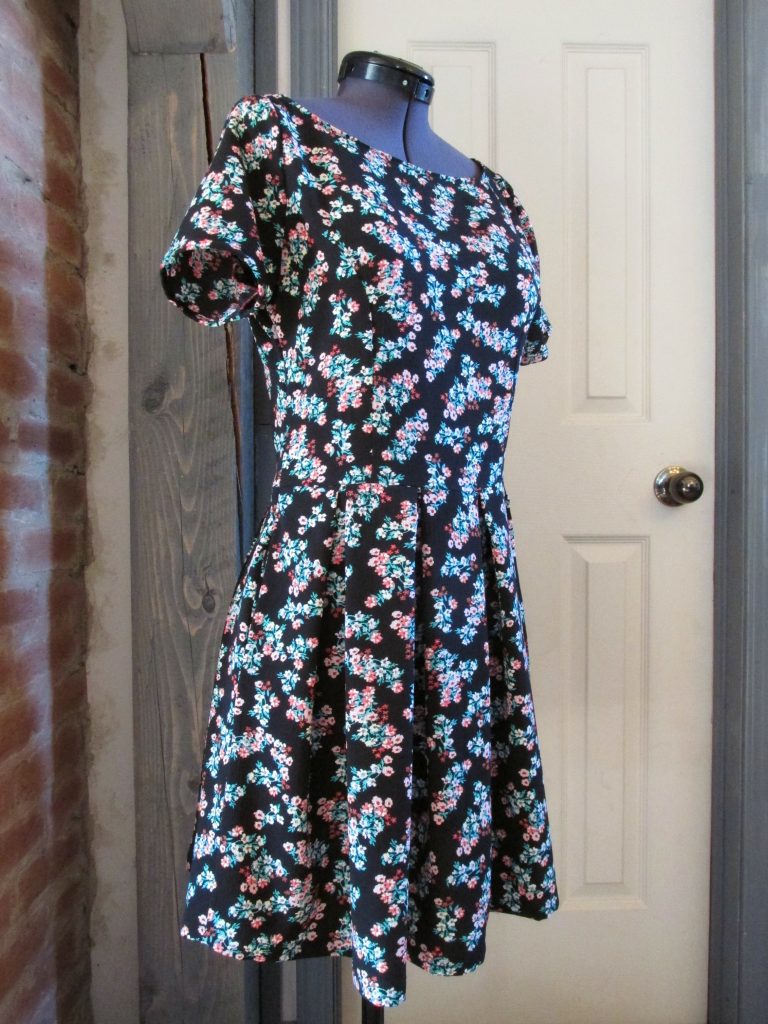 Spring is always the season where sewing companies release a lot of patterns to create your own dress and this time, I decided to use McCall's 7536. I blended the pieces of the pattern a bit with the bottom and top from view D, but the sleeves of view B. I cut them shorter because I thought the dress would look more appropriate for spring that way, especially since my fabric is mainly black.
I also added pockets (and let us all admit that a dress with pockets in 100 times better! It is the kind of small details you don't think you need until you actually get a dress with pockets and it makes you realize you have been missing something all your life… Ok, it might be a little bit of an overstatement, but I really do enjoy pockets). It is a simple detail and so easy to add, I do not regret it at all!
Instead of creating a lining, I designed a front and a back facing so it was easier to tighten the dress at the end according to my tastes. It's something that I often do, so I knew it would be easier without a proper lining. One thing I should add is my amazing choice of thread colour for my serger! Since it's something you don't see from the outside, I always like to choose a bold one so I can enjoy the inside as much as the outside. I went with a flashy pink one to match the print of my fabric. Fabricville has this big section of threads for sergers so it wasn't complicated to find the thread I really wanted to use.
It's incredible how you can create something lovely with some thread, fabric and a zipper. Are you going to start your day off right? Happy sewing everyone!
Optional fabrics are Shanghai Crepe Prints or Bridgit Stretch Sateen Coordinate.
Maude from mpbymaude