Sewing the perfect 1950's dress
Spring weather gives a fresh slant to fashion. The aim is to look crisp and cool by wearing a refreshing look! As I vintage style fashion lover, I am always looking for inspiration in the fashion trends from the past! For this project, I wanted to create a very 1950's look following the grace and elegance of this era. In 1952, it was the spring of great romanticism with wide-skirted gowns in superb sheers, often flower-trimmed. Sheer pastel fabrics were really on trend, as pictures in those inspiration pictures.
Fabric
It has been a long time since I saw fabric as breathtaking as this organza, in all those springtime colors, it was waiting for me! Therefore, following the 1952's spring trends, I decided to make a romantic concoction with this gorgeous floral fancy organza in this superb shade of aqua. Since the material is very sheer, I decided to layered it with an apricot Cotton poplin . I love the contrast of those 2 shades together, they were really trendy in the 50's.
Dress
For this project I wanted to use a vintage pattern reprint from Retro Butterick 1950's collection, B6211 Misses' Dress and Belt: Pullover, front wrap dress (fitted through bust) has bodice back extending to side front, skirt cut on crosswise grain, no side seams on bodice or skirt, concealed elastic with hook & eye closure, front button and hook & eye closing, narrow hem, and self belt.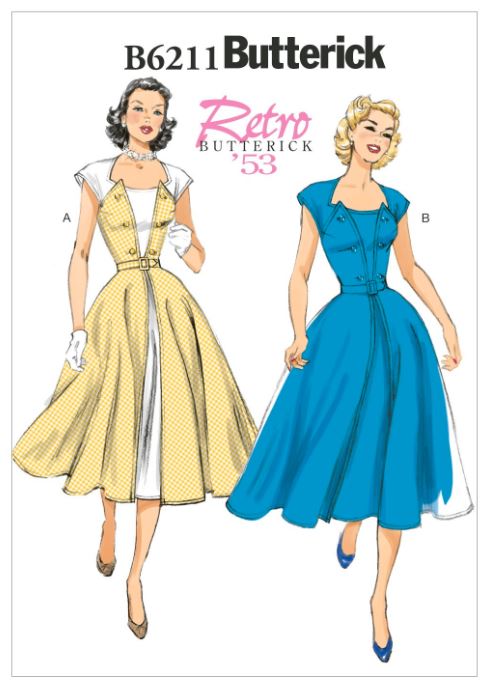 I wanted to make this pattern for a while now, I love that the bodice top is very form fitting with a cinch waist with a very interesting front closure design and its full-blown midi length skirt.
Let's sew!
When choosing this pattern, I didn't realize it was construction as the famous Walkaway dress. A very popular housewife dress from the 1950's.
If you are a vintage style sewing enthusiast, I am sure you have already heard of this dress's controversy about the fit of this dress. So, I was so hopping that this model, wouldn't have the same fit problem. I could have made a muslin to test the pattern first, but who has the time to make a test garment these days…. Not me!
Now, time to draft the pattern to my own size. Since I am used to sew with Butterick patterns, I always trace my size on pattern paper, so I can alter directly on the pattern pieces. I am always in between size 10 and 12, but I end up tracing size 12 since Retro Butterick patterns have not a lot of ease. (that was my first mistake….) It wasn't until I had sewn the darts and all the seams and tried on the dress that I noticed what I thought was a size 12 dress was more like a 6/8. And boy was that 26″ waist not going to wrap around me! Keeping a cool head, I decide to add 2 panels on the side back of the skirt and it worked.
I did not alter the back and side bodice, since it is a buttoned closure and I can just move the button placement further towards the side of the front bodice. Since the organza fabric is very sheer, I double layered the bodice pieces with the cotton poplin.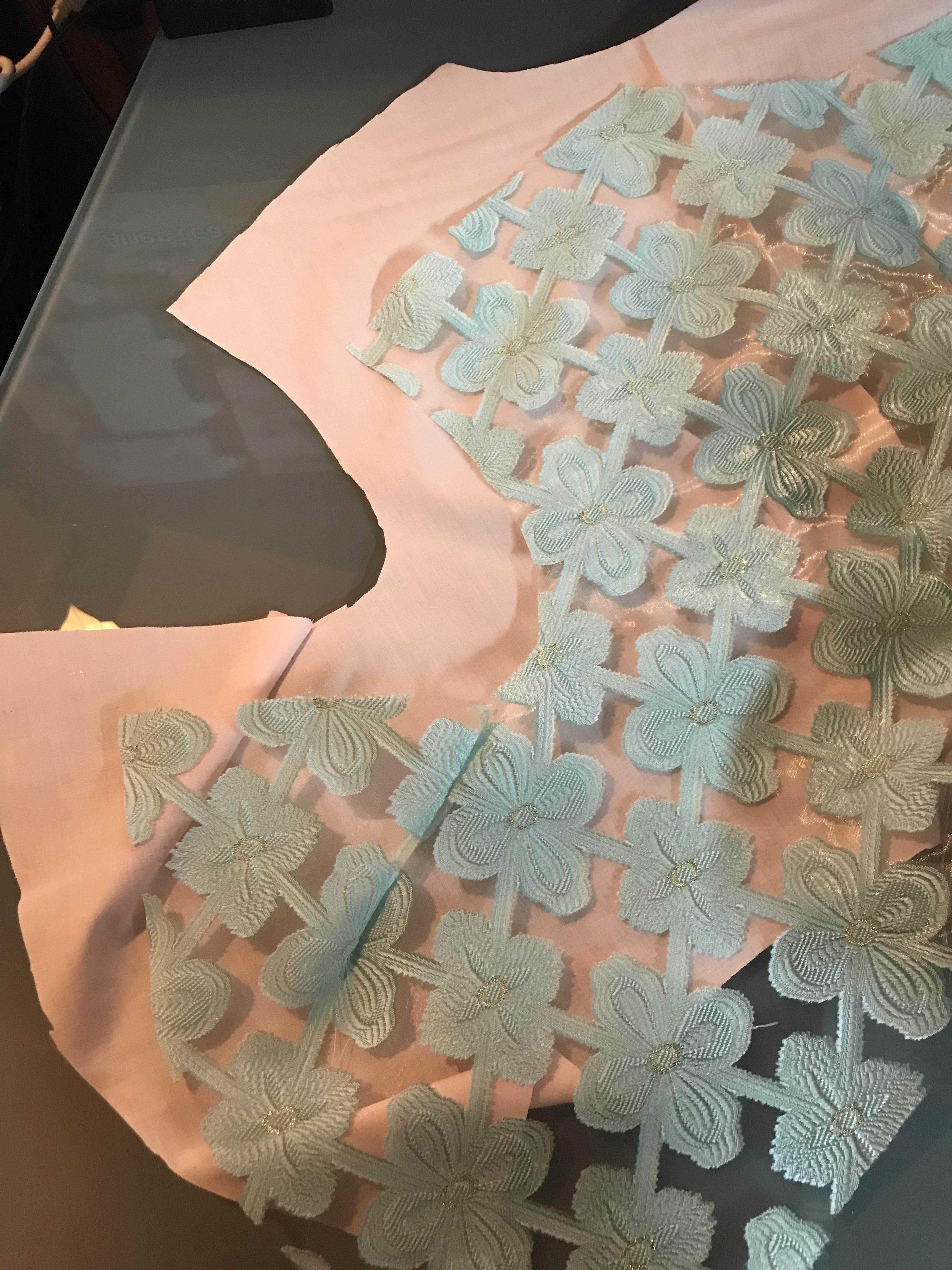 I basted each piece together before sewing the bodices pieces together at the side and shoulder seams.
So far the fit looks pretty good on my mannequin. I am soooo glad, I decided to make the version with the contrasted front section. I love the look!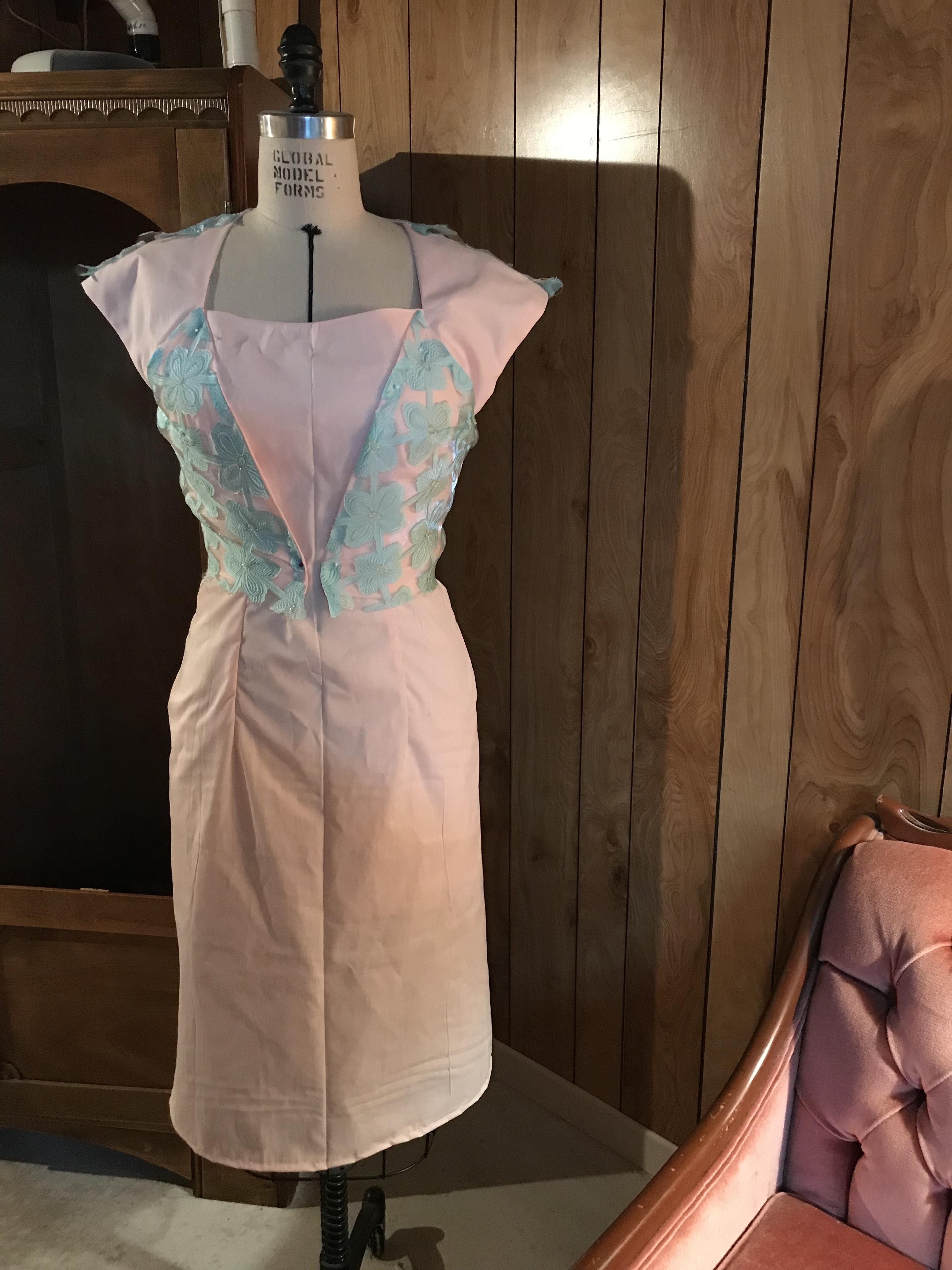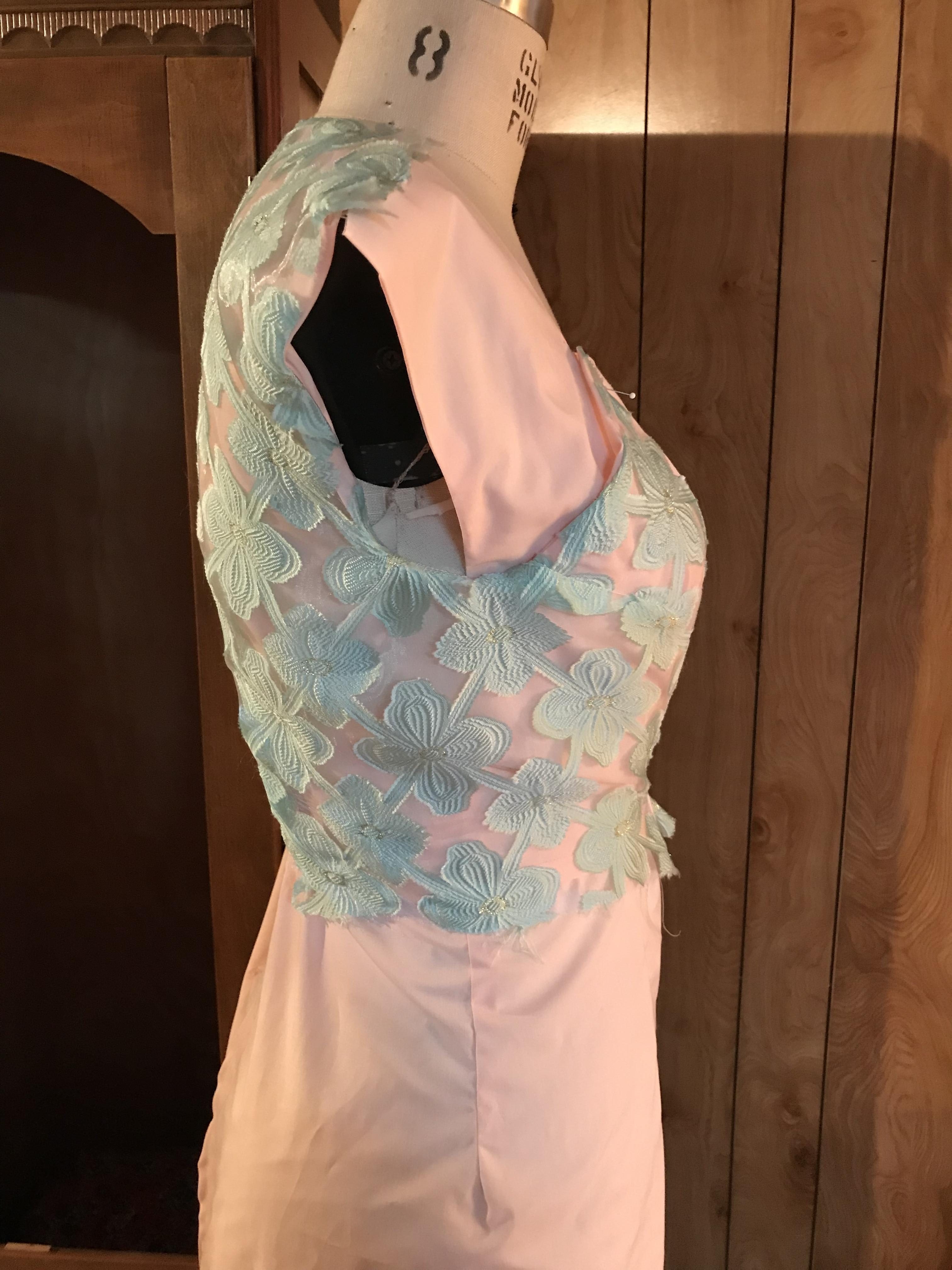 I double layered the circle skirt pieces as well and I stitched the organza and poplin right sides together at the hem and side seams. Once done, I turned it right side out and press the seams and attached it to the bodice back and side.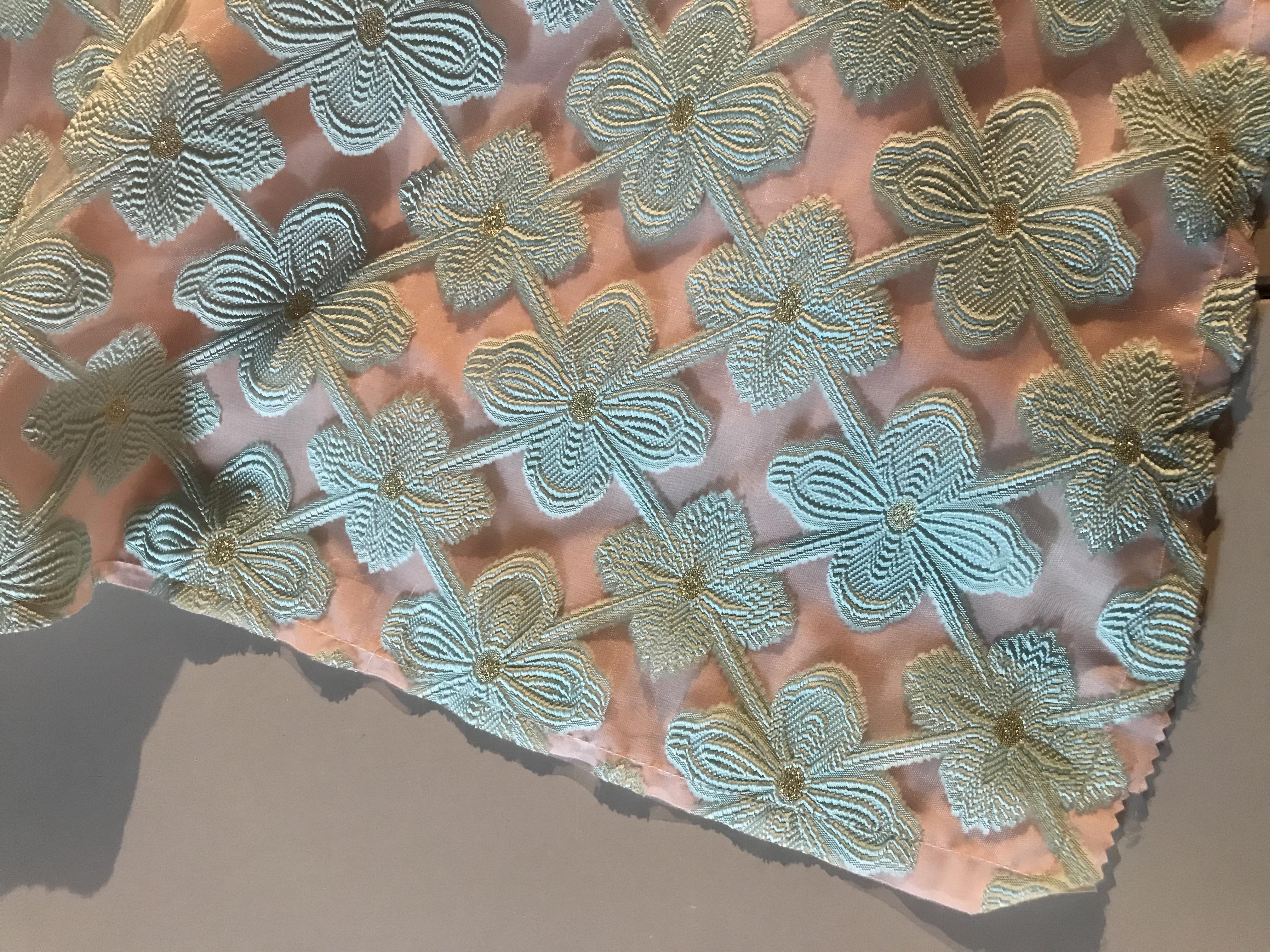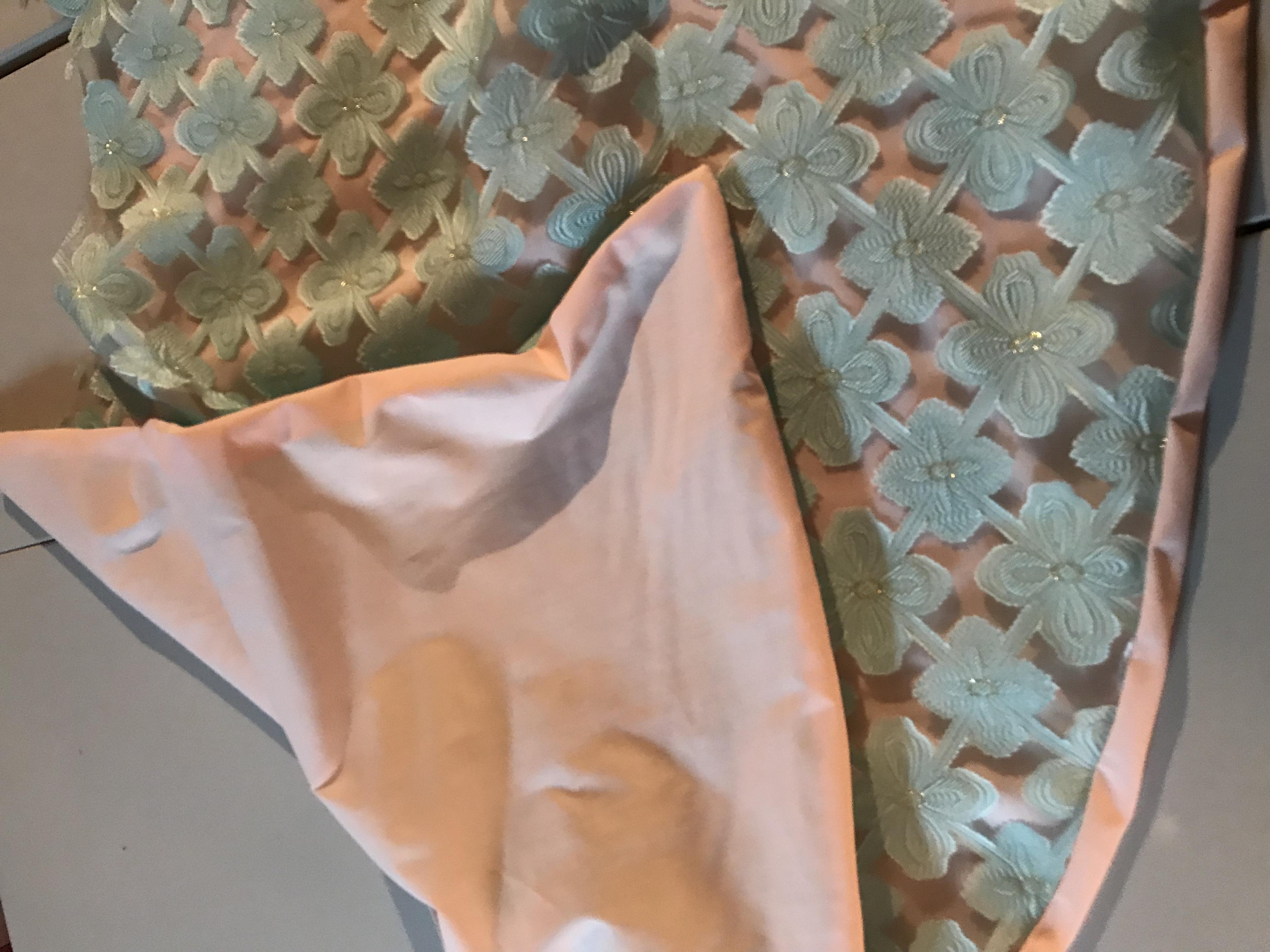 I skipped the belt, because I forgot to buy the supplies and did not have time to go back to the store to make it! Next time, perhaps!
Sewing Summary
Pattern:  Retro Butterick 1953 B6211 Misses' Dress and Belt

Fabrics:
4M of FLORAL Fancy Organza – Viola – Aqua
4M of Cotton Poplin – Apricot
Notions: 6 large buttons
Sewing time: 5 hours, from cut to finish. I am a fast sewist and this pattern is straight forward. The most time-consuming was really the buttonholes.
Modifications: 
added 2 straight panels to the side back of the front panel, so the dress could fit around my waist and hips.
Doubled layered/limned the bodice back, side back and circle skirt with poplin.
Did not make the belt.
Fit: Not very good, since the size chart and finished garment measurements are not true to the actual pattern; but with a few simple alterations it can be easily fixed. Only because this pattern is simple, construction wise.
Difficulty: as the pattern envelope calls it, it is easy, plus it is a quick make for a vintage style dress!
Watch out for: the sizing
Make again?: No, only because I do not like the walk away type of dresses. ( slip-on, one panel dress)
Voilà! I can't express how happy I am about my new dress, despite the sizing troubles I encountered I really like it.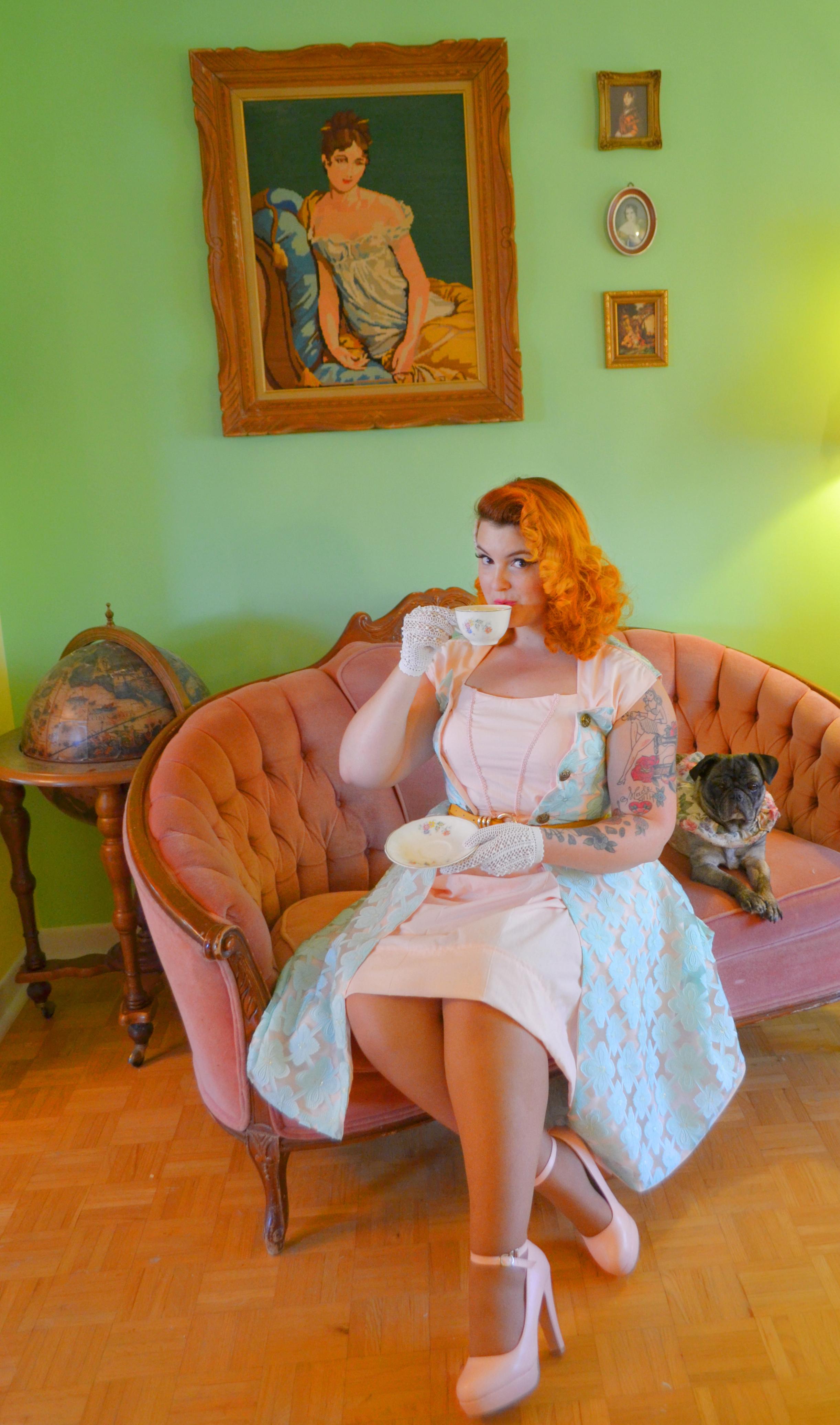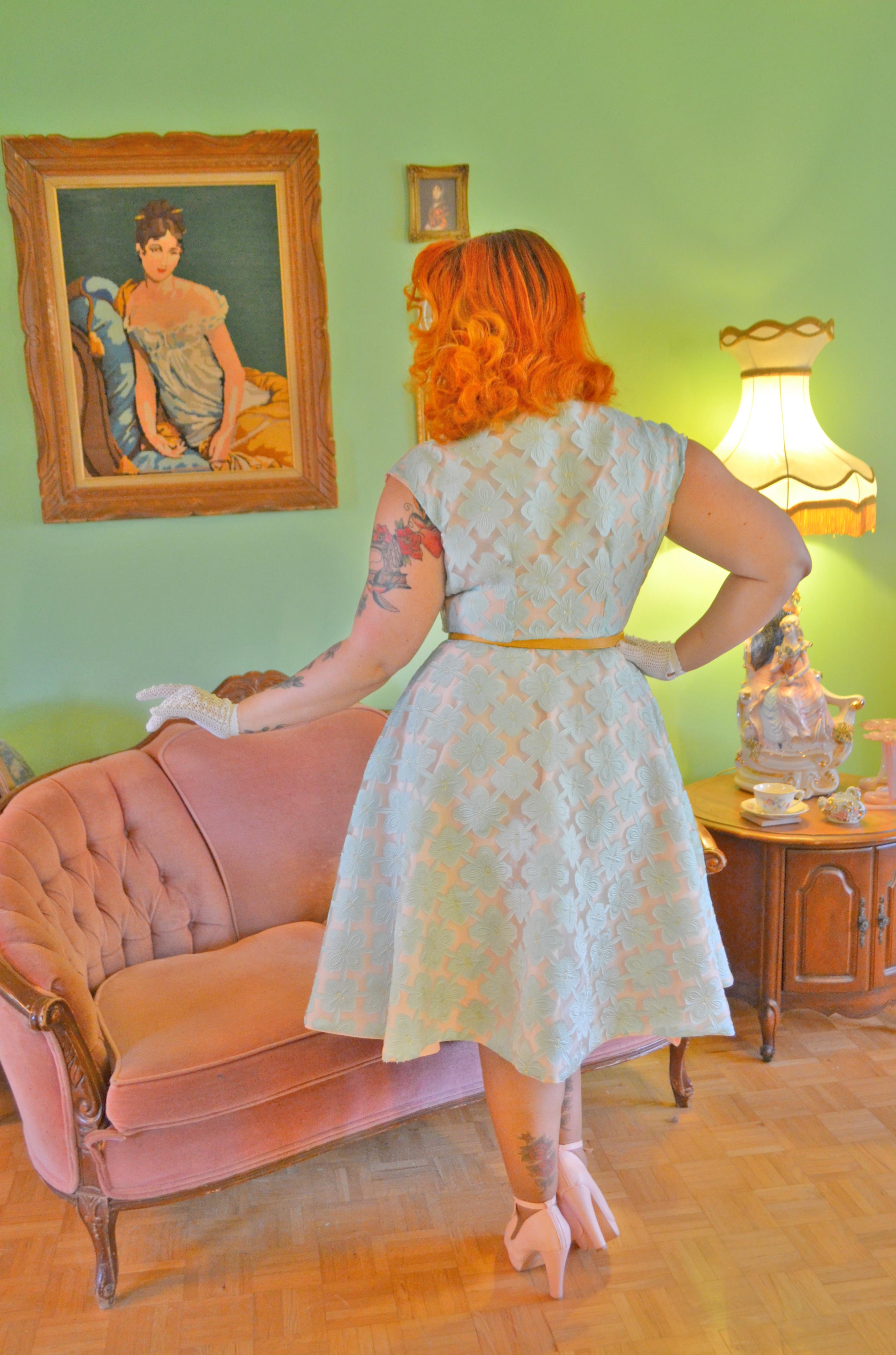 Thanks Fabricville for giving me the opportunity to blog about my sewing and vintage fashion passion! For more Gorgeously Vintage creation, visit my Facebook & Instagram pages @gorgeouslyvintage
So Long Dearies!
Happy sewing!