I have to say I was thrilled when Jalie patterns appeared at my local Fabricville. I have long been a huge Jalie fan and it was so nice to know that I can now just go down to the bottom of my street to buy them – no more taping printed letter sized sheets together, no more waiting for the patterns to come in the mail.
Here are the reasons I love Jalie patterns.
1. The fit is ready-to-wear more so than many sewing patterns.
2. There are up to 29 sizes in each pattern. This means I can make a knit top and tracker pants for me and trace off from the same pattern to make a top and pants for my two year old grandson. I have used some patterns to sew the same garment for six family members, all with the same great fit!
3. Jalie styles are very wearable for my everyday life. Current but never transient Jalie designs have a long fashion shelf life in my experience.
I was particularly pleased with the new series of patterns Jalie released late winter of this year. I will probably be making most of these patterns eventually but for the time being decided to start with two that intrigued me, the Marie-Claude knit top hand the Vanessa fluid pants.
I was lucky to find very high quality fabrics for both these garments at Fabricville both are available in store and online.
I used this bright pink bamboo knit  for the top and this grey tencel for the pants. I notice that both fabrics are now on sale.
Before I get to the this is what I made part I want to talk about the fabrics and why each of these two patterns caught my eye.
First the fabric. Bamboo fabrics have only been fairly recently available to the home sewer and whenever I can snap some I do. Bamboo knits in particular are so so soft, drape well and don't wrinkly quite as much as rayons in my experience. The top I made in this bamboo knit feels so silky and comfortable I can tell you right now I am going to be wearing it a lot and am likely going to be getting some more for another top and some underwear for this Jalie pattern.
I was also very happy, and a little surprised, to see tencel at Fabricville too. Tencel is one of my favourite fabrics, particularly for travel, and can be pretty hard to find. It has a nice hand and weight, wrinkles minimally, breathes well and has that silk feel like bamboo but of course is so much easier to care for than silk.
Both the bamboo and the tencel were perfect matches for these patterns.
The Marie-Claude is a raglan T-shirt with a shaped hem and a fairly high crew neckline, with an option as well for a turtleneck or a close hood. Given it is now spring, even in Nova Scotia, I decided to make the crew neckline. The result is what I would call a base layer type top, fine on its own, particularly as it has a body skimming as opposed to very fitted silhouette, but idea as a top to wear under a jacket too. It seems these days that many necklines are either scoop or boat neck and I really enjoy wearing a comfortable round neck for a change. I can see this pattern could easily be made in a lycra for a sunshirt to wear around the pool with the kids and I think I might trace a smaller size and do just that. This top has a self-fabric neckline band, a shaped hem, I twin-needled it, and hem bands on the sleeves – you can see that here: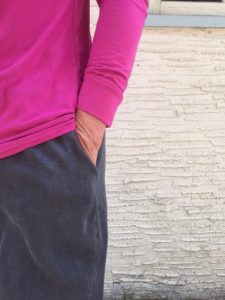 The Vanessa tracker pants are excellent. For some reason all us home sewers for years struggled with pants fitting and now we finally have access to great pants drafts with real ready-to-wear fit that have eliminated so many of our fitting issues. And about time too.
These pants really require a fabric with drape, indicated quite clearly in the flowing pants description, so the tencel is perfect. They can be made with either the elastic at the bottom, which I did, or hemmed, which I might do in the next pair. The pattern has interesting nice deep pockets and a flat section at center front the break up the gathers of the otherwise full elastic waist casing. This flat piece is supposed to be a place for eyelets and a drawstring but I left that detail out in mine – I don't like or need any extra bulk around my waist.
I made a few changes to the pattern in my versions. First I lengthened the top by 2", something that was super easy to do as the top pattern pieces are one lower section and two different top sections (one for the front and one for the back) that you lay above the bottom pattern pieces to cut each out. It was easy to just spread the pattern pieces apart at 2" at this point. I am tall and this extra 2" is an almost automatic adjustment for me.
I also made one change to the pants after I had worn them for a day and surprisingly this was to shorten them 1 ½" If you look closely at the bottom of these pants in pictures that were taken before I made this change you will see they blouse out a bit. I decided after having observed other folks wearing tracker pants (OK so these were bearded mean barreling past my on bike on the streets of San Francisco) it seemed to me that theirs were sleeker at the bottom so I made this change.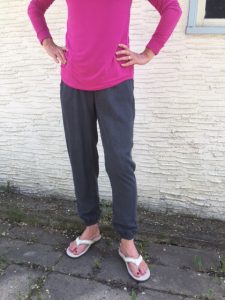 I am so happy with both these garments and will be making many more versions of both, for myself and with the size range available with Jalie, for other members of my family too.