Hey sewfriend!
It is time for me to share with you my latest make: McCall's 6891. I've been wanting a Shirtdress for a while now. What better time than spring to rock a beautiful Shirtdress???
When I got this pattern (a few months ago…) I imagined a light sleeveless denim dress. I found the perfect fabric at Fabricville; this Polka Dot Printed denim (KR121). They actually had different shades of blue but I opted for the darker one.  I love me some Polka dots!!! The fabric is actually dark blue with light green polka dots. To make the green colour pop even more, I chose these green 1.8 mm buttons by Elan.
I cut the pattern in a size 8. The pattern instructions were pretty easy to follow until I reached the collar facing constructions… I had to pull out my seam ripper a couple of times until I got it right. I sewed my front panels on the wrong side of the collar… My seams went too far… But in the end, I made it!
This dress is so comfortable to wear! Light weight, breathable fabric, soft on the skin! I also like that the skirt is full (a nice circle skirt). It has great movement. I did zero modification to the pattern. It was the perfect length for me. However, I could have had a slightly better fit in the shoulders area. I have a little gaping in the armholes. Overall, I am quite pleased with the final result.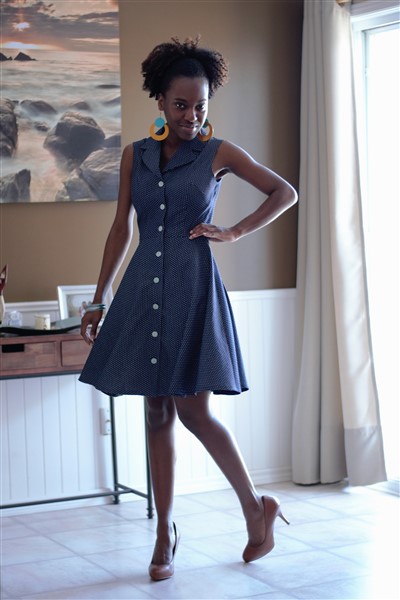 I plan to wear this dress at work, for church or for a weekend getaway when it will get warmer (we got a few of inches on snow this past week… rolling my eyes…)!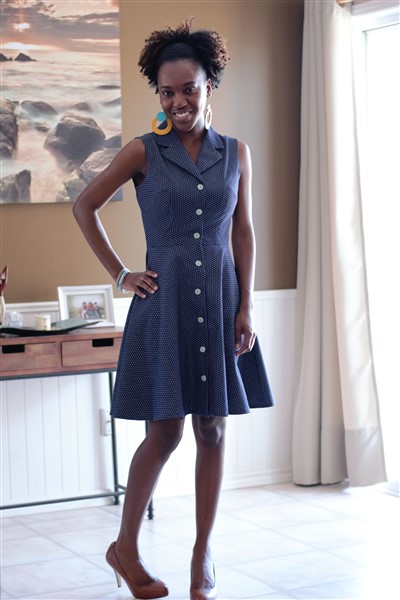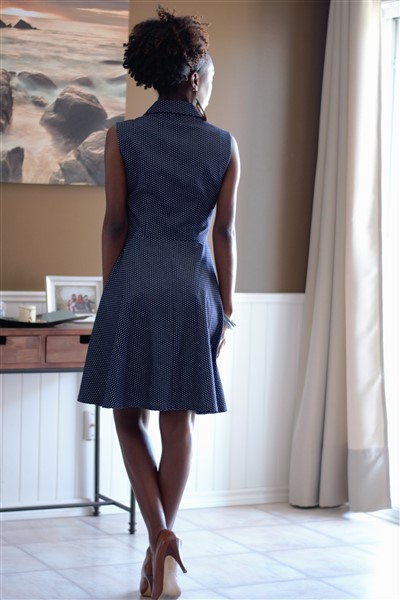 I have another Shirtdress pattern by McCall that I cannot wait to make! But I love this dress (and fabric) so much that I don't know if I can possibly make a better version!? This fabric and this pattern were made for each other! They allowed me to make the perfect Shirtdress at the first trial! (Happy dance…!)
Sewfriend, do you have a go to shirtdress pattern? Do you enjoy Polka dots as much as I do 😉 ? Let me know in the comment section!
Talk to you soon!
Judith Dee.