Sewing for Summer Gives me Joy
Sewing for summer brings lightweight, easy-care fabrics and uncomplicated styles to my mind. My idea for this blog post was to choose 1 pattern for a "bottom" and 1 pattern for tops of varying options.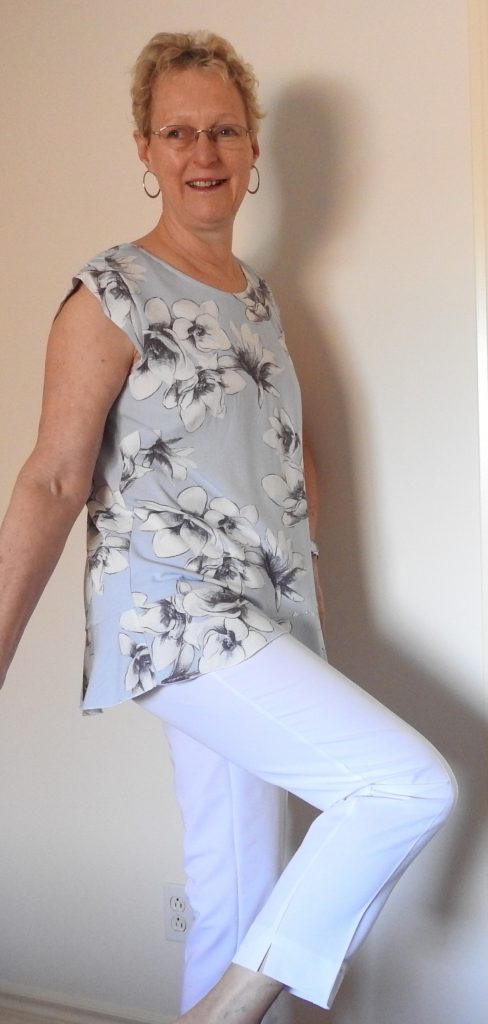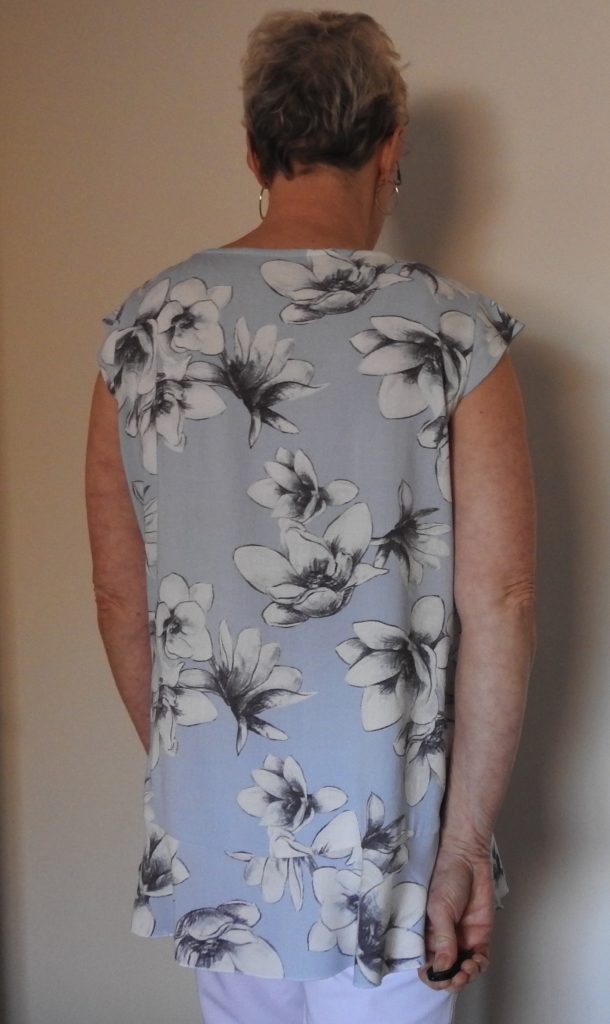 The patterns needed to be economical, and easy to sew. I spent hours perusing the patterns available on the Fabricville website and finally chose 2 Burda patterns and corresponding fabrics.
I was on vacation when my order arrived and was impressed by how quickly it arrived.  My disclaimer:  Fabricville gave me the patterns and fabric at no-charge in exchange for me writing this blog post.  That's a pretty good deal for me but bear in mind that the opinions expressed here are my own, and if I'm unhappy with a product you'll know.
I'm happy!
Burda 6501 Blouses and Stretch Rayon
Stylish tops featuring contrasting details. View A shows off a V-neck while view B has a round neckline and sleeve bands. A flounce adorns the hem of view C. All three tops are cut on the bias for an especially nice drape of the garment.  Click here for the pattern.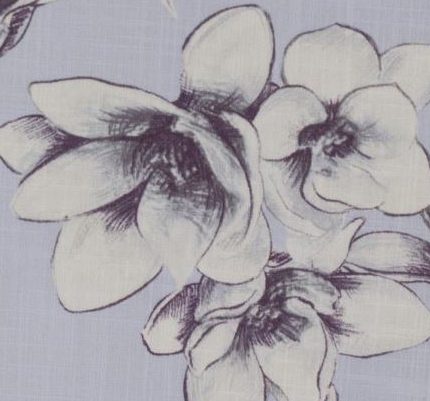 This rayon fabric is light and has a fluid drape. The 5% lycra content helps create comfortable blouses, shirts,
and
skirts as well as lined dresses, wide-leg pants and scarves.  Click here for the fabric.
Fabric Care Hand wash
Contents 95% Rayon / 5% Lycra
Width 56 inch (142 cm)
My monitor shows the fabric colour as white flowers on a lilac background, but the flowers are more ivory than white.
Notice that in the pattern description the tops are to be cut on the bias?  This stretch rayon, although it's NOT a knit, has enough stretch that it's not necessary!  I cut my back and front on the fold, cut the sleeves on the cross-grain, AND HAD ENOUGH REMAINING FOR FLOUNCES!  1 meter did it!   Even after lengthening the body by one inch.  (I'm tall and always do that) (but it was a tight squeeze) I prewashed my fabric (I always do) and LOVE the coolness and softness of it.
My Construction Notes for Burda 6501
I made view C with sleeves from view B in size 18
Stay-stitch the neckline, armholes, and top of the flounce
Mark ALL the dots, and on the sleeve label 3 (front) and 4 (back)
Insert the sleeve BEFORE sewing the side seams
I cut my binding across the grain, and it stretched a lot.  Next time I'm using ready-made bias binding.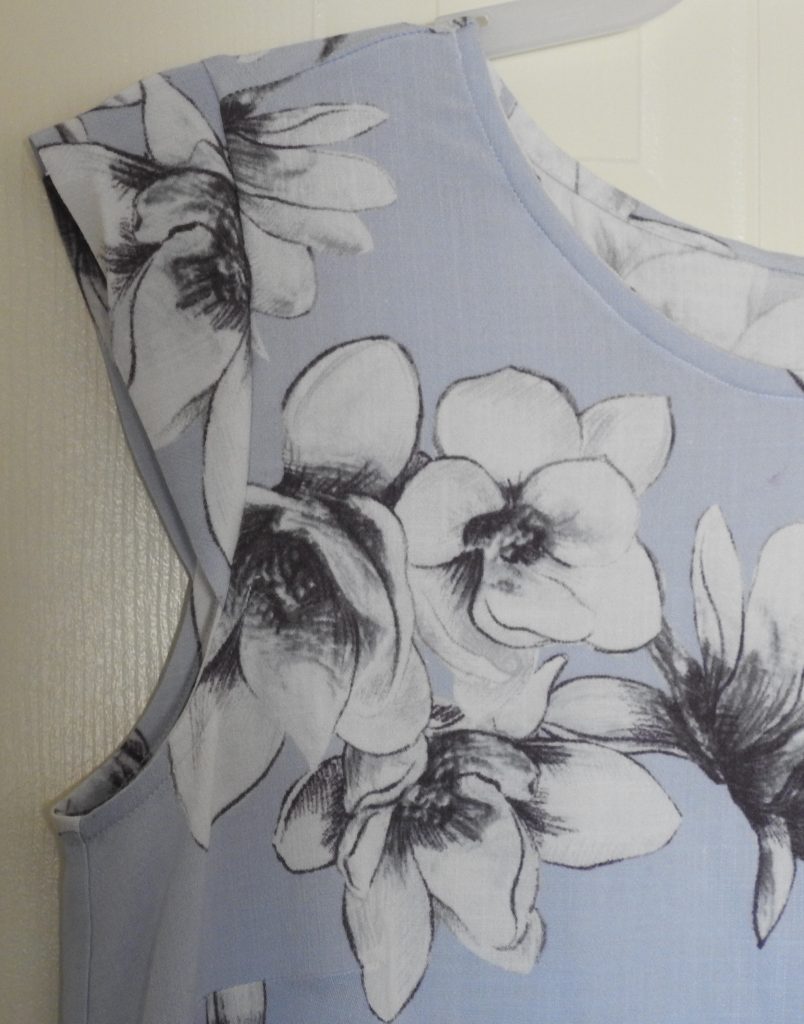 I struggled to hem the flounce as instructed so chose to finish it with a rolled 3-thread serger edge, and used wooly nylon in my upper looper.
I LOVE this pattern and will use it to make more.  Fabricville has many options for fabric choices just go to the home page (click here) and type stretch rayon in the search box.  If you prefer lightweight sheer polyester, the Bella or Carlotta polyester prints look intriguing.  Be sure then to use the bias layout as suggested on the pattern.
Burda Pants in Twill Spring Suiting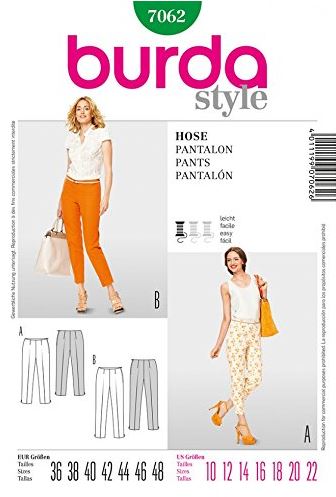 The only description is "Ladies Pants".  I would add that these are short, close-fitting, regular rise (to the waist), with facings, no waistband, side zipper, and have ankle slits at the hem.  Click here for the pattern.
This medium weight stretch fabric has 6% spandex for added comfort and ease. Great for jackets, pants, skirts and dresses.
Fabric Care Machine wash
Contents 78% Polyester / 18% Rayon / 4% Spandex
Width 57 inch (145 cm)
My construction notes for Burda 7062
Sew up a muslin for fitting purposes.  Pants are tricky to fit!  I added 2 inches in the leg length and minimized the back waist dart, did a half-inch "flat butt adjustment", drew a new back facing, then sewed a muslin.  It's a wearable muslin.  I found that the rise was good, but at the center front it dipped down by one inch.  I also had extra fabric under my buttocks which I eliminated on the pattern by folding a 1/2 inch pleat at the back curve.
If you make any changes to the pattern, be sure to adjust the facings to match.
I moved the zipper to the center front on my "good pair" because my arthritic shoulders complained about twisting to zip at the side.
After attaching the facing, trim the seam allowance, and with the right side of the facing up, understitch.
If you're an accurate sewist, stitch in the ditch to keep the facing in place.
Wear white undies under white pants.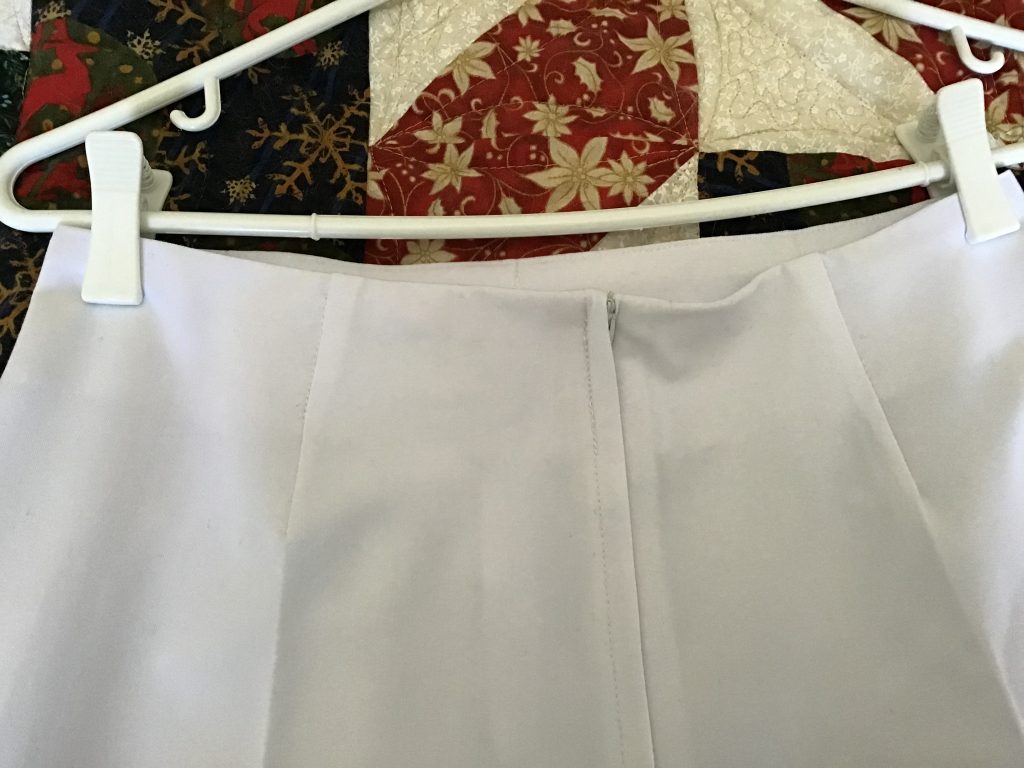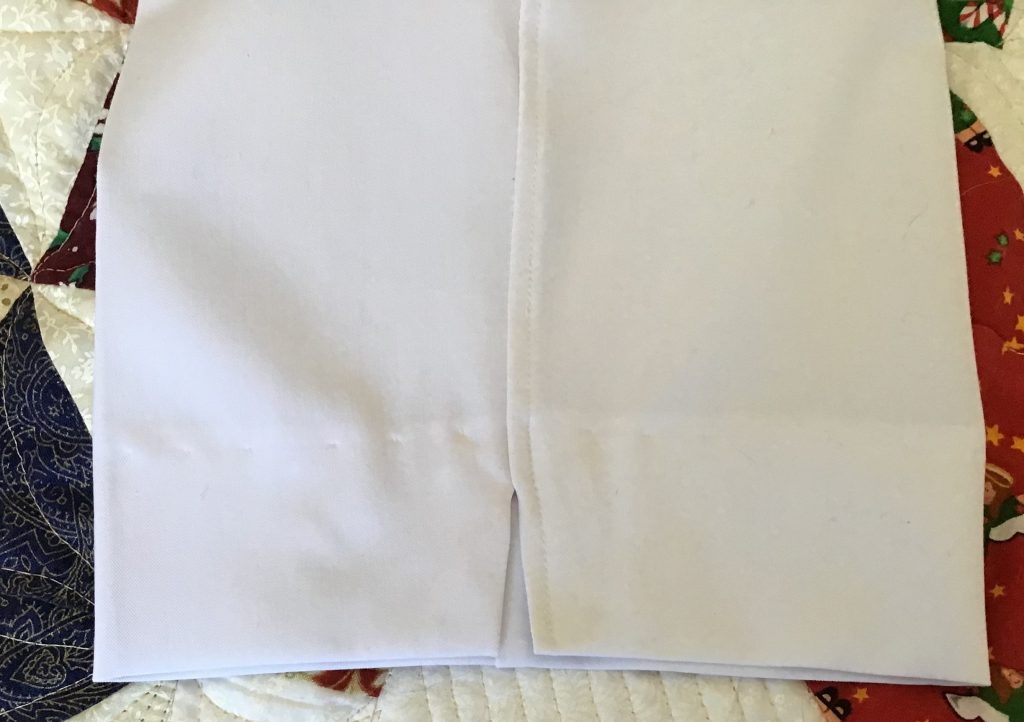 In conclusion, these patterns were a great choice for simple sewing for a summer outfit.  Great fitting white pants are a summer staple, and with only 2 main pattern pieces plus 2 facings, these are a quick sew.  I'll add pockets to my next pair though.  I'm in love with this blouse!  The coolness and comfort of the stretch rayon fabric against my skin, and the great style are a winning combination.