Have you ever been in the middle of a project and realize that it is just not going to work out? That's how I felt when I was working on my most recent project for the Fabricville blog. I was still on a high from the floral cotton sateen skirt I had made and was excited to work with the striped version. However, it did not go as planned at all. The fit of the top was totally off so I consulted my fellow Instagram sewers to help me figure out what to do next but even after endless conversations with multiple sewers, I decided to face reality and sadly consider it a failed project.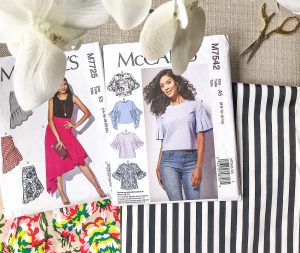 Fabric and pattern chosen
My plan was to use this gorgeous striped stretch sateen to make McCalls 7542 which is a semi fitting top and add my own twist to it. It is a project that should have been pretty simple but sometimes it is the simplest things that surprise us. Personally, I think I did not choose the right pattern to match with the fabric which is why it caused so much pain.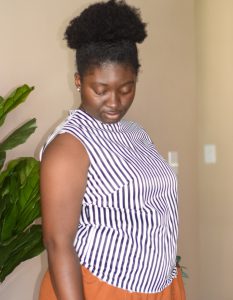 As you can tell from the photos, I had draglines everywhere. The neckline was pretty high which is an easy fix but I struggled to fall in love with it so I decided to start all over. I moved the bust darts to the shoulder and added another bust dart around the waist and lengthened it a little (my plan was to add a color block fabric to the bottom which is why it is so short in the photo). It fixed the issues in the waist area but at the end of the day, I decided to accept defeat and let this project be. I simply wasn't happy with the pattern choice with this fabric.
On a positive note…
To end this blog on a positive note, here are some of my past Fabricville projects that worked out great!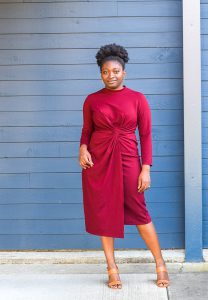 McCalls 7429 twist dress using a gorgeous winter jersey from Fabricville
McCalls 7472 tunic using cotton gauze from Fabricville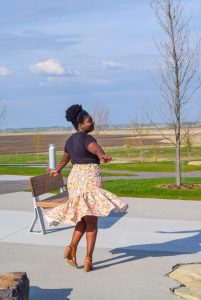 McCalls 7725 ruffles skirt using floral cotton sateen from Fabricville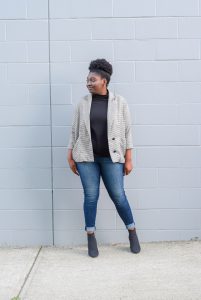 Burda 7463 blazer using a beautiful houndstooth fabric from Fabricville
Here is to hoping my next project is a success like these past ones. If at first you don't succeed try, try again.
Happy Sewing!
Sylvia