Ruffles are definitely getting some attention this year and with the weather getting warmer, I had to celebrate by making this gorgeous fit and flare ruffle dress. I am obsessed with dresses, and McCalls 7566 just made my list of great dress patterns. I made View A of this pattern, which has a fit and flare fit with a ruffled V neckline.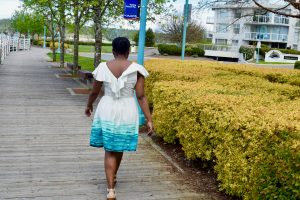 The Fabric
Lately, I have been looking out for fabrics that are great to wear in the upcoming hot weather and Fabricville's linen and rayon blend is perfect for that. The best part of this fabric is that it has a sea foam/aqua gradation stripes border print, which I adore. It feels great and has a great drape as you can see from the ruffles. It also screams spring thanks to that beautiful border print. Fabricville has this fabric in multiple prints and solids too.
The Pattern
In addition to my view, McCalls 7566 has other bodice and length variations. This is a great pattern for those who love to make classic clothes with a trendy twist. For this pattern, I followed the instructions to the tee for as they were easy to follow. I lined the bodice as per the instructions and used the french seam method to finish the skirt seams.
I was also very impressed with how perfectly it fit me with no adjustments. The length and fit are on point. However, the neckline is a bit too low for me causing some major cleavage in my opinion. I'll be adjusting that in the next dress I make with this pattern. Inserting the lining was also a bit tricky for me because of the ruffled neckline but as long as you sew carefully and slowly, it'll come out great!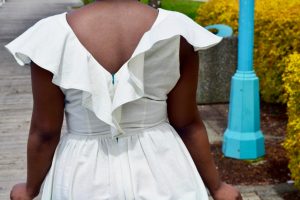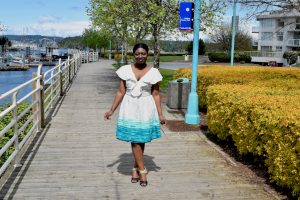 Finally, I finished it with a teal zipper to match the border print. I'd recommend this pattern and dress to anyone in a heartbeat. It was my first time working with a rayon and linen fabric and I love it!
Thank you for the fabric and notions, Fabricville!
Sylvia from The Ravel Out