My obsession with asymmetric necklines reached its peak last year but I had never thought of making my own until McCalls released their version of it. I was sold right away and knew exactly what to make while I was going through Fabricville's spring fabric collection.

Fabric Details
My plan for this project was to make a very similar version of View A so finding two perfect contrasting pieces of fabric was essential. I used Fabricville's red and blue Roma rayon stripes fabric. It is lightweight and very soft, perfect for blouses. For dresses and skirts, lining is required due to its lightweight. I pre-washed the fabric and pressed it before cutting into it.
 
Pattern
I used McCalls M7724, which is a close-fitting, button front top with shoulder pleats, neckline and sleeve variations depending on the chosen View. With my View A version the right/blue side has a cold shoulder detail while the left/red side has an off-the-shoulder detail and a shaped hemline.

Process & Changes
This pattern was surprisingly easy to sew considering all the little details it has. These were basically the steps I did:
Cut the fabric pieces out
Make the shoulder pleats and darts
Join the front and back pieces at the shoulder and attach the facing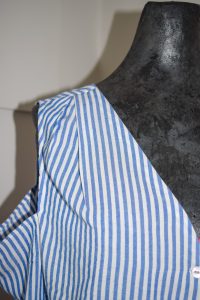 Sew the back pieces together and attach sleeves – I decided to make the sleeves simpler so I left out the cuffs and shortened them to 3/4 sleeves
Make buttons and buttonholes – This top is close fitting. To make it slightly less so around the bust, I simply moved the placement of buttons closer to the front edge
Finish the hemlines and ta-da! You have an asymmetric top!

I am so glad with how this turned. I really was not sure what to expect in terms of fit and the overall look due to the asymmetric details of View A but the fabric and pattern combination is a match made in heaven. Do you have this pattern in your stash? If so, you should give one of the views a try. I'd love to see other versions.
Happy Sewing,
Sylvia from The Ravel Out