My love affair with coats runs deep. Embarrassingly deep. Like there is no room in the front closet for your coat when you come for a visit kind of deep. There might be coats hidden in other closets kind of deep. It's cold in Canada…a girl needs to keep warm 😉 So it's no surprise that I made another this fall. (although, I think this one will be going to my daughter's closet…she gushed over it so much!)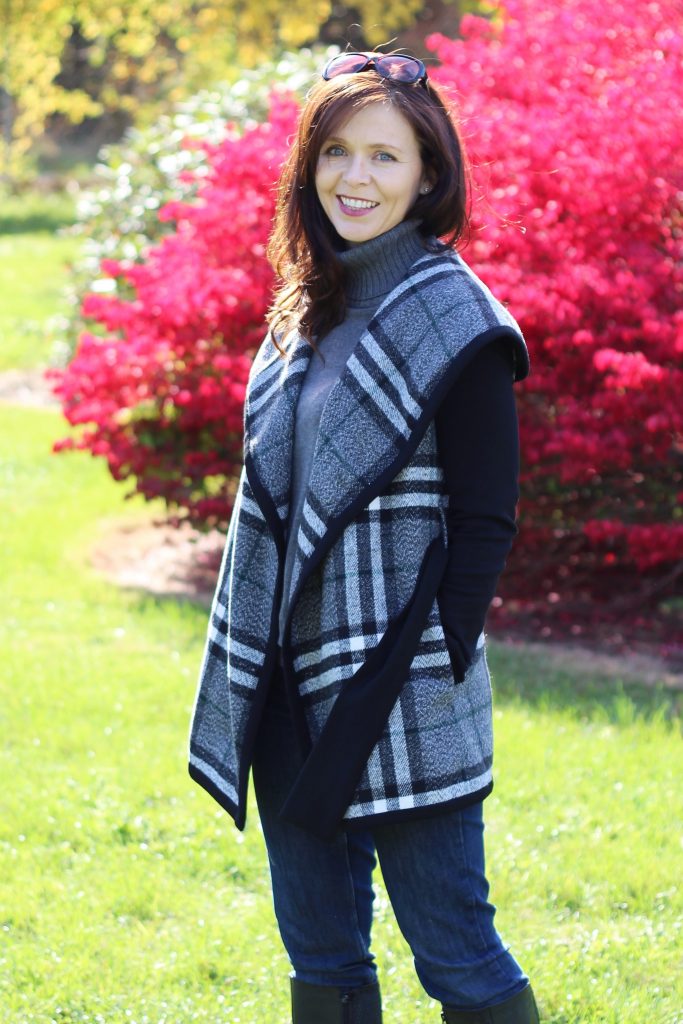 This is the Poncho Perfection in the black and white plaid. It is thick and blanket like, perfect for ponchos of course, but also for a wrap coat. As a side note…when I brought it home, Husband liked it so much that he picked this print for seat covers for his Jeep. Must be nice stuff if it's Jeep worthy!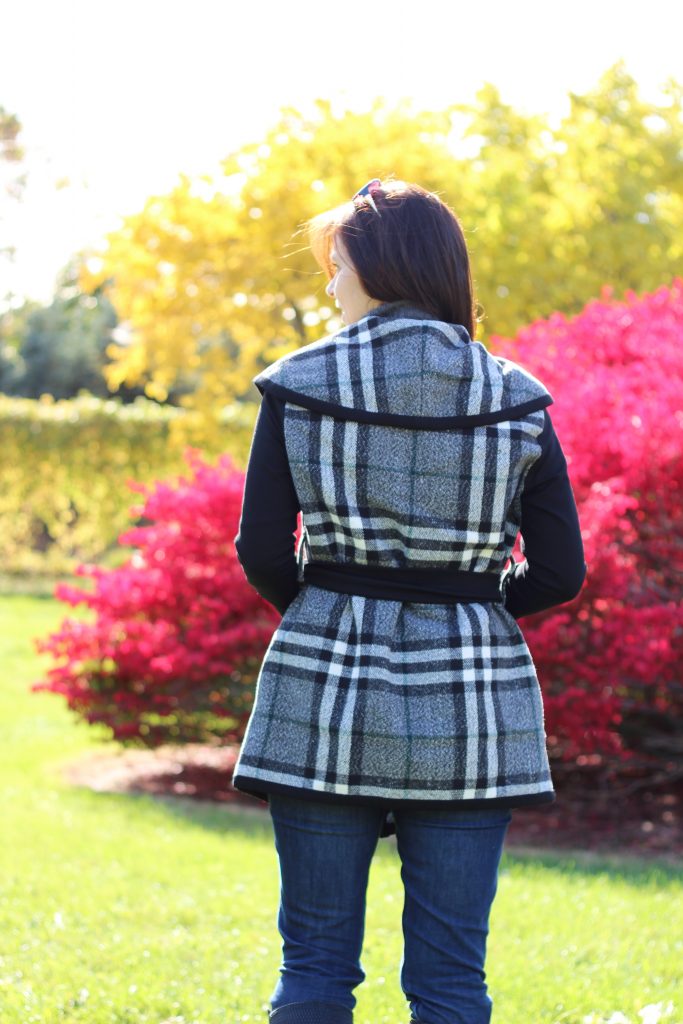 I had difficulty choosing because there are lots of great prints to choose from. Some are plaids and others are described as tribal prints but both have horizontal lines. With a horizontal print I had to be mindful of the type of pattern I used for my coat. I used a PDF pattern from Burdastyle.com (Belted Wrap Coat 10/1012 #103) but if you want to make a coat similar to mine, Vogue 9231 is a great choice, or V8933 would be nice. If you want to make a poncho like the fabrics name suggests then V8959 is a cute pattern.
When using a plaid fabric I like to choose a pattern with a straight hem and as few seams as possible …it makes matching soooo much easier.
For my coat, I started out with a plan to make the sleeves in the plaid as well but found that the pattern was a bit bulky and I wanted something more sleek. I found a sleeve pattern piece from another pattern (M7430 to be exact) that I thought would work and swapped it for the bulkier one included in the pattern. I had recently purchased this Winter Jersey and pulled it out for the sleeves and I love the result! It took a bit of stretching to get the sleeve to fit in but the jersey took it like a champ and I think it looks great.
The jersey is so nice that I used it for binding the hem of my coat and the belt. I love an inseam pocket and I made these ones in the jersey as well….let me tell you…they are so warm and comfy. I think all my pockets should be made of this stuff!
Fall sewing is starting to be as fun for me as spring/summer sewing. Do you prefer sewing for one season over another?
* Margo is a fabric addict and pattern hoarder extraordinaire, and justifies it all on her blog, Creating In The Gap.