Is it spring yet? Every year, we welcome autumn, with its promise of cozy sweaters and fireplaces, but by the time March rolls around, all we can do is dream of warmer weather.When it comes to wardrobe, that means focusing on transitional pieces that carry us through those cool days before the warm weather really sets in. So, what kinds of pieces―and especially fabrics―work?
I like to look for projects that focus on easy pieces in styles and fabrics that span those days when the mornings are cooler, and the afternoons might bring on a taste of what's to come. One of those fabrics is bamboo jersey. This year, I began with a piece of Fabricville jersey (BAMBOO – Knit – SKU YY782-0480) in a colour that I don't often wear. The website calls it "purple ash," but to me, it looks an awful lot like this year's feted colour of the year: periwinkle. And colour is only one of the considerations when choosing fabric that you can't see or feel in real life before purchasing.
When I chose this fabric, I had decided to make Vogue 9227 Misses' Button-Detail Tops (SKU V9227A50). I've been coveting this one for a while, so I planned on the purple ash fabric in View C.
I had two challenges when the fabric arrived. First, the thread I'd chosen to colour-match the fabric looked like it might not work as well as I'd hoped. The second problem was the weight and drape of the fabric.
First, I dealt with the thread-matching issue by testing a variety of topstitching possibilities. I tried a contrasting topstitch colour, but in the end, I decided on a fancy embroidery-type stitch that makes the colour choice look intentional.
This approach has many applications limited only by your imagination. Then I had to deal with the weight and drape issue.
The feel of the jersey was beautiful―just as I had expected it to be. However, it was a finer knit than I had expected, and it was lighter in weight. When I considered the style I planned to make, I realized it wouldn't work. Vogue 9227 begged for a slightly weightier fabric because of its style lines and details. I needed to find a style that would make the most of this jersey's soft hand and lovely drape. I had made McCall's 7975 (SKU M7975Y) before and knew it would be perfect.
I began by washing and drying a four-inch sample as I always do. That came out well, so I prepped the entire length. The fabric is such a drapey, lightweight jersey that I had to lay it out and cut it carefully. I used safety pins to keep the edges straight and cut the back on a fold and the sleeves on double fabric. The front pattern piece is provided as one single piece anyway, so it was easy to get it on the straight of grain.
I was careful to stabilize the shoulders with stretch stay tape and other vulnerable corners with a small amount of staystitching. I also had to stabilize the neckline to prevent it from stretching out before attaching the neckband. Too much staystitching in a knit fabric, though, kind of defeats the purpose of all that stretch, don't you think?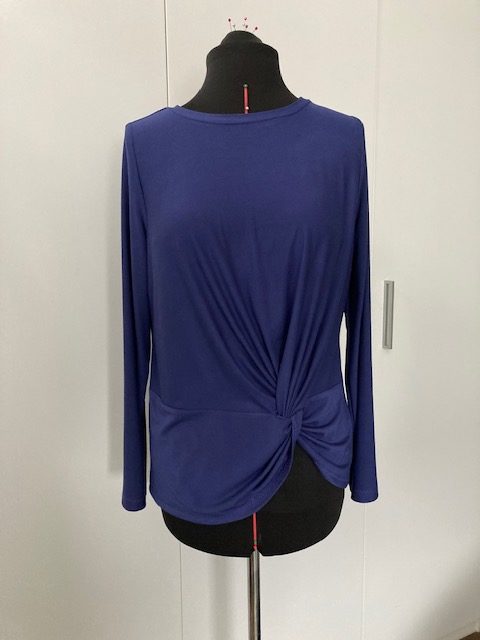 The front twist of fabric that constitutes the main design detail for this style is perfect for this fabric weight. The end product will be something I can wear all through the spring before the heat sets in.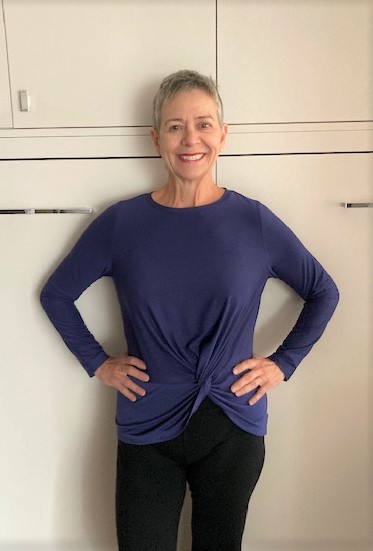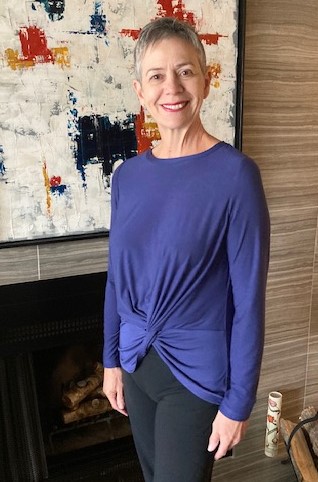 (P.S. You can see how the colour reads differently depending on the light)
Lesson learned: Always have a backup plan for matching fabrics purchased online with pattern designs. Oh, and one other thing: sometimes trying a new colour might be just what you need for the new season. I vowed I wouldn't wear periwinkle, but I think it works!
P.S.
I'm a storyteller, and I just happen to tell stories about sewing and style. So, if you love stories and you love sewing, please join me at www.gloriaglamont.com.