I am so thrilled to share my first fall project for Fabricville with you! It is only fitting that my first dress for my favorite season be this gorgeous and classy McCall 7429 number. Everything about this dress is to die for. The twist front is such a great detail but the fabric choice is the ultimate winner here. It definitely made this pattern extra special for me.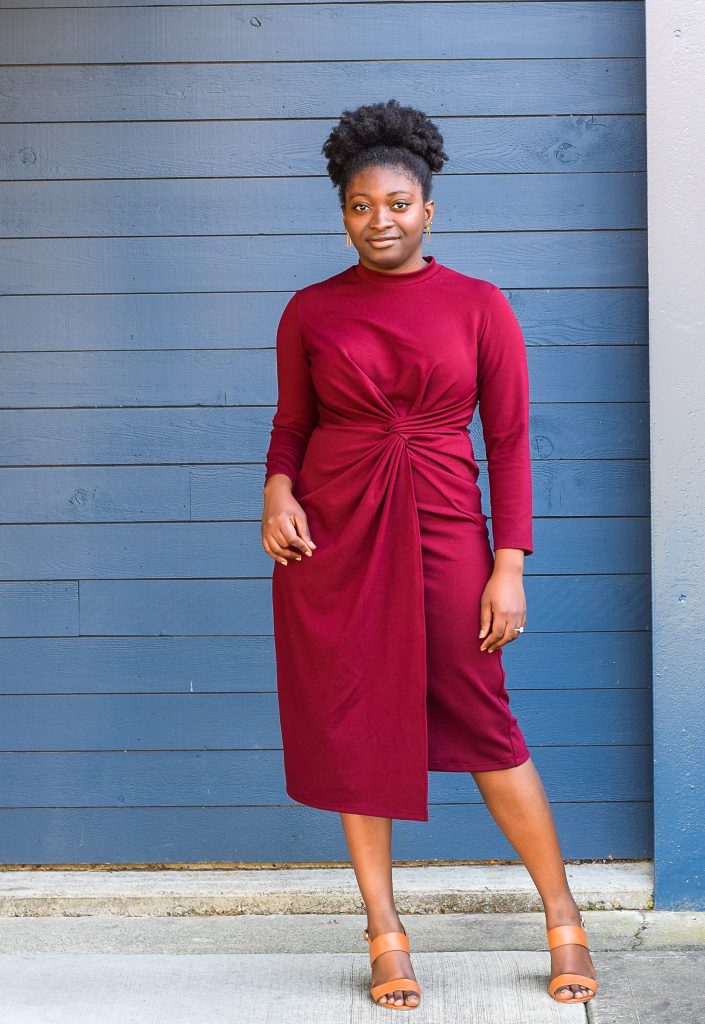 Fabric Details
The fabric I chose is a maroon winter jersey. I mean, how gorgeous is this color? So perfect for fall! I fell in love with it immediately I touched this soft, medium weight bundle and it definitely held its own after I pre-washed it which is always a win. It is a 2 way stretch knit, which is what the pattern requires. I was very impressed with the quality of this fabric and how comfortable it is to wear. It consists of 70% rayon,25% nylon, and 5% spandex, and I used almost a little over 2.5 meters for the dress. It will be awesome for skirts, tops, jumpsuits and so much more.
Pattern Review
Pattern Description – McCalls 7429 is a close fitting pullover dress with a front twist detail at the waist with sleeve and neckline variations.
Sizing – I made a size 14 at the bodice and waist and graded to 18 at the hips. I could have made size 12 at the bodice and waist for a tighter fit but I chose not to for this project.
View/Modifications – I made View B (but chose to make it in View B's length). The only modification I made to this pattern was shortening my sleeves by 3.5 inches.
Instructions – They were easy to follow until the instructions for the twist front detail, which is confusing especially for beginner sewers. A YouTube video by Brittany J. Jones makes that step super easy! Instructions after the front details are pretty straightforward.
Of course my favorite things about this dress is the fabric and the twist detail. I hope you love this dress as much as I do!
Happy Sewing!
Sylvia from The Ravel Out