(Funny story: It was starting to be sunnier outside with higher temperatures so I decided to create a summer dress by using everything that I needed from the nearest Fabricville to me. The MOMENT I finished my garment, I got rewarded with a snowstorm outside.)
I used Vogue 1395, which is a designer pattern from Rebecca Taylor. By looking at the overall shape, I easily knew it would make a cute summer dress and that it wouldn't be too difficult to find a fabric for it. I bought 3 meters of the softest Rayon Voile (Fabricville code: KR311 TieDye Rayon voile) I could find with matching threads and an ¼" elastic. You might think that 3 meters is a lot, but the fabric I used drapes beautiful and I really wanted to keep that effect so I cut my lining in the same fabric.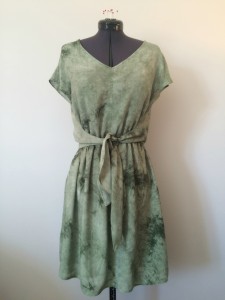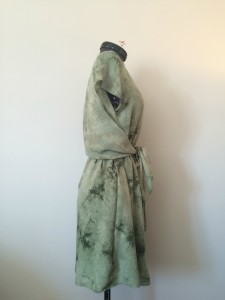 I also made two main alternations while sewing this garment. After spending too much time on the Internet reading every blog posts on this pattern, I knew there would be a problem of "bra-showing" because of big armholes so I finished the seam shoulders using large French seams to help raise the armhole a bit. That way, my bra barely shows on each side of the dress. It was also funny to notice that everyone was criticizing the double stitch that the pattern indicates to use. I must admit that it's totally a waist of thread. Why two stitches anyway? Instead, I decided to use French seams everywhere, except the bottom part where I finished the seams with my serger. I used three serger bobbins from Fabricville and I must admit that I was really impressed by the rage of choices I had. I was looking for a specific shade of green and unbelievably found it.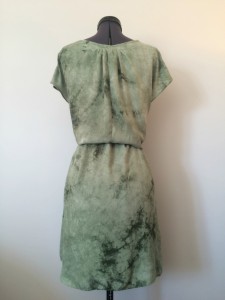 At the end I must admit that I am a little proud of this dress. Even though it's only a dress (not a big deal), I took my time to create a clean finish and I can see the difference between sewing a garment real fast versus slowly. I am now looking forward to the arrival of summer just to be able to wear it!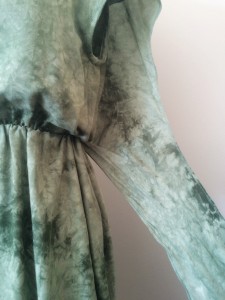 Voilà!