Like most women one of my aims with my sewing is to make sure I always have something to wear for whatever I do. Feeling appropriately dressed is important to me, as it is for most of us.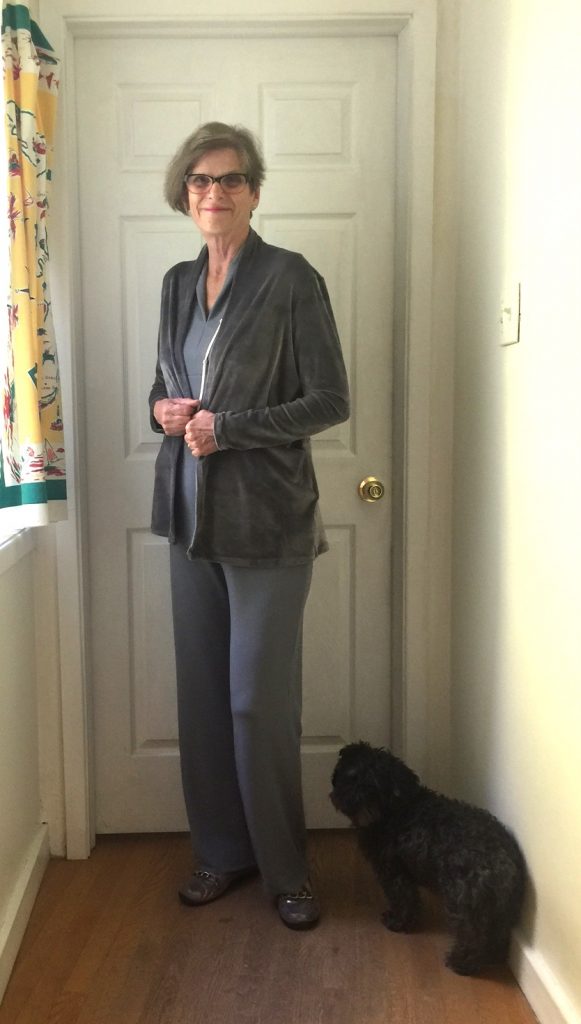 This is just so much easier to do for those of us who sew.
Enter neutrals.
I love colour and I wear a lot of it but do recognize that in building a versatile wardrobe neutrals have a real role. Cruising around my local Fabricville recently I was inspired to put together a sort of ensemble – a top, pants and jacket – in grey as anchor pieces for my travels.
I have neglected grey in my closet (see above on love of colour) but really it is a wonderful neutral. Grey goes with both black and navy and is a great functional backdrop for the bright colours, the fuchsias, corals and aquas, I love.
My concern of course was that even if a grey threesome was practical, I didn't want it to be boring. To counter this I decided to throw in some shine and texture with a stretch velour jacket in Jalie 3677 the spectacular HÉLÈNE cardigan. This is the fabric I used .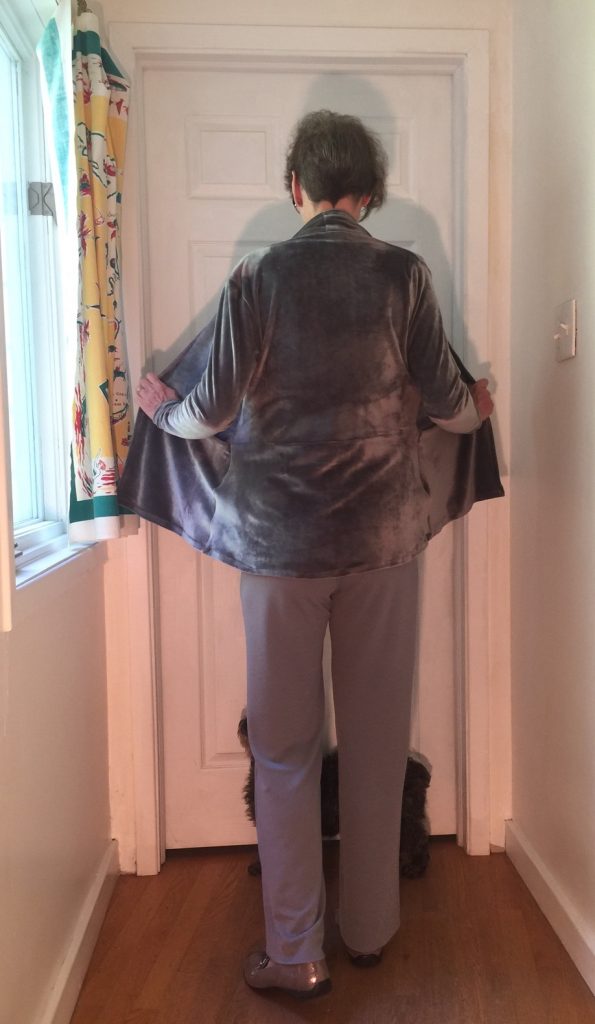 Interestingly I had just previously made this pattern for my six and eight year old granddaughters in the same fabric, in a red and a navy respectively, and I was so impressed by this pattern/fabric combination for the girls that I decided to make one for myself. I find it amazing that I could use the same pattern for the three of us – another reason why I love the 20+ size range of Jalie patterns.
I also used Jalie patterns for both the pants and the shell which I made in this stretch crepe – an excellent fabric for packing and wearing right out of a suitcase.
The elastic waist pants were actually made from Jalie 3243
This is actually a pattern for pull-on pants in wovens so I cut a size down from my own measurements to allow for the stretch and that worked well. This pattern also has applied angled pockets on the front, which I left out in keeping with the colour and a sort of minimalist look, and instead of facing the waistband casing I just added a few inches to the top of the pants patterns when I cut – making a sort of conventional turned over waist casing.
I was particularly pleased with the shell for this outfit. I used Jalie 2682 for a V-neck top. It's a pattern that makes a great sports top, and that's how the picture on the front always looked to me, but I realize now that it is also a wonderful dressy shell. The construction is really cool too – the neckline is actually made by sewing the front pieces up a bit and then folding over to make a sort of combination self fabric facing and lining. The whole top, cut to hem, took me less than an hour with time spent on careful reading of the instructions.
I love this outfit.  I can tell you right now that I am going to be wearing it a lot, both at home and in my travels, and feeling both stylish and comfortable when I do.
Now off I go.