Getting in a little more summer sewing while I still can. Besides, this top is great for a transition wardrobe!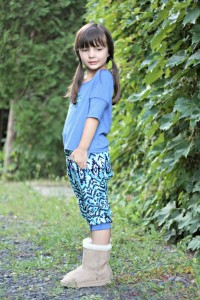 The top is Burda 9439. I modified the sleeve adding a 3 inch cuff to the short sleeve of view E. The fabric is a soft bamboo.
I added a little more detail to the appliqué that is included in the pattern. For me its all about the details. It may take a little more time to put together, but the end result will make a plain t-shirt stand out from the others and it might even make it your child's favorite t-shirt.
A couple of extra things you'll need to make appliqué work easy is Heat'n Bond and Tearaway. The Heat'n Bond is an adhesive that allows you to iron your appliqué to your garment so there's no bubbles or puckering, and the Tearaway is placed under work and helps stabilize your fabric as you're sewing.
For the pants I used Burda 9493. The recommended fabric for this pattern is a knit jersey fabric or joggers fleece, but I had to try it with a woven, and Julia loves them. I used the Blue Mohican print from the Santa Fe collection.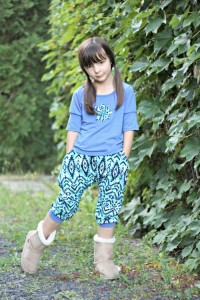 Those sides seam pockets are really a bonus for hiding those little treasures, just don't forget to empty them before throwing them is the washer. Both the waistband and the legbands are in that same bamboo knit left over from the t-shirt.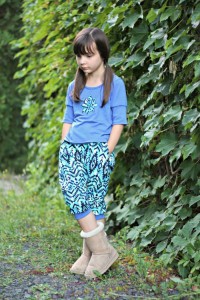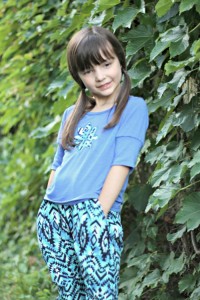 Thanks for stopping by…happy sewing!