Hi, I'm Yvette, a guest blogger!  Usually I'm at www.sewwhatyvette.com.  Hasn't THIS been a Spring to go down in the history books?  Spring weather has finally arrived,  so I'm celebrating Spring and Summer Fabrics with Jalie patterns with Fabricville fabrics. Early in 2020 Jalie announced they were releasing a new collection of sewing patterns « in the Spring ».  I'm a Jalie Ambassador, which means I get complimentary Jalie patterns to sew up for review.  (yeah, that's awesome)  I selected a few from the upcoming collection and then ordered fabric from Fabricville to sew three garments and review them as a guest blogger.  My fabric arrived mid March, JUST before everything shut down due to COVID.  Thank goodness sewing is my stress reliever!
Garment #1, Jalie Florence 4020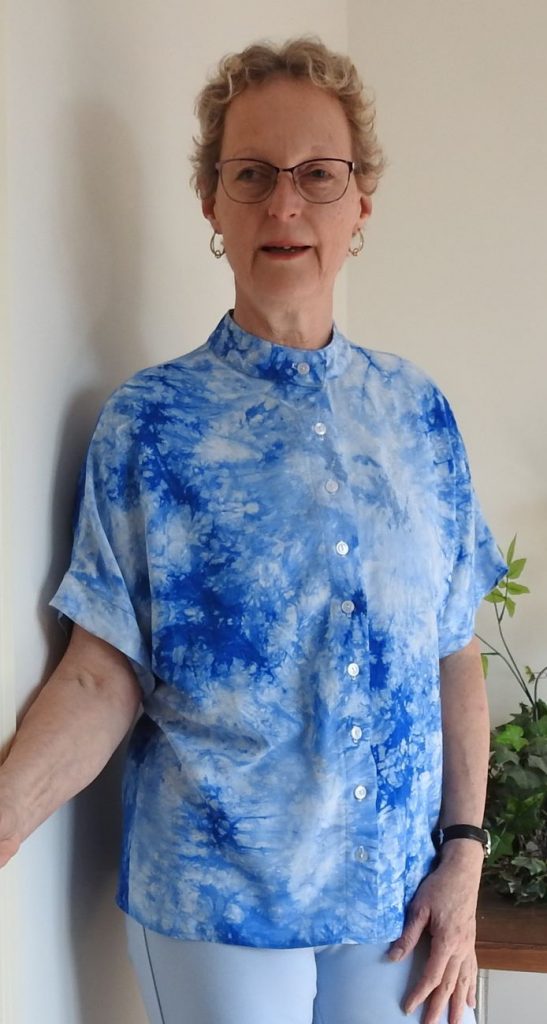 Jalie pattern Florence 4040 is described as a « boxy button-front shirt and shirtdress with band collar, cut-in sleeves finished with a band and rectangle chest pockets ». « Recommended fabric light-weight woven fabrics with a soft hand and nice drape. »
I made mine shirt length and omitted the chest pockets with Fabricville's AR305, described as « TIE DYE Rayon Poplin.  This light weight rayon fabric has a beautiful drape and a soft hand. It's perfect for creating blouses, flowing dresses, gathered skirts as well as pants or tops. »
I'm delighted with how well the fabric suits the pattern.  Prewashing (by hand) removed the sizing, leaving it soft and supple.  I did lengthen the body by 2.5 cm (1 inch), at 5 ft 10 I always add that amount.  It took to pressing well, making the collar easy to construct.
Garment #2, Jalie Renee 4018

Jalie Renee #4018 is described as a « high-waist (at navel), pull-on cigarette pants with concealed elastic at the waist and darts at the back ». « Drafted for stable knits like ponte di roma ».
I chose AD425 for this pattern, and colour 002 was a perfect match with the tie dyed rayon poplin. This Ponte De Roma double knit fabric has a soft hand, drapes beautifully and has stretch across the fabric for comfort and ease. This medium weight knit is perfect for creating skirts, dresses, jackets, tops and more!  The fiber content is 80% polyester, 16% viscose and 4% spandex.
I LOVE how well this fabric suits the pattern!  They are so comfortable to wear, like pajamas but more dressed up.  Ponte is easy to work with.  I highly recommend it for a beginner to sewing with knits.  It doesn't fray or slither and slide away.  A word of warning:  « cigarette pants » are snug and fit close to the body!  The light colour made my visual distractions are more obvious, i.e. panty lines and « fluff ». I wear my tops hip length so all is well, and my distractions are hidden.  You're welcome.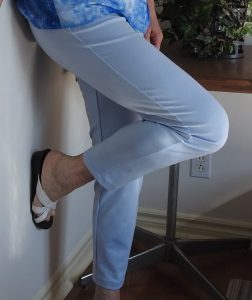 Garment #3 Jalie Bianca 4019
Jalie Bianca is described as a round-neck top and dress with or without cap sleeves. The neckline is finished with binding in the front and facing in the back  (A) : Top that hits above the hips  (B): Knee-length dress with optional pockets.  Wear it loose or with the belt to cinch the waist. A very versatile pattern you can dress up or down.
Recommended fabric: Light-weight woven fabrics with a soft hand and nice drape.
As soon as I saw the line art for this pattern « linen » screamed in my head! I chose « Slub Linen Look »  AR808 in colour 004 for this dress and it's a perfect combination.   This rayon fabric (AR808)  is light and has a fluid drape. Perfect to sew top, skirts, dresses and pants.  Handwashing is recommended, it's 85% rayon and 15% nylon, and 140 cm (55 inches) wide.  This fabric was really easy to handle and sew.  It pressed really well, but when it's worn gets that sort of « rumpled » look that real linen is known for.  Watch that you don't iron it too hot, the nylon could stick to your iron.

A decorative stitch and variegated thread to jazzed it up the center front seam and the pocket hems.  Prevent puckering by fusing lightweight interfacing underneath before stitching.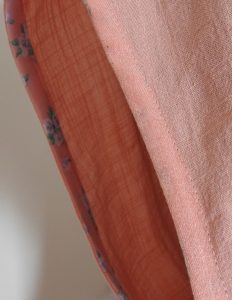 I made my own bias binding for the front neck and armholes out of a scrap of quilter's cotton.  It doesn't show from the right side, but I like it.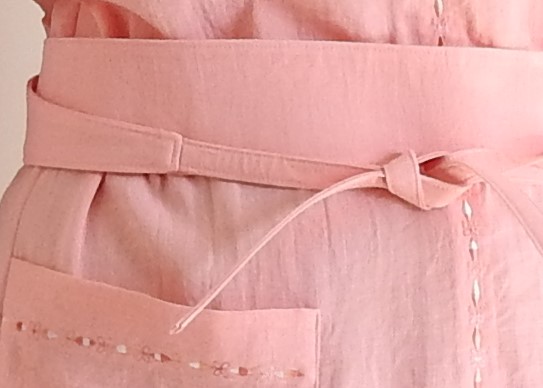 The unique wrap around belt with the front tie is a great touch for a dressy look, but you could leave it off for more casual wear.
My disclaimer:
Fabricville provided me with the fabric at no-charge in exchange for me writing this blog post. Thank you Fabricville!   It's a good deal for me but the opinions expressed here are my own, and if I'm unhappy with a product you'll know.
I'm happy!