Sewing is my passion!  I love to sew garments, but only use patterns that suit « my style ».  With fall just around the corner, my sewing thoughts moved to sewing cozy. I had 2 patterns in mind, both by Jalie.  Here's how it ended up: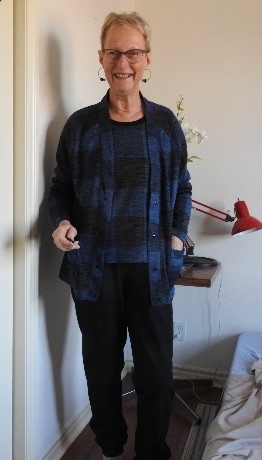 Cozy Dressing with Jalie
Karine is a raglan cardigan that can be left open or fastened at the front with buttons or snaps.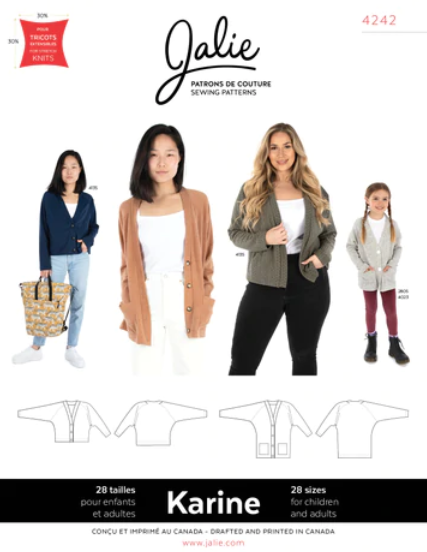 I selected my fabrics;  Black Antonia Stretch Twill Suiting SKU: YY681-BLKfor the Vanessas, and Brushed  Plaid Knit in Tranquil Blue SKU: KR2401-007.  I must admit, I do find it difficult to buy fabric without touching it.
Cozy Karine Cardigan
Here's a photo of the blue plaid. And it's SOOOOOO cozy and soft!  It's perfect for Karine.
It's a large plaid so I took my time laying out the pattern pieces.  I wanted to match up the plaid perfectly!  And I did a pretty good job, check out this pocket!
Some tips for sewing with this soft stretchy knit:
use a stretch needle (I used a Schmetz 75/11) and polyester thread
If you have a serger, use it
use a glue stick to fuse the beginning of the seams together if you're serging
I serge finished the hem and sleeve bottoms, then used a « lightning stitch » to hem them.
I used snaps instead of buttons and buttonholes.
I fused a strip of knit interfacing to the inside of each pocket top before I stitched them down to prevent gaping.
Vanessa Pant
Vanessa is a pull-on pant with flat front, back darts and GREAT front pockets.
When I read the description of the black stretch twill suiting I planned to make a different pair of pants than Vanessa, but when the fabric arrived it did not have quite enough stretch.  So Vanessa it was. The fabric is probably a little heavier than the pattern suggests, but the end result is great.  These hold their shape very well and feel dressy, but not summery. AND, this fabric doesn't wrinkle!
My take on these pants:
I used a Schmetz Universal needle 90/14 and polyester thread
I added 1 1/2 inches to the rise (and the pockets) and 1 1/2 inches to the leg length (I'm tall, 5 ft 10 inches)
To size the elastic I just wrapped it around my waist comfortably
I omitted the faux-fly
I omitted the eyelets and drawstring
I only sewed through the waist elastic one time, not the 2 as suggested, due to the slightly thicker fabric that I chose.
I made the cuffed version
And a Cozy Bonus
I had a large enough left-over piece for the front and back of Jalie's Dolman!
I used a leftover piece of a lightweight black knit for the sleeves and neckband to end up with this: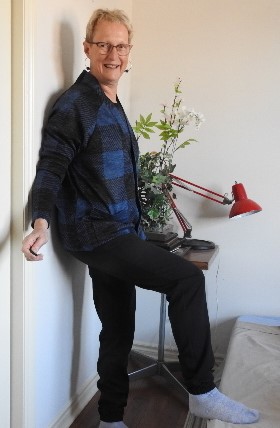 Disclaimer: In exchange for writing this post I chose to work with these patterns and fabrics. Fabricville supplied the fabrics and Jalie provided the patterns, all at no charge to me.
A bit about me:
My name is Yvette Chilcott. I started a successful sewing machine dealership in the 1980's, where classes were the backbone of my business. In 2014 I sold it, and now teach freelance in person and on Zoom, (a lot). As a Jalie Creative Ambassador I've sewn most of their garment patterns multiple times.  My home is in Trenton Ontario where I share space with my hubby and 3 cats.  I LOVE to sew and share my passion on my blog: www.sewwhatyvette.com.