Linen my favourite fabric to sew. It stitches beautifully and presses so well. And speaking of pressing now the Empire is gone no one irons linen much any more and most linens I work with now I pre-wash and line dry before cutting, press the first time I wear them and don't worry about touch ups after that. Some linens even are just fine if they are washed and put in the dryer. It depends on your lifestyle, approach to clothes maintenance, and comfort with the wrinkles that come with real life.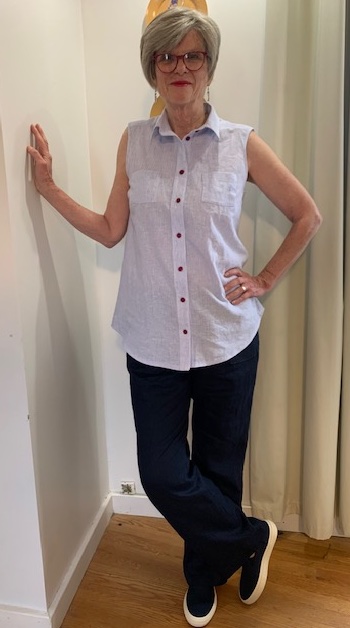 Fabricville has a spectacular linen collection this year. Many are also combined with cottons which adds to the wearability of some garments. This 100% navy linen and striped cotton/linen blends caught my eye this season.
With such classic fabrics it just made sense for me to use classic patterns. That usually means my Jalies, in this case the Rose sleeveless blouse and the famous pull-on pants.
The Rose has a lovely fit. There are bust darts in the front and a pleat just below the yoke at the back. It also has a classic stand collar. I like to make mine by sewing the neckbands to the shirt, and up around the curves at each side and dropping a completed collar into the opening at the top of the bands. I then stitch the inner band to the collar and hand sew the remaining, and outer band to the under collar. I find this method is a bit slower but totally foolproof with nice, neat results: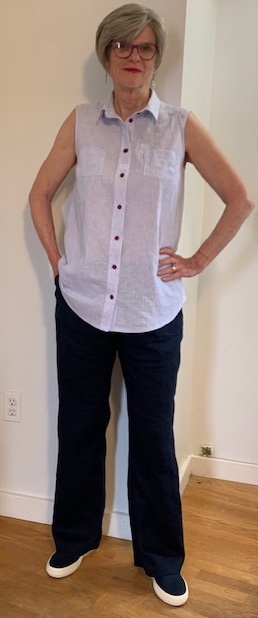 Rose has two small breast pockets and the arm openings are finished with self-fabric bias binding.
I usually stitch this on and turn and hand stitch it down to the inside of the armhole.
To add a bit of interest to this traditional striped fabric I decided to use red buttons and am glad I did.
The Jalie pull-on pants are as advertised, pull on pants with an elastic waist. What I like about this pattern over the hundreds of similar versions is the width of the leg, wide enough but not too wide.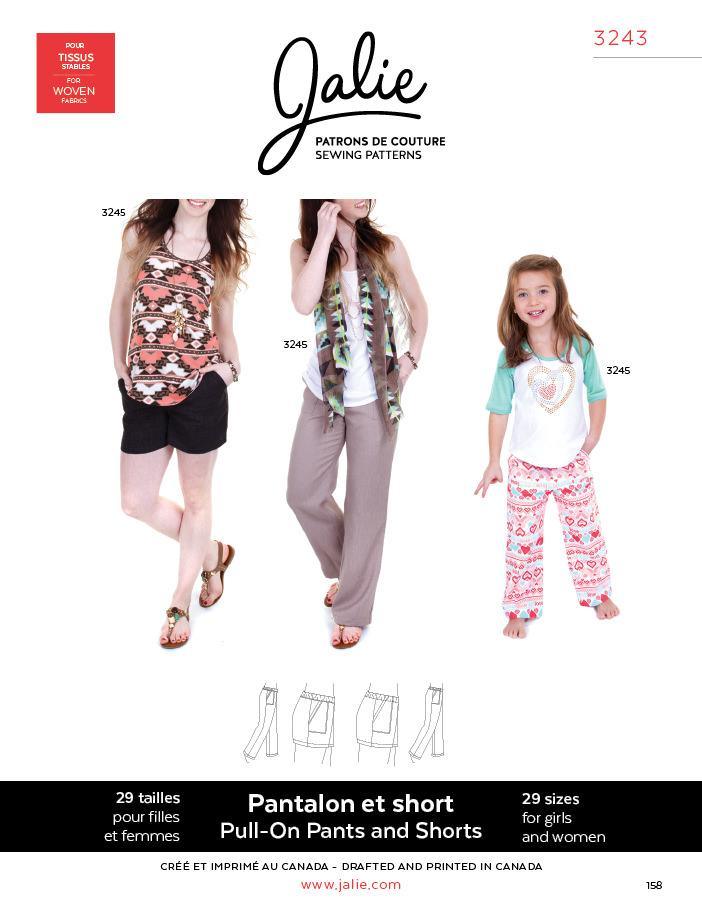 The pockets are also very clever and fast to apply, sort of patch pockets with a slant side so they work and look like proper slant pockets. They also lie flat against the body and don't add bulk like the usual inseam pocket bags. 
I love this pair and will be making a few more versions in linen for everyday to wear all summer!