This new project for the blog was coming on point, I was beginning to think about my spring & summer sewing plan. What better project to start with than the perfect 1950's vintage style sun dress?
Looking for inspiration
As usual, I was looking through Pinterest to find inspiration, I fell in love with all the style in the Lana Lobell 1950's fashion catalogs. All the dresses advertised were more beautiful one from another, the silhouette, the colors.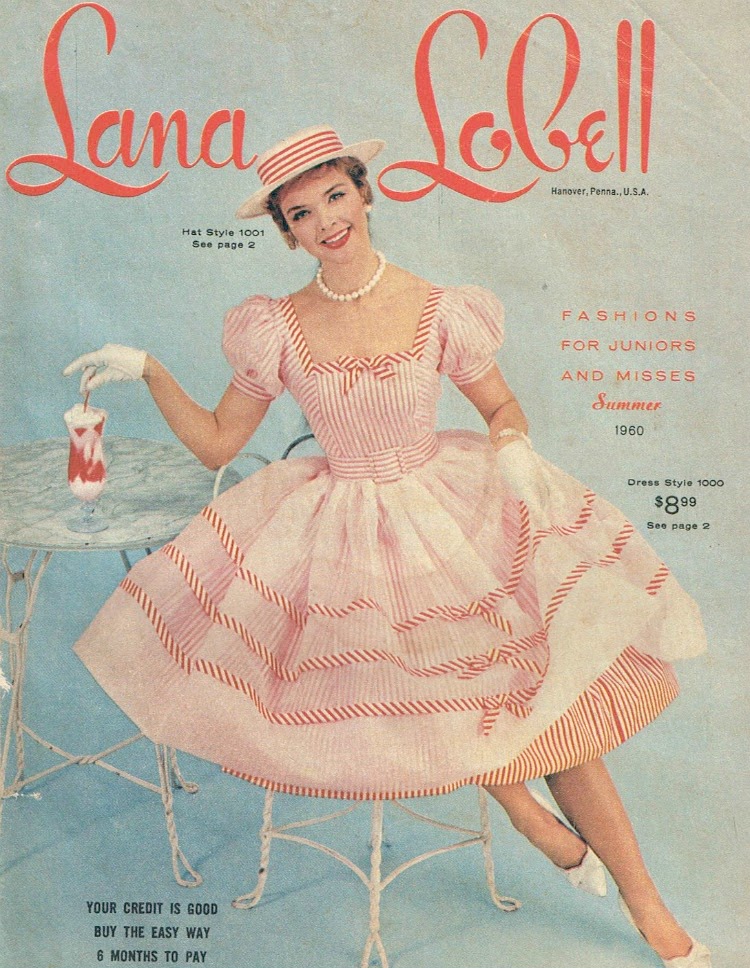 The Lana Lobell catalog was first launched in 1950 by a dress store owner by the name of Boris Leavitt. He named it after his daughter and sent them out via his shop. Lana Lobell manufactured women's clothing, in New York City's garment district.
The 1950's dress catalogs, which are a rarity today, marketed the most delicious modest styles and hottest trends of the time.  Stunning sheath dresses, flower gowns, whirl-skirts, baby doll sleeves, tuckered top dresses, polka dots and more…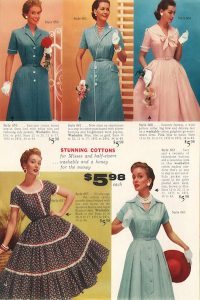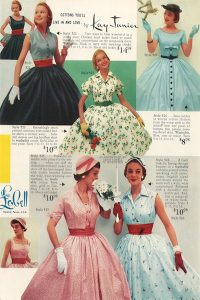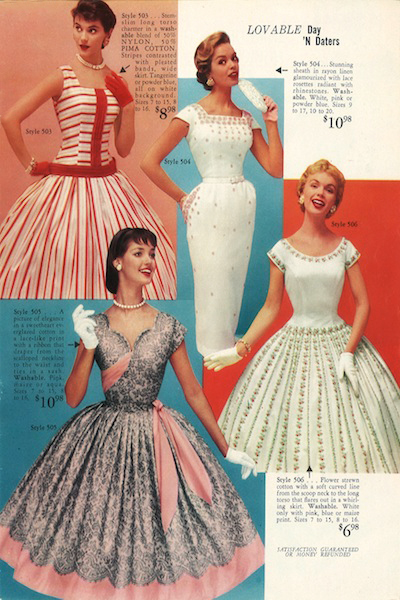 After spending 2 good hours looking at all those gorgeous designs, I was full of inspiration and ready to make my own fantasy 1950's summer dress!
Pattern and fabric
With my heart full of inspiration, I had a specific Vogue pattern in mind, I had it on my sewing wish list for a couple years and never had the chance to make it. Vogue V2960, has all the features I could hope for.
Off the shoulder style
Front button closure
Box pleat skirt
Fitted bodice
And more…
The fabric choice was obvious for me in terms of pattern. I wanted a very springtime look, something light and joyful! An I thought that, Gingham would be perfect, it also happens that Fabricville carries a good gingham fabric selection.
You are also obsessed with gingham, who doesn't love it right?
Gingham Checks, especially in pastel colors, were very popular in the 1950s and again in the early 1960s. Many western wear clothes used gingham check fabric to make summer tops and skirts. Spring time was the best time to wear check dresses and sportswear.
The final choice is a very pretty Cotton Gingham – 3/4 – Kelly, white cotton poplin for the contrasting bust and broderie anglaise trim.
Let's sew!
I am so excited about this project; I have a feeling that this is going to be one of the cutest dress I have made. It is going to have all the features and details the perfect 1950's vintage style sun dress could have!
I am used to work with Vogue patterns and usually, a size 12 is the perfect fit, without any major changes. Therefore, I don't feel the need to make a muslin even if it is my first time, working with this model.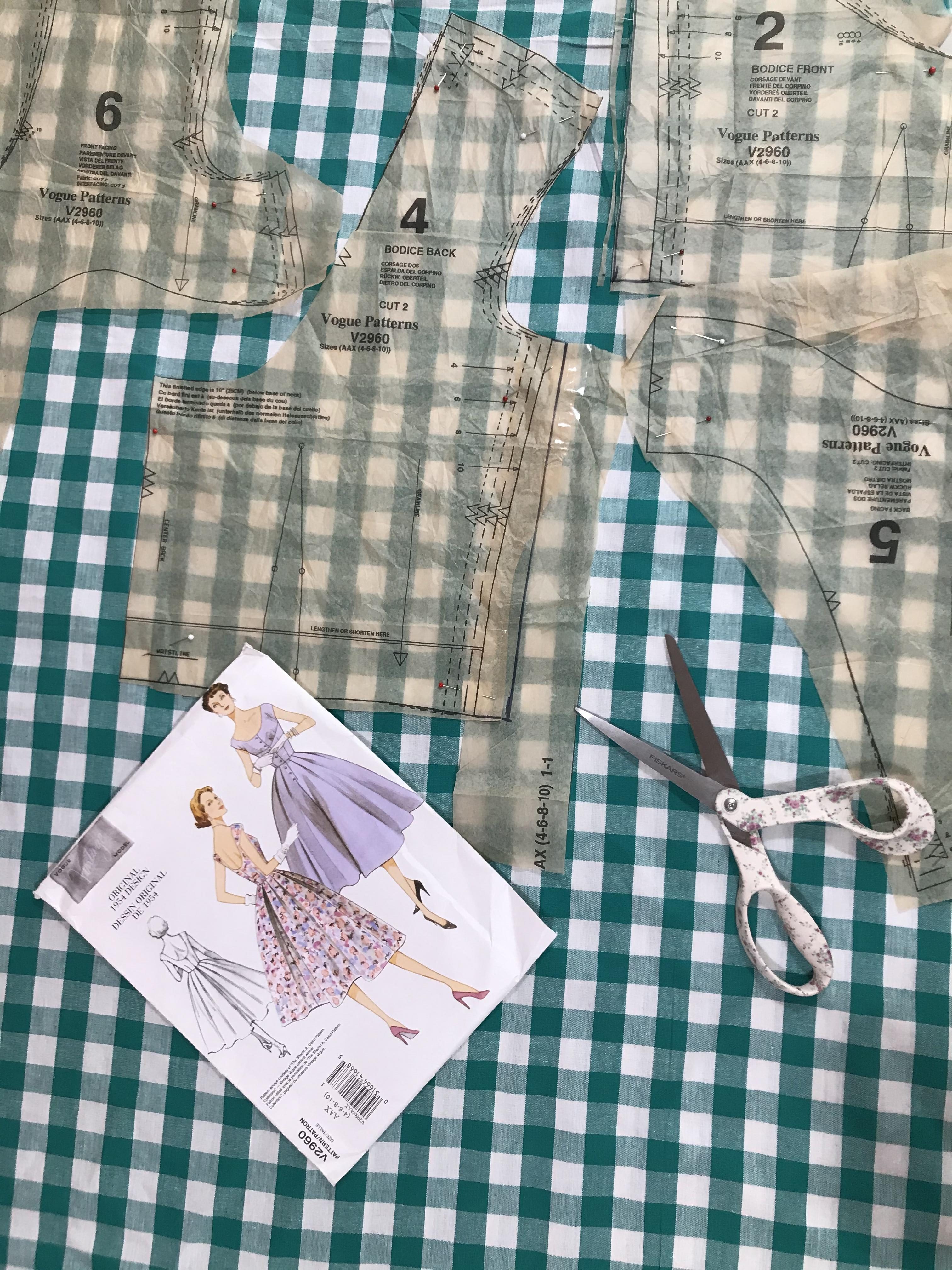 One thing I love the most about vintage sewing patterns, is the often-forgotten techniques that are used to construct the garment. Of course, it takes more time and effort than the modern methods but using the vintage techniques can elevate the look of your garment. In this pattern there is quite a bit of hand sewing, especially for the finishing steps of the dress.
So far, I have assembled the front bodice pieces, and I am already very happy of how it looks. The contrasting white fabric and broderie anglaise trim, gives such a nice effect and dimension to bust with the gathered detail.
Moving on to attaching the all in one facing to the dress. I wanted a really clean finish on the inside and crisp seam finish to the outside, so I make sure to interface and overlock the facing.  I like my dresses to look as nice on the inside than the outside.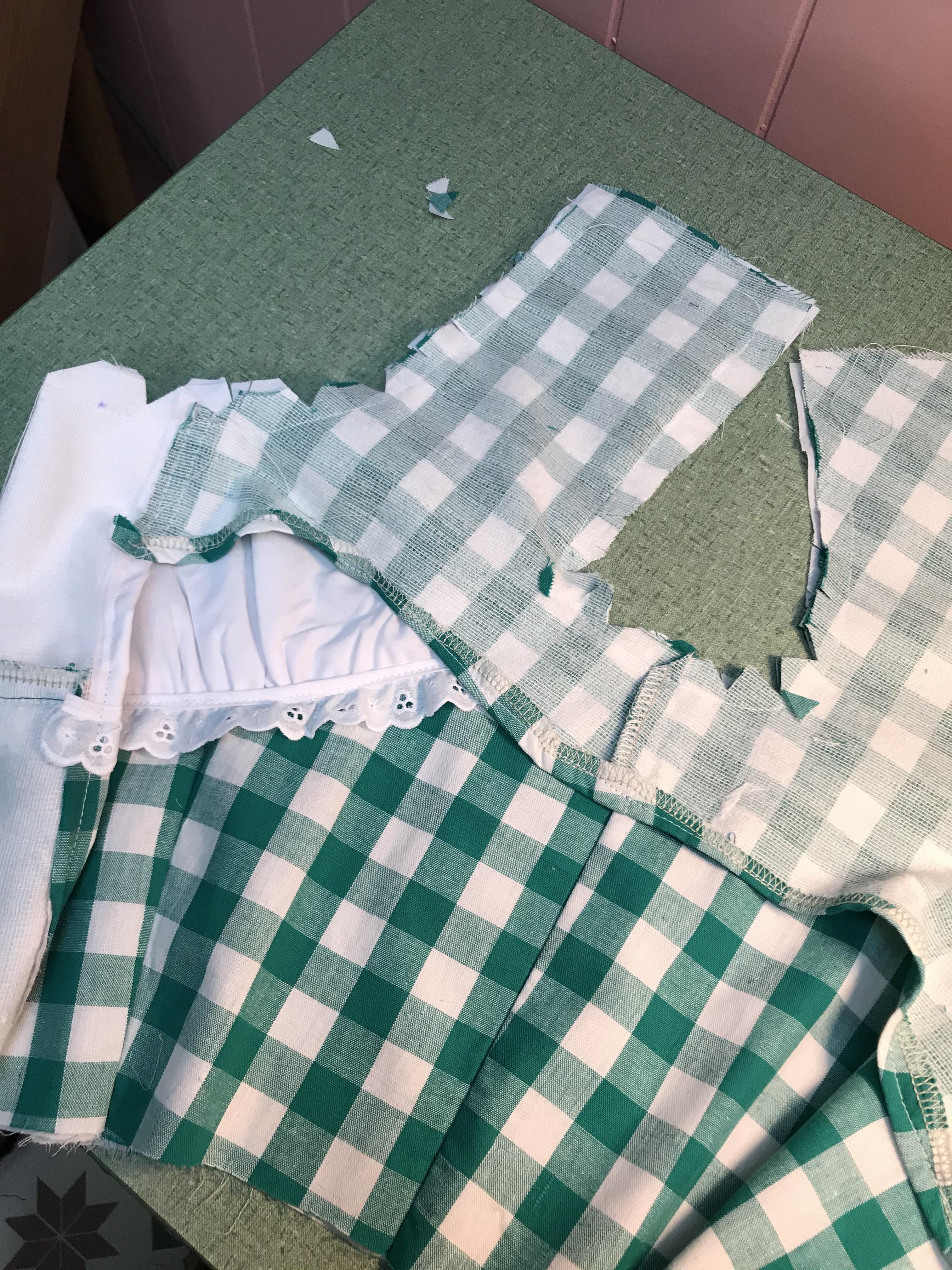 The bodice is done! My gosh, it looks soooo good already! The fit is perfect, I wouldn't change anything. I especially love the very low back neckline, now that I see it on the mannequin.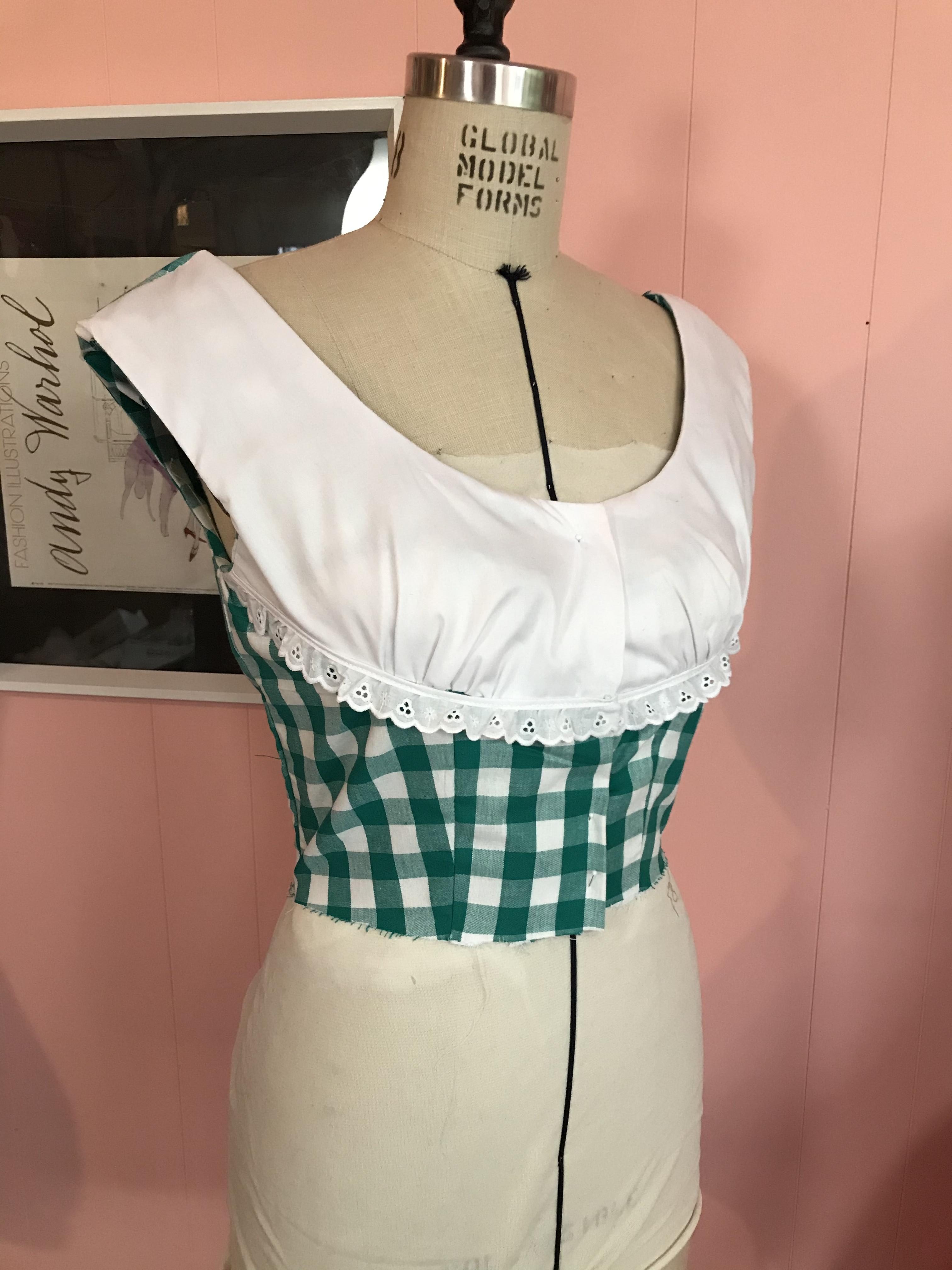 Now let's move on to the skirt. Before wring on the box pleat, I want to mark the broderie anglaise trim placement on each panel. I would like to create a tier effect with the trim, by sewing 3 horizontal rows of trim on the skirt.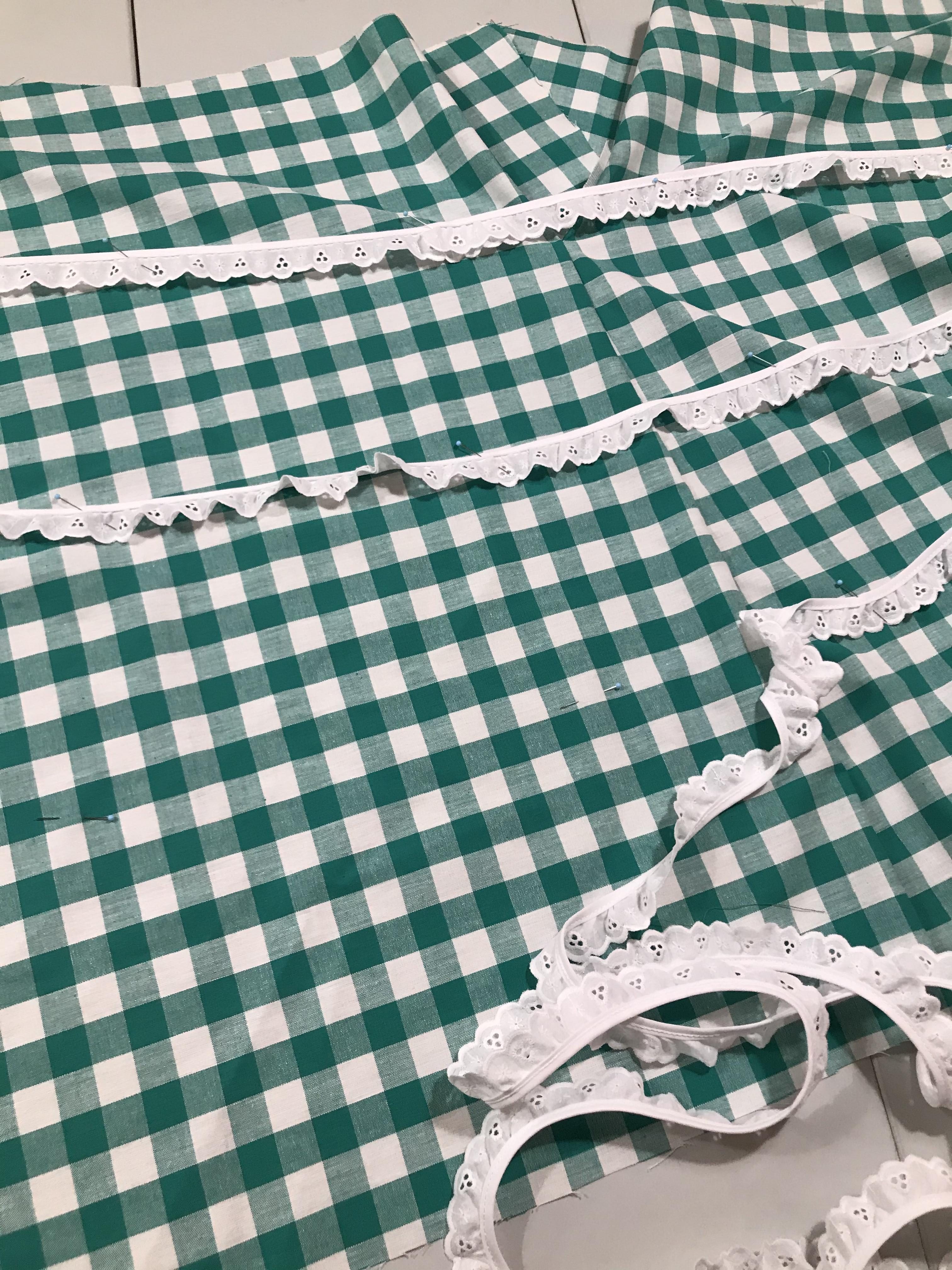 I am pinning the trim and hanging up the skirt to the mannequin to see how it looks, before sewing it.
Everything looks good, so let's sew the trim on the skirt, make the box pleats and attached the skirt to the dress.
And voilà! This is truly the ultimate spring dress of my dreams; it looks like it is out of the Lobell's fashion catalogs I was inspired about. I am super happy with my fabric and trim choices.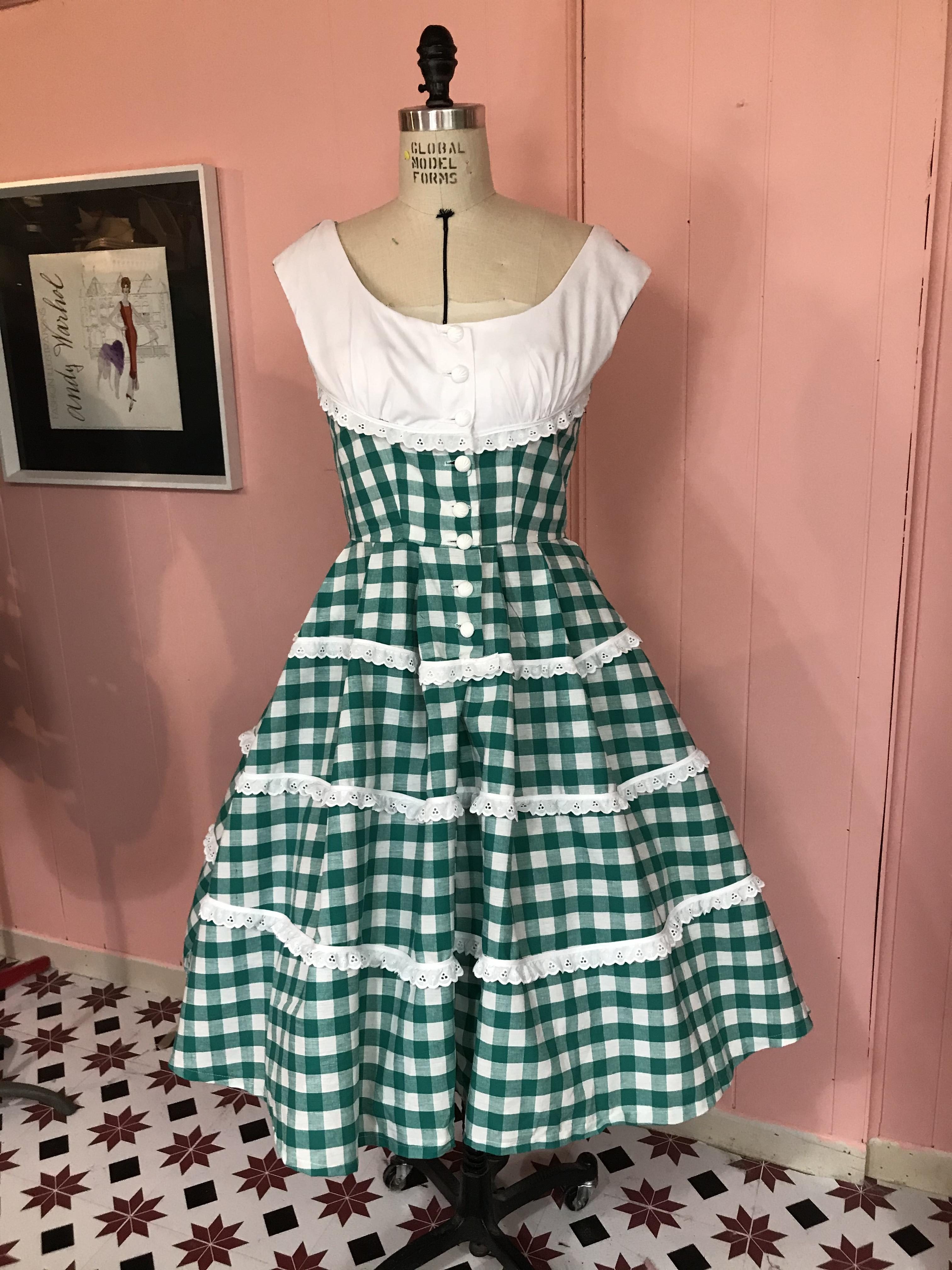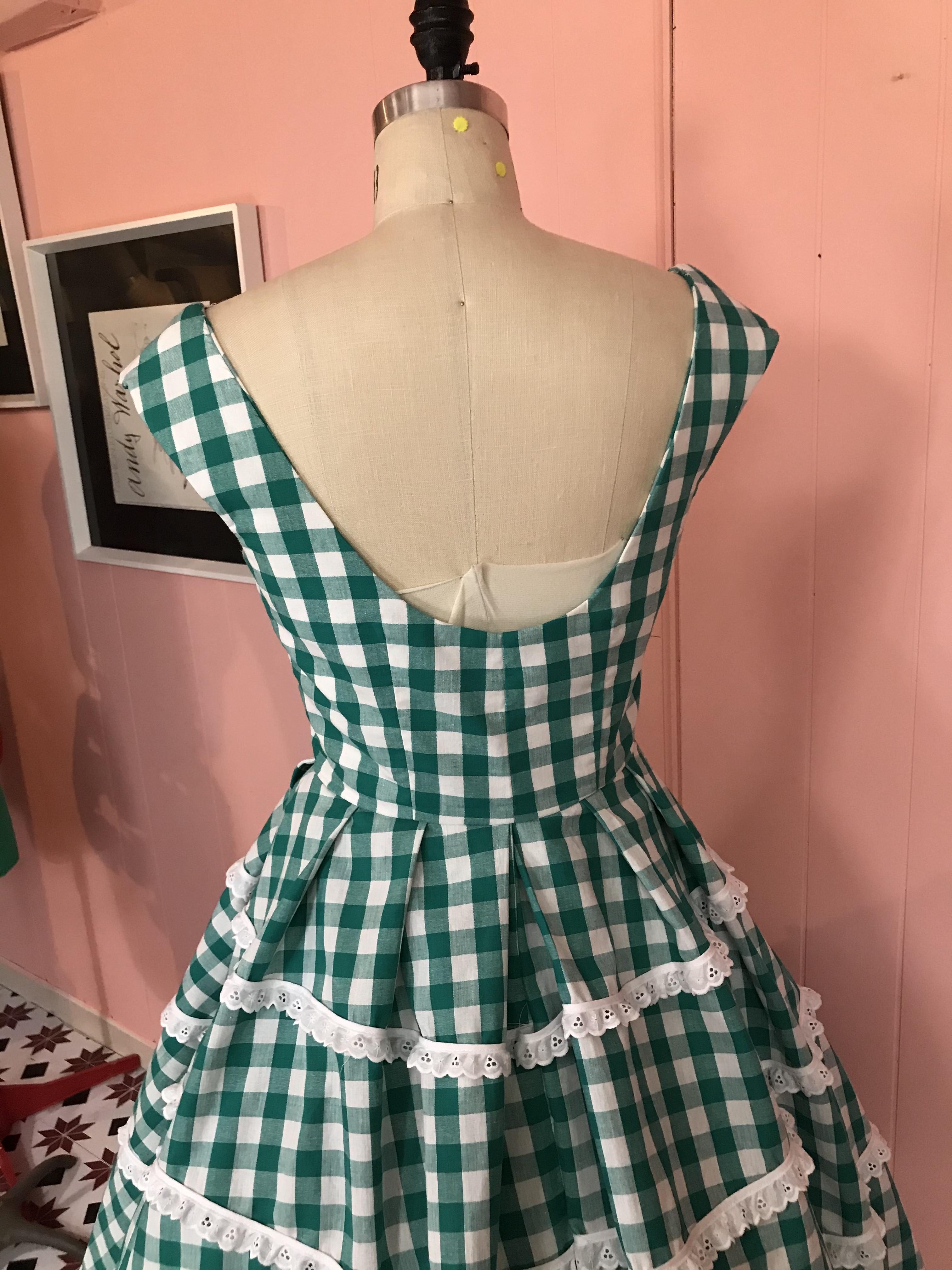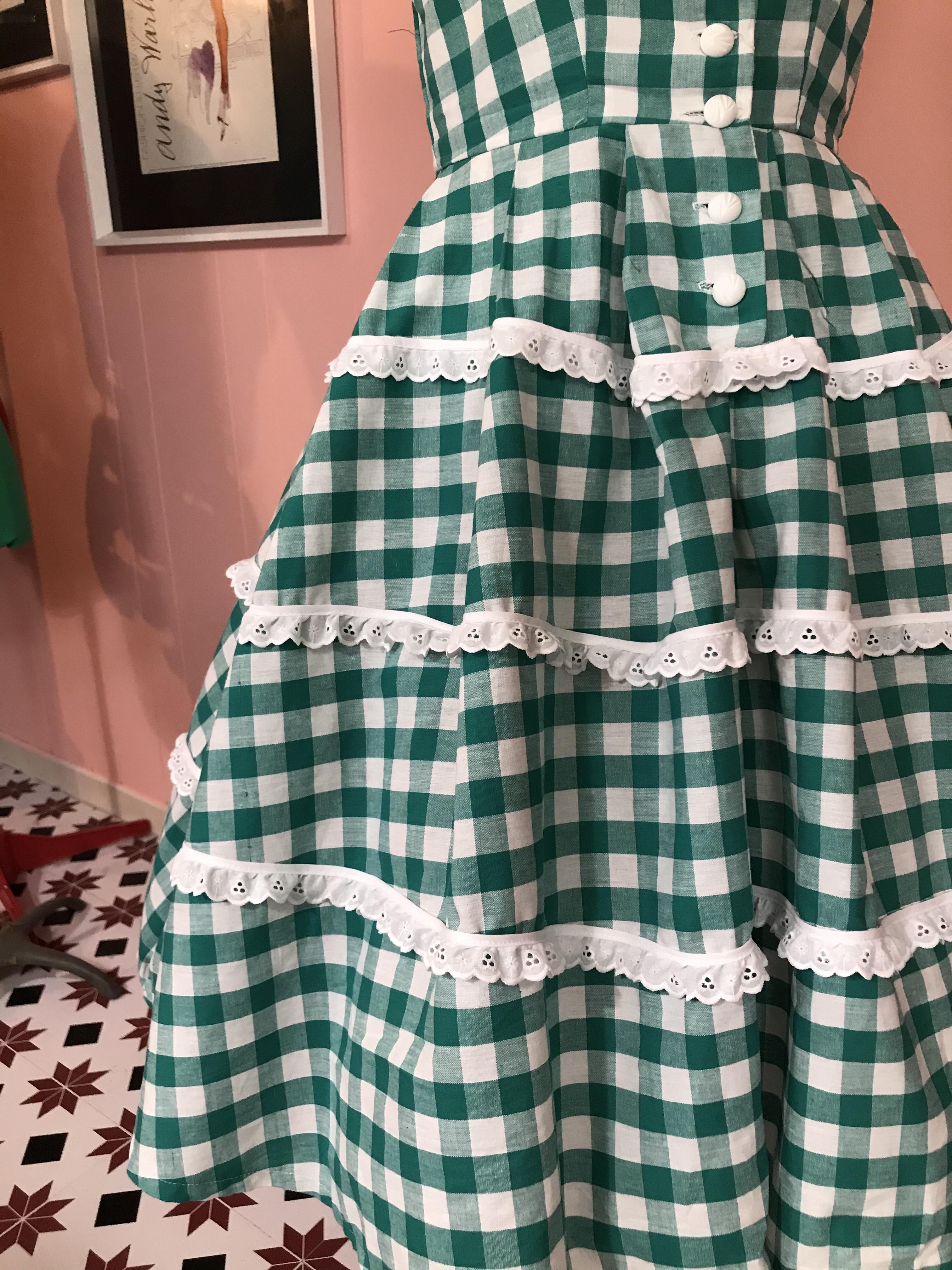 Sewing Summary
Pattern:  V2960 – Misses' Dress (size: 12-14-16-18)

Fabrics:
4M of Cotton Gingham – 3/4 – Kelly
1 M of white cotton poplin
Notions: 8 medium white buttons
10M of broderie anglaise
Sewing time:
6 hours, a good average for a vintage style dress, I would say it is a pattern that is easily put together.
Modifications: None.
Fit: Surprisingly good for a vintage pattern reproduction. Sometimes, the repro's sizing are all over the place, even if they have updated the sizing to the modern standards. I had to make no adjustments.
Difficulty: Intermediate, especially because of the skirt buttonhole facing finishing, it got me really confused and it took me a few times to figure it out.
Watch out for: step 27 and 28, the buttonhole facing steps are confusing.
Make again?: Yes, I would like to make it again for Christmas, maybe!
Voilà! I can't express how happy I am about my new dress; it is exactly and even better than what I pictured in my mind. I feel like I am wearing an authentic vintage piece
Thanks Fabricville for giving me the opportunity to blog about my sewing and vintage fashion passion! For more Gorgeously Vintage creation, visit my Facebook & Instagram pages @gorgeouslyvintage
So Long Dearies!
Happy sewing!