Between the beautiful sunny days of fall and the holiday season is the month of November. At this time of year, my main concern is to stay warm in style. What better way than with cozy knits? There is something comforting about being wrapped up a giant pullover or soft cardigan on a crisp fall day.
This season, knits are evoking a casual and relaxed demeanour. There are a lot of interesting textures such as ribbed and cable knits as well as printed knits. After reviewing many fashion magazines, I can confirm that comfort is the key trend this season.
With Fabricville's wide selection of knits, you can build up your collection of comfy knits in a range of silhouettes, colours, and styles using our recommendations as your inspiration.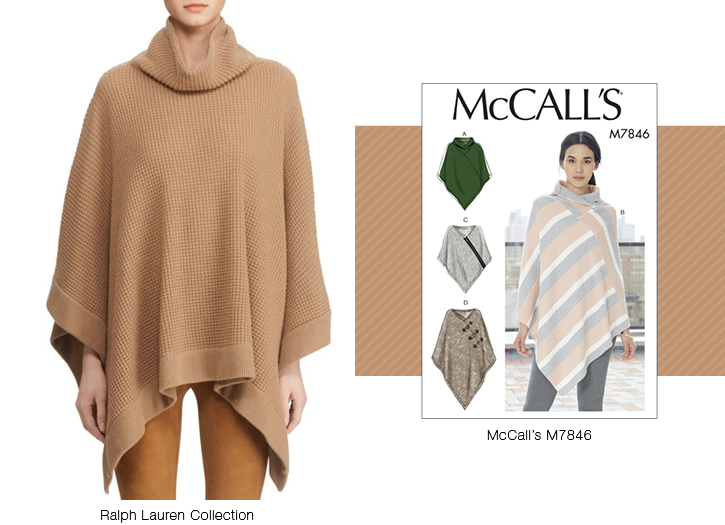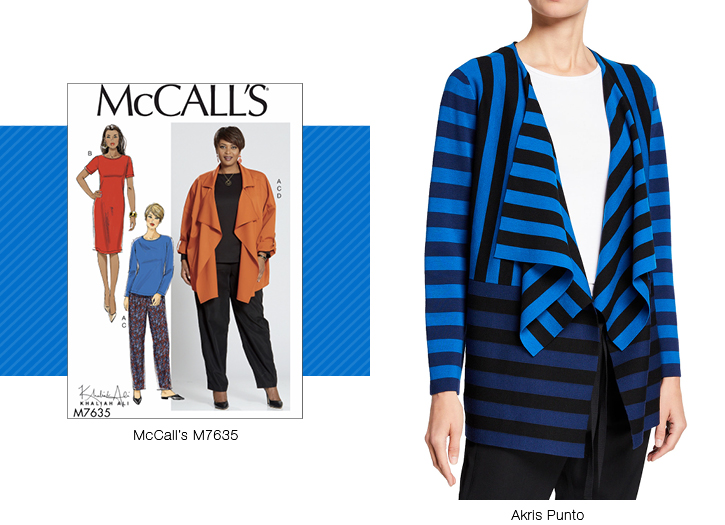 This ruler is practical to measure and draw curves. I use it mainly when I need to redesign the curves of the rear forks when I adjust my pants patterns. This rule is graded in centimetres on one side and inches on the other side. The peculiarity of this rule is that it is made of flexible and resistant plastic and therefore can adapt to all curves, even those that are irregular. I highly recommend it to anyone who makes the pattern change. It's a handy tool!

I often use my fingers or the eraser at the end of a lead pencil to guide the fabric under the presser foot of my sewing machine or to hold the fabric in place when I use my steam iron. I can confirm that my fingers didn't always come out unscathed!
I recently found a better solution. The Clover company has developed the ideal tool to handle the fabric under the foot of the sewing machine and near the iron. It's the Clover Precision Stiletto. It features a silicone tip that grips to the fabric and an angled tip that you can use to hold the fabric. This amazing sewing tool is constructed with a unique polymer resin it is both strong and heat resistant. It is designed to be held comfortably in your hand. This is truly one of those tools that once you have used it you will wonder how you ever did without it.
This pressing tool helps in pressing very tight curves and hard to reach places. It provides a pressing surface for curved areas a tailor's ham is too large for. It's covered in wool on one side and cotton on the other. The press mitt can also be slipped over the end of a sleeve board to create a stable, rounded pressing surface that is ideal for pressing sleeve heads. What a useful notion to have in the sewing room!


Fall is the time of the year when fabrics inspire me the most. At the forefront are rich colours, warm wools, supple leathers and soft suede. With the arrival of cool weather, I decided to make a tabard, a kind of sleeveless tunic that one wears over their clothes. To do this, I chose the Vogue V1569 sewing pattern. I was attracted by the comfortable yet elegant look of this sleeveless garment. Worn over a skirt or pants, this garment will be very useful for me to go to work or for weekend outings. I love its big double collar, its pockets at the front as well as the contrasting stripes. This shade of burnt orange is very invigorating and reminds me of the beautiful colours of our beautiful Canadian landscapes. To sew my tabard, I chose two stretchy fabrics. The first is a heavy knit sweater in the shade of orange (WR410-003). The second is the black Hamilton suede (WD102-030) for the contrasting bands. As suggested in the sewing instructions, I used double-sided fuse tape (Steam-a-Seam) to secure the contrasting pockets and strips at the time of assembly. This technique allowed me to avoid having to baste the pieces together before sewing them by machine. I am very proud of the result and would recommend this project for advanced novice seamstresses. I have not changed anything from the original pattern and if I ever do it again, I think it would be in short version in a red supple faux leather (ECM128-002).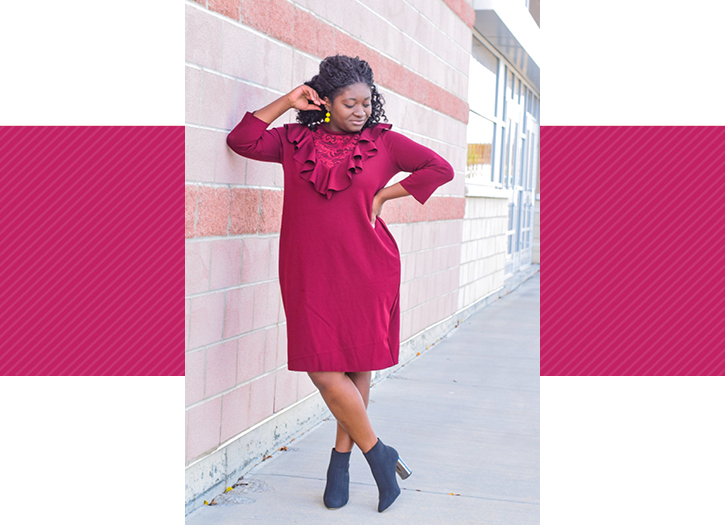 For my cozy knit sewing project, I wanted to play with different textures to make my creation more unique. Lace and knit fabric is an interesting combination, and it had not occurred to me to try this until I saw McCall's 7869 sewing pattern. I also love that this pattern has ruffles. Count me in!
As we head closer to winter, I'm more drawn to sewing knit fabrics. Knit projects are usually quick to make and warm enough to keep me warm during the colder months. I like that this sewing pattern has a trendy yet classic silhouette. It also seemed like an easy pattern to transform into a dress. The Winter Jersey (YY773-MAR) is described as a medium-weight knit with a beautiful drape. As I used this fabric in a past project with great success, I knew that it was the perfect fabric for this project. This Winter Jersey is available in many fashion and neutral colours. I decided to use lace for the yoke of my dress. I found the cabernet shade of the Clichy Lace (BB0830-CAB) to match perfectly the colour of the maroon Winter Jersey.
For this project, I made two pattern modifications. I lengthened the top to make it into a dress. I also lined the front yoke with the knit. This way, I can wear this dress even on cold days. This pattern is great for an advanced beginner. Overall, the pattern is easy to sew. The only tricky part is the insertion of the front and back yoke. In my opinion, an intermediate beginner looking to push themselves a bit would love this challenge. I am very happy with how my dress turned out. I might use this pattern again to make a top next time.
It's time to bundle up and face the cold season with softness. I chose this sewing pattern (Mc Call's M6614) because for me it symbolizes the Fall season. One of the advantages of this pattern is that it offers several options including a simple sweater with princess seams and a hoodie with or without a zipper. The other advantage of this sewing pattern is that it's unisex.
For my project, I chose the simple top because I like its semi-fitted cut and its raglan sleeves that are easy to sew. I chose the sweater knit (WR410-003) in an orangey rust colour which represents well the Fall season. The textured pattern of the knit is superb and I think it goes well with the cut of the pattern.
I made two changes to the sewing pattern. I added width to the sleeves and lengthened the sweater by an inch. I would recommend this pattern to those who have already sewed raglan sleeves because of the lack of clarity of this pattern's sewing instructions. I plan to reuse this pattern to sew the hoodie for me and my spouse to wear during our walks in the woods.