Spring has finally sprung! For this spring edition of the newsletter, I wanted to talk to you about a trend that has been going strong for a few seasons now: the jumpsuit.
The appeal of a jumpsuit is easy to understand, it's an instant outfit which requires minimal effort. This trend offers a diverse range of silhouettes that makes it an accessible option for all body shapes and sizes. From straight-leg, wide-leg, cropped leg to long-sleeve, short-sleeve, and no sleeve, there is a jumpsuit to satisfy a wide range of personal styles.
Pulling off this look is all about finding the right style for you. In general, styles that are fitted at the waist and then looser on the legs are the most flattering for all silhouettes. If you are tall, wide-leg jumpsuits are very complementary. If you are more petite, this season's culottes-style jumpsuit is ideal for you. For a more pulled-together look, opt for a belted-style. Whichever style you pick, jumpsuits are an effortless route to chic.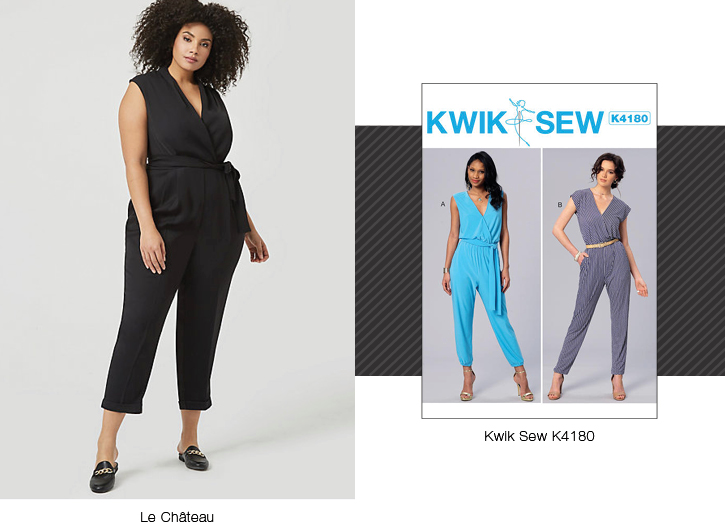 Scissors are essential to any sewer but not all of them are created equal. The Kai 7230 tailor scissors are made in Japan from stainless steel and vanadium. They are then hand-polished and balanced to offer superior cutting performance. These versatile scissors can cut lightweight silk just as well as heavyweight denim without losing their edge.
KAI original scissors continue to be a favourite in the sewing and quilting industry. I adore mine as they are as sharp as they were when I purchased them, and I've used them on all my projects for the past year.
This cardboard Pattern Cutting Board is essential for all those without a designated cutting surface. It protects furniture and other surfaces from pins, marking tools and scissor blades.
I like that it folds neatly and it is made out of sturdy but light cardboard. The preprinted gridlines make it easy to align my fabric before cutting it.
The French curve is an essential sewing tool. It's ideal to draw curved lines for skirts, pants, necklines or armholes. You can also use it to add seam allowances. This ruler is made of durable clear acrylic. It is easy to use because it allows you to see what is underneath. This product is available in metric and imperial measurements.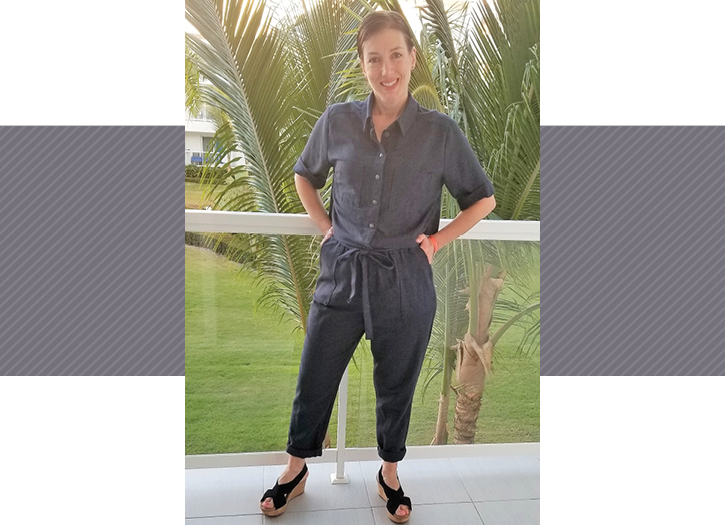 I was looking for an excuse to make myself another jumpsuit out of McCall's M7330 sewing pattern. You may have noticed that I've made this jumpsuit once before in denim on my very first blog post for Fabricville. I've also made it out of black crepe. This time, I was inspired by the beautiful cotton-linen fabric in navy. I highly recommend this fabric as it sewed like a dream.
My inspiration for the style came from all the utilitarian jumpsuit I saw in fashion magazines. To replicate the look, I used gunmetal snaps instead of buttons.
This time, I modified the pattern by eliminating the gathers at the waist and transforming the waistband into a drawstring casing.
Overall, I am very excited about my latest jumpsuit. I had the chance to wear it recently while on vacation. It was as comfortable as it looks!
By Chantal Lapointe for Fabricville © 2019 All rights reserved.