Hello, I am Ann from Annmakes®, and today I am sharing with you, my very first Fabricville post. Hopefully not my last!

I love to sew and create all sorts of stuff. My first real love in the DIY world was sewing, and it continues to be one of my favorites. I just love the humming that the sewing machine makes, ahh! It is such a comforting sound. Another thing I like is comfortable clothing that travels well.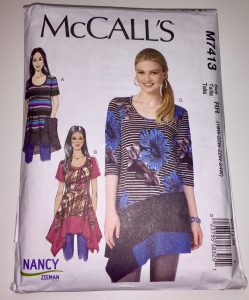 I chose to make this Tunic or Top from McCall's (M7413). A Nancy Zieman pattern that is well designed, with clear instructions, and helpful tips from Nancy, which makes this an enjoyable project.
The fabrics I chose are Crepe Knit Coordinates in Floral-Grey/Red/Black LR439020, Black LR439004, and Red LR439002. Excellent materials to make clothing that keeps their shape, and minimizes wrinkling.
One of the tips I appreciated and included in the pattern is to reinforce the shoulder seams with some interfacing.  Something I too recommend when sewing knits.
The tunic I made is long enough to cover my "assets" lol.  Although I measure just over 5 feet, so I did make some adjustments in the length of the body pattern pieces before I cut anything.
Remember this one rule "Measure twice, cut once."
To maintain the fabric's integrity I used ball point sewing machine needles, and ball point pins.
Another tip I like is the use of Fray Check to anchor those threads at the end of seams.  It prevents unraveling.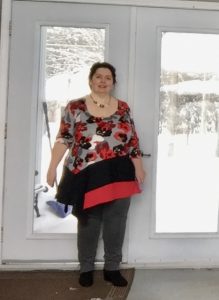 I ordered all the supplies online, and I was a bit nervous until I received the package.  I am delighted at the beauty and quality of the materials.  The site's pictures are accurate, and I will not hesitate to order from Fabricville.com again.  P.S. I already have!
The hardest aspects of this entire project were one, choosing which project and what fabrics.  The second and even more challenging were the actual taking of the photographs.  I am uncomfortable with having myself in pictures! Eeek!  And I am not used to taking pictures that are the full height of someone, let alone myself.  I usually photograph smaller items in a better lit area.  At this time of year, I have little natural lighting to work.  I apologize for that.
I hope that you too can find as much self-satisfaction in sewing as I do.
Ann is a creative addict who loves to sew, and make stuff.  Which gives her the perfect excuse to hoard fabrics, and supplies.  Her home is bursting at the seams (pun intended), with all the projects she has made and the supplies she has collected for future projects. Which you can see at https://annmakes.blogspot.com