I've recently created a pattern inspired by a tank top I've tried in a store and I'm not ashamed to say I probably wear my creation at least twice a week. I can't help it; the style is incredible and it fits my personality. If you want to check it out, it's on my Instagram (https://www.instagram.com/p/BPYFU-DgcQI/?taken-by=mauudepa). In the idea of creating something resembling my pattern, I went online and found Very Easy Vogue 9204 and it became my new crush. You see; it's the tie. I had the same on my pattern and I just adore being able to wear it according to the event I'm going to or simply in consonance with how I feel. Interview? A bow tie. Everyday life? A loose knot. Something new? Just like on the cover of the pattern. It gives me possibilities with the same garment so I never appear to wear the same thing all the times, even if I do!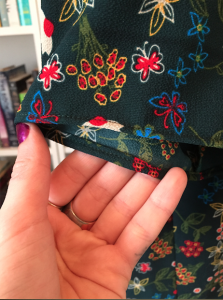 As for the fabric, I'm and always will be a sucker for floral prints. I hate gardening and the life expectancy of a flower in my house might be near zero, but if my eyes catch a fabric with a floral print on it, it's almost an instant buy. In a way it's a good thing. Whenever I go to Fabricville there's always at least one floral print fabric and since spring is coming, I had a wide range of possibilities to meet my needs. I've decided to use the SD301 147-150cm – IRINA Printed Polyester. Their collection has a nice variety of fabrics and I almost chose this beautiful dark blue fabric with clouds on it—I was so close to getting it, I might even go back for it. In the end I went for this green floral fabric because I thought the colours were more fitted for the season. All you need to know about this IRINA fabric is that it's really lightweight and soft. Bonus point: the fabric was really great to sew and to iron, which is always an aspect that I'm looking before I start a new project. If the fabric is a pain, I might not enjoy my experience as much as I should be. IRINA was perfect for the job and I highly recommend it.
This sewing project was super quick and I really love the final garment. I haven't made any alteration except cutting the sleeves shorter. I am certainly going to reuse this pattern in a near future and maybe try it with the suggested sleeves length, but it's just a habit that I possess; I need my sleeves short. Thank you Fabricville for this amazing opportunity. This top will certainly see itself being wear often. What can I say, it's the tie!