This fall I decided to get practical. I travel a lot with family all spread out and I decided I really needed something I could wear en route and still wear around when I arrive.
I also needed something transeasonal and something that would require zero ironing.
It's one thing to live out of a suitcase, and another to look like that's what you do.
So I decided I needed some sort of jacket and skirt combo. I would have said suit but my family is on an all out campaign to delete my matchy matchy tendencies, so just let's say I decided I needed a skirt I could wear with everything and a jacket that I could wear with jeans if I wanted and out to dinner if I needed to. And if I had to wear them together that would be OK too.
Oh and it had to be knit.
This double sided suede was just what I was looking for.
For the skirt I decided to make another version of Jalie's Lisette: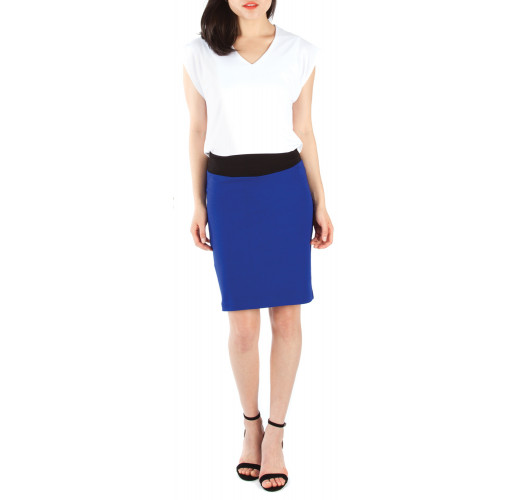 This is a beautiful skirt with a lovely shaped waistband in the simple version and I have made it before. The thing is though that it is drafted to be negative ease, depending on the knit fabric to provide all the ease, about -3″. This is fine of course if you as flat in the front as the model above, not quite as flattering if you have a comfy style abdomen.
To work my way around this I simply added those three inches to my body measurement and then traced off that size. This meant that rather than working with the size for my 40″ hips, I made my skirt for the size for 43″ hips. This was just perfect and gave me the slim shape I wanted but was more of a skim than a cling version.
For the jacket I used this new Butterick 6596:
I liked the way this jacket sort of slid between the categories of slim enough to be worn on its own if you wanted, and loose enough to be worn over a sweater if you needed that instead.
I made a 14. I need to point out that this should not be my size. The only measurement I have that matches a 14 is my upper chest, my bust is an 16, my waist an 18, and my hips an 16. Because the shoulders and upper chest are the most important part of the body to fit, I always select my patterns when sewing Vogue/Butterick/McCalls as if the upper bust was my bust measurement. Then I just add as I go down as needed. For this pattern I actually added  from the bust down tapering this out to 4″ by the hem, done in small amounts in the seams,  (because there were side panels there 8 small seam allowance additions I could make, not very noticeable). I also added my standard 2″ in length.
Looking at these photos I probably wouldn't add as much next time, maybe just 2″, which just goes to show how much ease is in this pattern as it is. And in another version I would not add to the length, although I was glad to have it here as I know this jacket will cover any top I want to wear.
I just love this jacket, it feels terrific on, but there are a few details that I think need to be mentioned.
The first is that although there are invisible zipper pockets in the front side seams, a nice detail, and these are big roomy, useful pockets, the pattern also includes two other inside pockets, quite large and deep ones at the top of the side seam panels right up high under your armpits!
Now I actually made these pockets up, and was ready to put them in, when I said Wait a minute, this is pretty weird. I mean what would you put in these pockets? A book to read on the bus? Your lunch? A cell phone? Two cell phones, one under each  arm? Your passport and money when you travel? You certainly can't get into these pockets easily so I guess a pick pocket couldn't either.
In the end I left out the these third and four underarm pockets and am just fine with that decision.
I know I am going to wear this skirt and jacket a lot. Both are incredibly comfortable and were easy sews. The exposed zipper wasn't hard at all.
And the instructions for the sewing in the invisible zippers in the seam were really very good. As long as you use a dedicated invisible zipper foot I think you would be fine.
I most definitely will be sewing both patterns again.