Fall is definitively my favorite season to dress up! I love layering clothes and wearing colorful garments. I made it a tradition to enter into fall with a brand new coat.
Last year I shared about my check plaid coat here. When I saw Fabricville's new Kashmir coating collection, I just knew I had to transform this gorgeous fabric into a beautiful fall coat! You can see me wearing their Kashmir Coating Solid in Purple.
The Fabric
I used Butterick 6370 to create this look with the kashmir. My initial idea was to create an over-sized coat that I could wear with a belt.  This fabric is a charm to work with. It does not fray and my scissors glided right through it. I'm a die-heart rotary cutter girl but I had put these aside for this project. The fabric is quite thick. It is not much of a problem since the fabric has a nice weight and it will stay in place when cutting. It is soft and very warm but does not drape much. I ended up using a steam press to give this  shape.
Sewing process and pattern appreciation
This pattern is very easy to assemble. It only has 4 pattern pieces. Only the front is lined with the main fabric. All exposed seam allowances are bias bounded.  I edge-stitched the coat to give it a more refined look. It also has pockets which is a very important detail that should never be neglected is a coat (in my opinion).  I love the length which is perfect on any windy and cold fall day! This coat has no closure but no worries! It is the perfect coat for the belted coat trend!
If you are thinking about making a fall coat, I would totally suggest this fabric. It will be perfect for a trench or any type of wrap front coat! I strongly recommend edge-stitching all around to avoid puffy corners and edges. Also,  sending it to the dry-cleaner for a good press prior to your first wear would be great. I used my at-home steamer and I think it did a decent job! For maintenance, you should hand-wash this poly-nylon blend.
Open or close this coat is a fashionable piece!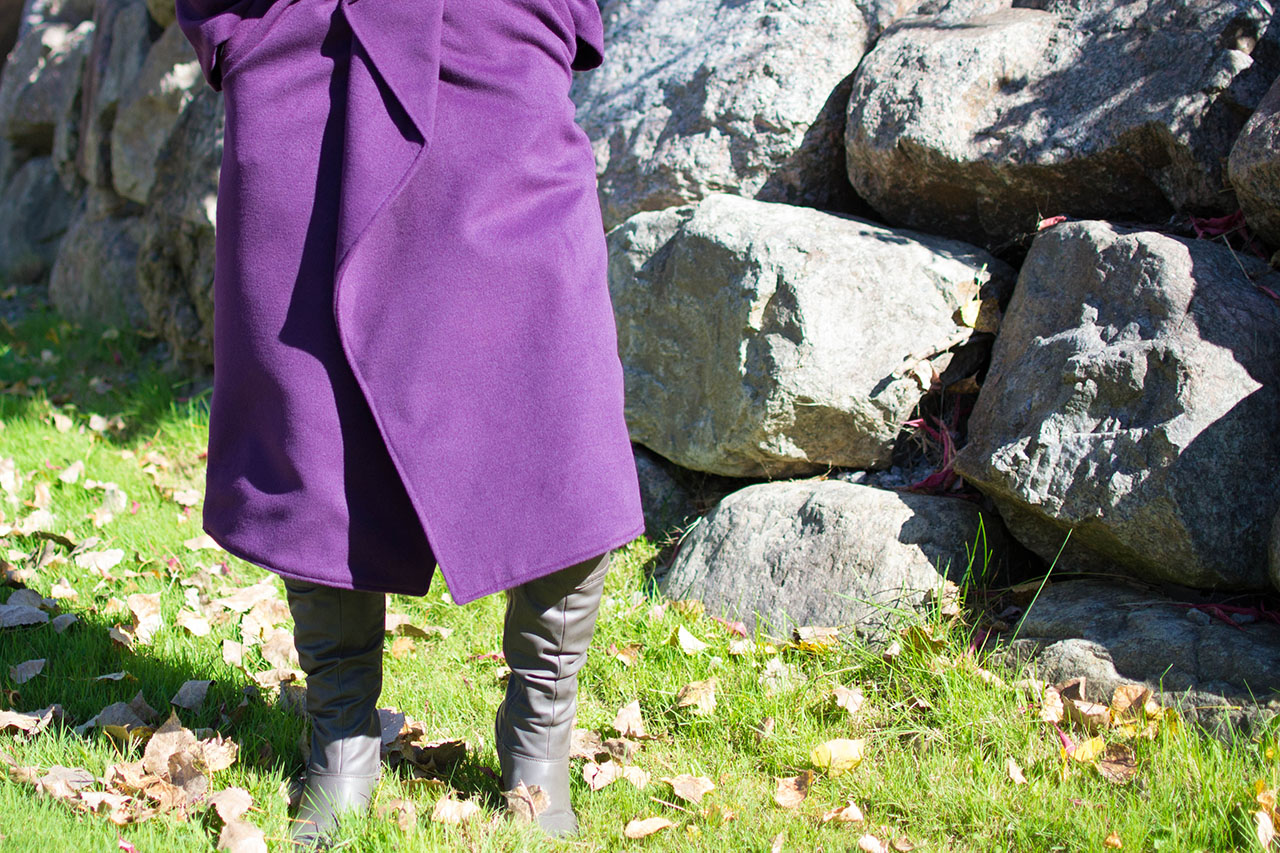 If you never gave Cashmere a try, fall is the perfect season to do so! If you tried it, let me know about your experience below! I'll be back soon with another fall project!